Prof. & Veterinarian Amber McNamara '97 to Address Audubon Society
June 14, 2017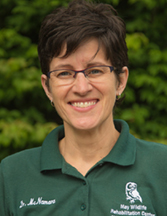 Amber McNamara, assistant professor and veterinarian at Lees-McRae College and 1997 graduate of DePauw University, will speak to the High Country Audubon Society on June 20, according to the High Country Press of Boone, North Carolina. Dr. McNamara also serves as veterinarian for the May Wildlife Rehabilitation Center.
"The wildlife rehabilitation program at LMC is a one-of-a-kind educational opportunity that combines classroom learning with hands-on wildlife rehabilitation. Dr. McNamara's talk will illustrate the uniqueness of this program and the MWRC, where students help to provide care for over 1,400 injured and orphaned wildlife patients every year. Patient statistics, integrative medicine for wildlife, volunteer opportunities, and success stories will be included."

Read more here.
A biology major at DePauw, McNamara went on to receive a degree from Purdue University's School of Veterinary Medicine. She previously worked at the Clinic for the Rehabilitation of Wildlife in Sanibel, Florida and is a Certified Veterinary Acupuncturist.
Back