CNN's "Newsroom Environment" Needs a Makeover, Opines Prof. Jeff McCall '76
July 1, 2017
"CNN's problems are self-inflicted and created by a culture that has focused more on television's bright lights, revenue generation, and pushing narratives than authentic journalism," writes Jeffrey M. McCall, professor of communication at DePauw University, in a column for The Hill. "Worse, the consequences for losing in broadcast journalism are damaging to the nation's news dialogue and information needs."
Dr. McCall says that the cable network's recent "examples of journalistic malpractice didn't just show up overnight. The newsroom environment allowed it to happen in the first place."
The professor notes that "[President Jeff] Zucker came to CNN in early 2013 and told staffers in a memo that the definition of news should 'evolve' and be described

more broadly. CNN news shows moved into more opinion-based content and advocacy. There is a role for that kind of journalism, of course, but the lines must be clearly defined and that hasn't happened at CNN. Viewers can tell where news anchors Anderson Cooper and Don Lemon stand on most issues."
McCall asserts, "A sad aspect of the CNN turmoil is that the channel is backed by the massive financial resources of Time Warner. This is an organization that doesn't need to pander to lowest common denominator ratings gimmicks at the exclusion of doing the right thing. It has the money to do news of substance and invest in creating a news agenda that could enlighten the nation. CNN makes a healthy profit for its corporate parent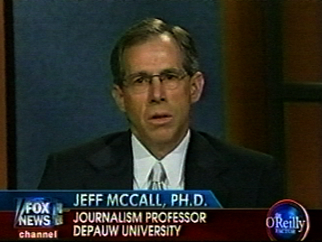 and needn't cut journalistic corners to keep the lights on. Making money and striving for ratings are what media corporations do, but that doesn't preclude doing the hard work of professional journalism that the citizenry sorely needs."
Read the complete essay at the publication's website.
The author of Viewer Discretion Advised: Taking Control of Mass Media Influences, Jeff McCall is a 1976 graduate of DePauw, where he majored in communication and worked on student radio station WGRE. The media studies professor has been called upon for comment by more than 100 newspapers, and authored a column on the state of the news media earlier this week.
Source: The Hill
Back