Longtime DePauw Trustee and Civic Leader Ian Rolland '55 Dies at Age 84
July 2, 2017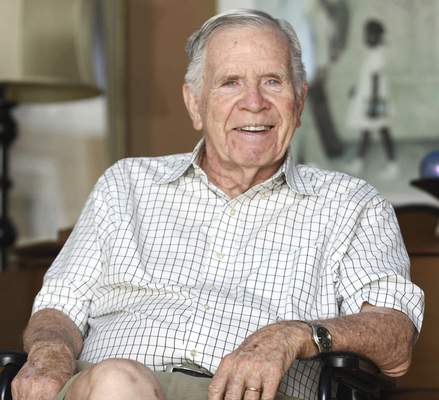 Ian M. Rolland, a 1955 graduate of DePauw University, a Life Trustee, and the past chair of DePauw's Board of Trustees, died yesterday at his home in Fort Wayne, Indiana. He was 84.
The retired chief executive officer of Lincoln National Corp. and a chairman of Lincoln National Life Insurance Company, Rolland "leveraged his corporate standing to effect great social change and civic and downtown development," reports the Fort Wayne Journal Gazette.
Born June 3, 1933 in Fort Wayne, Rolland was the son of Scottish immigrants. He majored in mathematics at DePauw, and while an undergraduate "became interested in actuarial science -- the study of relating risk and insurance premiums," notes the newspaper. Rolland -- who earned a graduate degree from the University of Michigan -- took a summer job at Lincoln National during a break from college and took a permanent job in the actuarial department in 1956.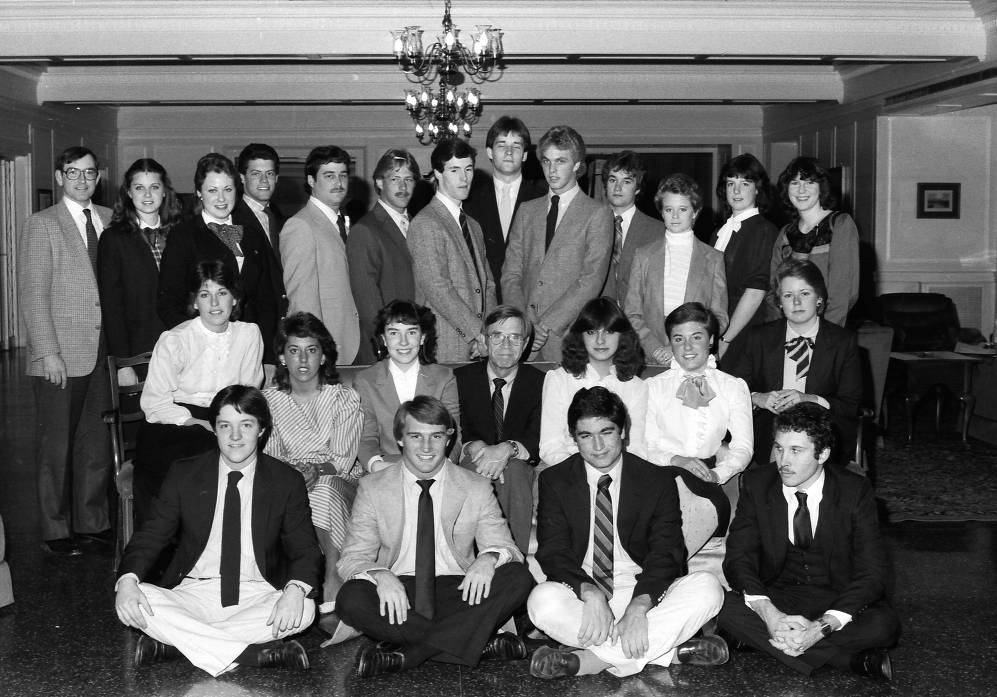 Nine years later he was named an associate actuary, and in 1967 became second vice president and manager of the equities department. (at left: Rolland with DePauw Management Fellows in April 1993. He visited his alma mater as Executive-in-Residence on several occasions.)
From there, Rolland moved up to second vice president for re-insurance sales, and then vice president of the re-insurance division. In 1973 he became senior vice president of Lincoln National. He was appointed president and a director of Lincoln National Corp. in 1975, and was named CEO two years later. He became president of Lincoln National Life Insurance Co. in 1977 and chairman in 1981. He retired in 1998.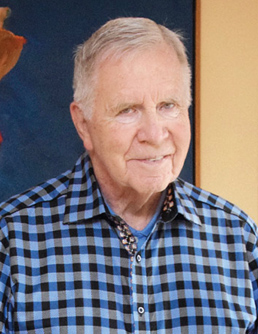 A champion of racial equality, Rolland led the successful effort to integrate Fort Wayne Community Schools in the 1980s. He also "was instrumental in building the new Fort Wayne Museum of Art and the creation of Arts United of Greater Fort Wayne," writes Jamie Duffy. "He also chaired the fundraising committee for Headwaters Park, transforming 30 acres of brownfield and floodplain into a downtown park and festival plaza. He was involved in founding the East Wayne Street Center and Timothy L. Johnson Academy, as well as the creation of Lincoln Life Improved Housing Inc., a Lincoln National subsidiary for rehabbing residential housing."
Paul Helmke, the former mayor of Fort Wayne, tells the Journal Gazette, "He was a major player in everything that went on in Fort Wayne, from the time I started practicing law in 1973 to the end of my 12 years as mayor in 2000. The arts, educational issues, the parks, downtown development, integration, inclusivity in the community -- almost everything that came up, Ian wanted to play a role in."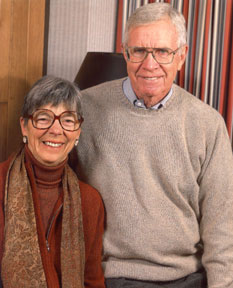 Adds Larry Rowland, retired chairman of Lincoln National Reinsurance Companies and a former colleague of Rolland's, "It's hard to describe his effect on our part of the world. He was someone who did what was right, regardless of the risks."
A 2014 article in Glo magazine asked, "Where does one begin to write about Ian Rolland, a legend in Fort Wayne, and an inspiration to many? ... He and his wife, Mimi, believe in giving back to the community as caring philanthropists, advocates for children's education and supporters of historic preservation."
Judi Loomis wrote, "They are one of the most influential and philanthropic couples in the area, making major contributions to Junior Achievement, University of Saint Francis, DePauw University and establishing the East Wayne Street Center."
In the piece, Rolland stated, "I have mentored women throughout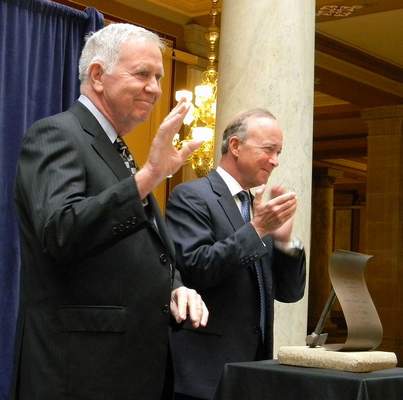 my life by pushing away barriers to their success, mostly caused by men. My view is that companies shortchange themselves by not providing good opportunities for women, which ends up short-changing everyone in the end."
A gift from Rolland and his wife created the Ian and Mimi Rolland Welcome and Activities Center, which was dedicated on April 21, 2006. It serves as a trailhead building for groups entering the DePauw Nature Park, where they can receive orientation and plan their activities. Another gift supported the Ian M. Rolland Chair in Mathematics.
In 2012, Ian M. Rolland received the Sachem Award, the state of Indiana's highest honor (photo above shows him being honored by Governor Mitch Daniels). In 2011, he was inducted into the Indiana Conservation Hall of Fame and was presented with the Council for Advancement and Support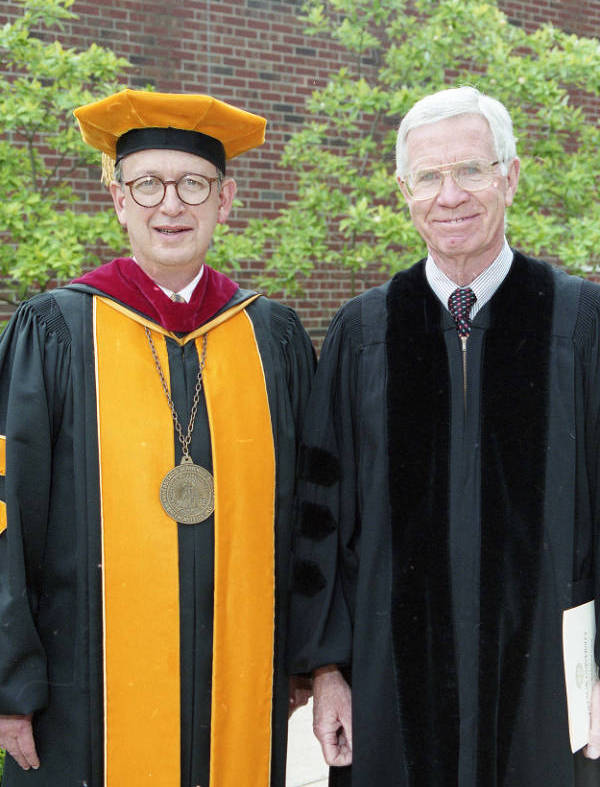 of Education (CASE) 2011 Distinguished Friend of Education Award.
In 1999, Rolland received an honorary Doctor of Humane Letters degree from DePauw (seen at left with the University's 18th president, Robert G. Bottoms).
"All of my associations with this marvelous institution have been positive," Rolland said as he received the award. "As an undergraduate from 1951-55 I made friendships and developed relationships with my classmates that remain today. I've also become a believer in the liberal arts education. The variety of ideas and experiences that I had here on the DePauw campus have stood me in good stead in almost everything I've done over the past 40 years."
He added he's enjoyed working on the Board of Trustees "to make DePauw an even better place. Rolland told the Class of 1999, "I hope you will all find that your experience here at DePauw was as valuable to you as it has been to me."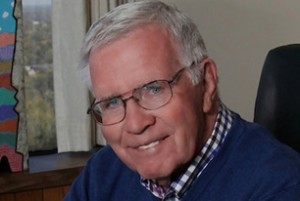 A celebration of Ian Rolland's life will take place Friday, July 7, from noon to 8 p.m. at the Turnstone Center, 3320 N. Clinton Street, Fort Wayne. His funeral will be held the following day at 2 p.m. at the Turnstone Center.
The Journal Gazette story is available here. An online obituary can be accessed here.
Back