Prof. Jeff McCall '76 Takes Hollywood's "Cultural Barbarism" to Task
July 18, 2017
An attempt by Sony Pictures to market "clean versions" of movies, which was scrapped after complaints from Hollywood content producers, "is a minor skirmish in the overall culture war playing out today, but it speaks volumes about the mindset of people who purport to guide the film and television industry," opines Jeffrey M. McCall. "Offensive language, sexual content and heinous violence are today considered essential to the messages created by a good many producers and directors in the detached world of moviemakers."
In a newspaper column, the professor of communication at DePauw University writes, "Sony's plan would have still allowed unedited versions of films to remain in the marketplace for viewers who wanted to see the mature content. But that wasn't good enough for the sex-and-violence champions who insist viewers see films with all of the indecorous content included. The Hollywood apologists talk about protecting the artistic rights of the show directors, but that's simply misdirection. The ultimate intent of the creative community is to disrupt traditional societal standards and expectations of decency."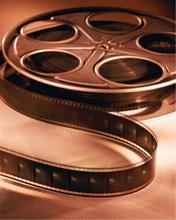 McCall continues, "Great films do, indeed, contribute to the artistic community and help explore the human condition. But society must stop short of considering any and all filmmaking to be 'art.' Only phony artists would demand indecent and profane words, gross humor, senseless violence and other pathological nonsense should count as artistic expression."
The author of Viewer Discretion Advised: Taking Control of Mass Media Influences, Dr. McCall asserts, "Mediated expressions of off-color humor and gross violence at some point dehumanize people. The profane and outlandish become legitimized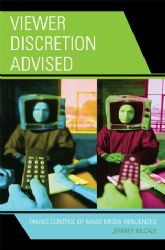 as a result of dissemination by the industries of culture. Then, once particular expletives and ill-mannered content becomes standardized, Hollywood simply lowers society further into the cultural cesspool, finding new ways to shock and sensationalize. The endless cycle of societal degradation continues unabated, as has been witnessed for several decades now."
The professor points out that the First Amendment, which is often raised in battles over content, "doesn't endorse an anything-goes approach to art ... Filmmakers of yesteryear told stories of romance and tragedy without naked rumps, potty jokes and gory violence. Admittedly, low-brow films have always been part of the moviemaking sphere, but the crass wasn't celebrated and defended with the worthy.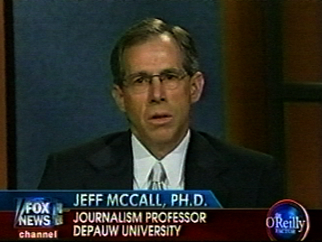 The 'enlightened' producers of today should learn to differentiate true artistic expression from the cultural barbarism they are promoting today."
The essay is appearing in newspapers this week, including Indiana's Kokomo Tribune.
A former journalist, Jeff McCall is a 1976 graduate of DePauw, where he majored in communication and worked on student radio station WGRE, which he now serves as faculty adviser. The media studies professor has been called upon for comment by more than 100 newspapers. In the past week he was quoted in a Variety story on cable TV news and authored a column for The Hill.
Source: Kokomo (Ind.) Tribune
Back