Attorney & HS Head Football Coach Rob Doyle '82 is Profiled
July 27, 2017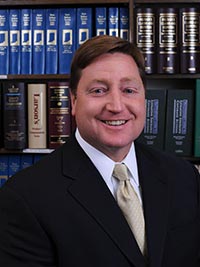 "Veteran Indianapolis attorney Rob Doyle sees no end of 70-hour workweeks, but now less of that time will be at his law office and more will be on the sidelines at Bishop Chatard High School," begins an Indiana Lawyer article. "At least that's the game plan for the Trojans' new varsity football coach."
Doyle, a 1982 graduate of DePauw University, is "cutting back the time he's put in over the past 32 years building what he called a flourishing insurance defense practice at Due Doyle Fanning & Alderfer LLP" so that he be head coach of Chatard's "powerhouse" program, which has won nine state football championships since 2000. He had been serving as head coach of the freshman team on a volunteer basis. Doyle takes over the varsity program from longtime coach Vince Lorenzano, who retired after last season.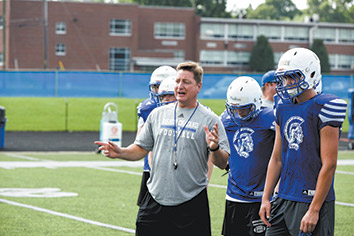 "Coach Doyle is a very well-liked coach. The players will enjoy playing for him," said Lorenzano. "He should do very well." (photo at left by Eric Learned/Indiana Lawyer)
Doyle, who quarterbacked the Tigers and majored in political science, states, "I did not know if this opportunity would ever arise, but when it did, a lot of soul-searching went on, and a lot of discussions with people I love." He adds, "We have great kids and great families. I love football and I love coaching. … It was something that was just really hard to pass up."

Doyle adds, "Lots of lawyers do lots of great things in the community, many more so than me. I found something I love to do that I think helps young men.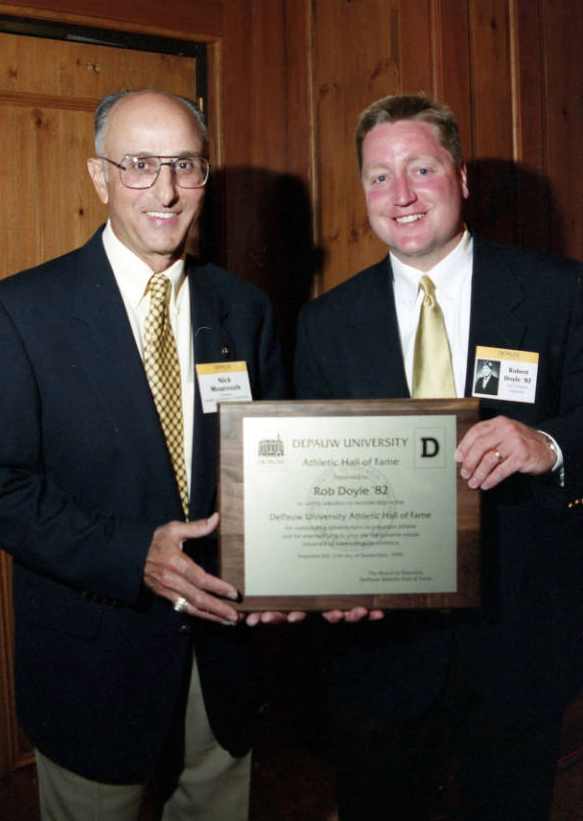 … This is just an extension of what we're all trying to do, each in our own way."
Access the complete story here.
Robert J. Doyle started at quarterback for three seasons and broke Tiger season marks in attempts, completions, yards passing and touchdown passes, and twice tied the school record of four TD passes in one game. His senior season, Doyle led his team to a 9-1 record and a #9 ranking in the final NCAA Division III poll. He was inducted into the DePauw Athletic Hall of Fame in 1999; the 1981 team was inducted last fall. (at right: Coach Nick Mourouzis with Doyle at the 1999 Hall of Fame induction)
Learn more in this previous story.
Back