Former President George H.W. Bush & His VP, Dan Quayle '69, Reunite
July 27, 2017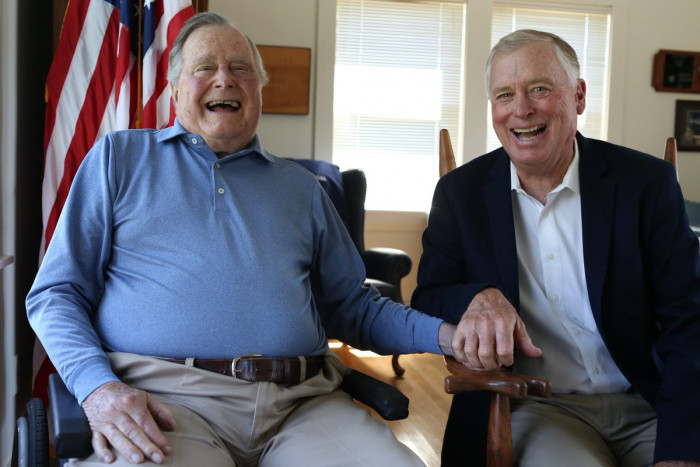 "Former President George H.W. Bush reunited Wednesday with Dan Quayle, his vice president from 1989 to 1993," reports the Washington Examiner. Quayle, the 44th Vice President of the United States, is a 1969 graduate of DePauw University.
After the visit, the 93-year-old former president tweeted, "Joyful reunion with a great friend and a wonderful public servant. Lucky to have had Dan by my side during 4 years of challenge and change."
The photo at top accompanied the message.
Access the item here.
A political science major at DePauw, Quayle captained the Tiger men's golf team. He went on to earn a J.D. from the Indiana University Robert H. McKinney School of Law. He was elected to two terms each in the U.S. House of Representatives and U.S. Senate before becoming vice president.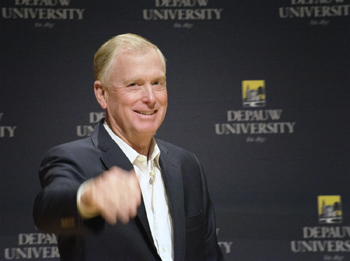 In January, Joel K. Goldstein, Vincent C. Immel Professor of Law at Saint Louis University School of Law and noted authority on vice presidents, wrote that Quayle "contributed to the development of the vice presidency as an integral part of the presidency" and "was an important adviser and operator during the Bush administration." Read more here.
The former vice president -- who appeared this month in the HBO film, The Words That Built America -- has made many return visits to DePauw. He's been awarded the University's McNaughton Medal for Public Service and in March 2015 was a guest of the Timothy and Sharon Ubben Lecture Series. That talk is summarized in this article; video is embedded below.
Back