Sharing Her Agenda
August 9, 2017

Rhonesha Byng '11 empowers young women through her growing digital media platform.
Written for DePauw Magazine by Tom Chiarella.
When describing the meeting of two people at a southbound train in New York, writers will often turn the phrase "deep in the bowels of Penn Station," even though the meeting ground is not that deep and there's nothing particularly bowel-like about it. In fact, the waiting area for the Acela trains at Penn Station is lined by donut stores and by-the-slice pizza places and feels brightly-lit, clean and dry. Midday on a Friday, it's crowded with New Yorkers skipping work early, headed to one Jersey shore or another. I scan the crowd for the familiar face of Rhonesha Byng (DePauw '11), my friend and former student, a leader recently named to Forbes' 2017 "30 Under 30" list in both the media and "dorm room founder" categories, who's meeting me for a ride down to Washington together.
She texts me: I'm about to get off the subway at 34th.
To which I volley: It's track 9e. I'll be in line.
I figure she is 10 minutes out, deep in the bowels of the subway such as it is. I amble to the queue, and take a deep breath and a look around. The two of us are riding down to D.C. together, where I will watch her give a talk at to a group of young girls at Catholic University. Rhonesha is an editor, motivational speaker and a leader in empowering millennial women. When meeting former students, it's always easy to imagine that you won't recognize them. More often, they don't recognize me. It's been six years since I saw her last. And just two minutes since I got her text, I look up and there she is! Already in line, way ahead of things as usual.
"How did you get here so fast?" Though this is Rhonesha Byng, so I ought not be surprised.
"Your hair is short," she says, by which she means thin.
"You look the same!" I say, by which I mean exactly that. She is smiling, collected, stylish. As always.
"I'm not!" she says. "It's been six years!" In her world, this is a long time. "I've changed!" she says.
I'd bet on that.
So, I'll call her Rhonesha here, since I knew her that way – Rhonesha, Nesha – way back in 2008, when she sat in one of my writing workshops in Asbury Hall as a sophomore and distinguished herself as a funny, insightful writer, a student who came in with surprising media experience and strong media aspirations in her plan for the future. I'd pushed her to major in English. She was the first student of mine who ever produced a readable, relevant and intelligent blog entry from an assignment for my class. I'd thought I didn't want those. But hers was smart and crafted, and she claimed it proudly. I loved it and urged her to publish it. Nesha wisely chose communication as her major in the year that followed, and went on to distinguish herself by winning an Associated Press award for a story she produced for WGRE, and a news Emmy while working at WNBC in New York, her first gig out of DePauw.
Nesha's biggest mark in the media world she inhabits has been as founder and CEO of Her Agenda, a digital media platform that aims to bridge "the gap between ambition and achievement for millennial women." It's an effort to get tools in the hands of women between the ages of 20 and 40 that allow them to tap into resources they didn't know were out there. One part digital network, one part online magazine, Her Agenda is a well-designed motivational resource for (and fan page of) vibrant women of all ages, a place for virtual connection between potential mentors and a generation of protégés.
Her Agenda's reach extends elegantly across the familiar multiverse of social networking platforms: Facebook to Google+, Twitter to Tumblr. Its rapid growth – it is currently a community of more than 100,000 millennial women – and savvy editorial developments have lead Rhonesha to be included on the prestigious Forbes list, which has brought her national attention and speaking engagements, as well as NBCBLK's "28 Under 28" and BET's "29 People You Should Know." In the six years since she walked the boards in front of Roy O. to get her diploma, Rhonesha has spoken at the White House and at the United State of Women Summit – while receiving awards from the New York Association of Black Journalists.
So, of course it's not so much that she has changed, but that things have changed all around her. Along the way Nesha – as she's been called by her mother, Debra Pugh, since childhood – turned her very name into an acronym which guides the momentum of her nascent media empire: N.E.S.H.A., or "No one Ever Slows Her Agenda." With what she's accomplished in 6 short years, it's easy to see the truth in that sentiment.
It's even fun to watch the principle at work in Rhonesha's comings and goings. No one slows her, not even me. When we board the train it's a struggle finding seats next to each other. I'm willing to settle, thumping my bags down between the first two seats that face one another. But Nesha, New Yorker to the core, pushes on. "I'll see what I can find," she tells me, before disappearing into the cars ahead. Moments later, she texts me: Seats! And so I follow. "I want to hear you," she says, as I reach our seats two cars down the line. And me, I need to hear her to learn what she's up to now, next, and how she gets where she's going so quickly.
The focus of her day to day work in her offices in Chelsea is primarily growing Her Agenda to serve more millennial women. "Through our weekly cover story, we're essentially telling stories of women at all levels," she says of the website, "We provide narratives of successful women – what they do, how they got to where they are and what they intend to do now that they have that they have reached that point." she says. It's notable that Her Agenda doesn't focus on movie stars or models. Neither musicians, nor actors. There's no mention of reality shows. Her Agenda focuses on working women – COOs, VPs, writers, counselors, teachers, media figures. "We look at women whose story hasn't been told over and over again, inspirational women who make young women wonder: hey, how did she get there? That's what we document and illustrate.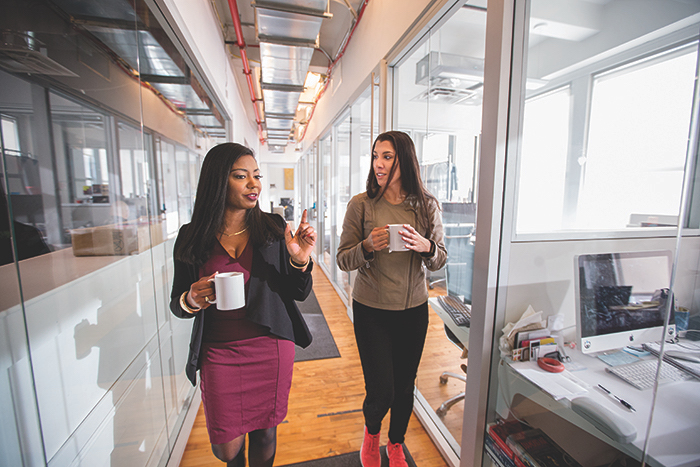 "Holistic success is what we're trying to showcase," she says. "So, everything about your life impacts what you're able to do in your career, because if you are not happy and you are lacking in certain areas, it impacts your productivity. It's like, yes, you have to have your finances in order, but your love life is also part of this. That impacts how you're able to show up. So, we cover everything, but the focus and anchor is on career.
"Then our daily content consists of news and politics that impact the lives of women, whether it's workplace issues, or even fertility and family planning. All of that because, really, millennial woman today, even with all the career planning, they really think about their professional life as one part of their whole life."
The two of us sit side by side on the train pushing towards D.C., passing stockyards, stacks of shipping containers, the rusty, dented architecture of old fashioned New Jersey commerce, without much comment on what's out there. Byng holds a glance into the space before us when she speaks, as if the digital world she constructed in Her Agenda sits just in front of us both, real as the freight yards we rumble past. There's nothing delicate or imaginary either. Her Agenda has its feet firmly down in the arena of social influence. It's amply present in any space where Rhonesha Byng speaks. She's guided its evolution and shaded its design in every iteration.
It started more than a decade ago, when Byng began taking a journalism class as an elective in high school. It grew out of her own insistence. "I was just very pushy," she says, laughing. "If I wanted to do something, I would always find a way to get it done. And I love to write and read, and be the first to know something. But I never thought journalism was a career that I could pursue. It just wasn't something that entered my mind.
"One teacher told me: 'You're good at this. You should join the school paper.'" She smirks at the memory of her own expectations. "So, I'm like, 'You have to stay after school for that? Are you paying me?'"
She laughs at the memory of her audacity at 15. "You know, I grew up in New York. I was very fashion oriented. I wanted to shop. So, at first I thought: 'No, I'm not staying after school.' Then I realized, there's actually a career that I can get paid for talking to whomever I want, celebrities and politicians, and telling their stories? I was like: That's a thing?"
She did join the school newspaper, and eventually enrolled in a workshop run by the New York Association of Black Journalists. "I had to give up my Saturdays from 9:00 to 4:00 but it opened up my whole world because I was able to meet professional journalists, and they were so open with their stories. The thing that really set me off came when I realized: I can just do this now. I don't need to wait. We got to pick our own stories, and I learned to draw them out of my life. I was going to a Kanye West concert and, so, I'm like, 'Oh, I'm gonna go to this concert, then I'm gonna review the concert, and I'm gonna interview Kanye.'"
The workshop put cameras in her hand, and mentors in journalism encouraged her to climb into the churn of reporters at press conferences and red carpets. Suddenly Nesha went from being a simple fan to a participant in the process of reporting.
She takes a moment with her phone to pull up a video posted on the program's website, made at the time she worked as a 16-year-old chasing down man-on-the-street stories in Harlem. She laughs forgivingly at her adolescent impatience and the mannerisms that betray it. "It cracks me up because I didn't realize how Brooklyn I was back then. Back then, Brooklyn was my whole world, but I didn't realize how much of a Brooklyn accent I had, and how even my mannerisms were so aggressive. I was just an aggressive little girl."
An aggressive little girl who got the work done. Her first interview was with R&B star Chris Brown. Her man on the street interviews involved questions about political and social news in the black community. She shows me a clip where she's asking 50-year-old men about the violent execution of a gang leader in New York the day before. Where did she get the courage, the chutzpah, to approach people who might be reactive to certain questions, especially when posed by a teenager?
"I was also interning, doing all that transcribing, and I was able to hear how the professionals I worked for would phrase their questions, which was the best thing. A lot of the time, in work situations, interns don't want to transcribe. It's slow work. But I loved it. I did as many transcripts as I could because I got to hear the unedited interviews that these professionals are creating on the spot. I learned by working."
The work continued at night, when she got home. Rhonesha started a blog called Life, Society and Style in which she recounted her daily adventures in journalism. "It was mostly society and style," she laughs. "I was 15, but at that time it was pretty rare for a 15-year-old to have an internet presence." That presence was shaped into Her Agenda. But not before she went off to Greencastle, to become a presence in the community that is DePauw University.
It wasn't easy at first, transplanting her agenda from Brooklyn to the greenswards that surround East College. It helped that she was a member of the Posse program. "Just having other people who were from my city, being able to talk to them and be around them, that helped a lot." The Posse community helped her through some early doubts. "I remember sophomore year I almost cried when I had to go back. DePauw was not my number one choice; I'd wanted to go to NYU or Northwestern. I felt like what I was doing would connect to bigger cities. But my posse was at DePauw, and they were reminding me what went on there and why. They drew me back."
She smiles at the thought. "And DePauw was the best thing for me. The small class sizes, the accountability. The ability to make it in the middle of nowhere, to focus on school. I always say, if I went to school in a big city, I probably wouldn't have graduated in four years. I would've gotten side-tracked or distracted by working on a project or something like that, outside of school.
"It's the liberal arts, so there's not a lot of typical training, but I took a lot of theory-based classes that helped me really put all of the things that I was doing into context."
"I took advantage of the radio station. I wanted to be part of the news show, but that was very much a time-consuming activity. So, I just had my own show, which they let you do. Like, you had access to the studio, so you can do whatever you wanted. I took a class with [Professor of Communication] Jeff McCall. He is very serious about his projects and we did this radio documentary that he submitted to the Associated Press, and we ended up winning.
It seems fun for her to think back. She's a million miles from Greencastle now, but DePauw still runs through her mind as she helps Her Agenda set up the ambition and agenda of hundreds of thousands of other women. We glance at the skyline of Philadelphia as it passes. It too seems a long way from New York.
"DePauw," she says, a little blankly as if announcing it like a stop on the route, which of course is exactly what it was for her. "It's the liberal arts, so there's not a lot of typical training, but I took a lot of theory-based classes that helped me really put all of the things that I was doing into context."
Nesha puts a finger in the air, as if she's just realized something. "I remember I was taking a class with Sheryl Tremblay. She was a character; I loved her classes. She's very soft-spoken, very knowledgeable. I was very much getting trained in the logistics of journalism while being exposed to the larger story of journalism and the theories of what make it work." She shakes her head at the memory. Amazement is what it looks like. "I remember there was an idea called the Agenda Setting Theory about how media sets the agenda for society." She pauses for a moment. The pun on the website, the larger point even seems too obvious to make. So she doesn't.
Nesha glances into the invisible space in front of us, far from the bowels of the city, riding above ground near the sunlit shore. The train throbs on to Washington, its cars bustle into the distance. The future barrels towards her.
Her talk will ensue tomorrow, and she'll tell the story of how she got to where she is now – the business of telling the stories of how other women, admirable and strong, got to where they are. She'll be speaking directly to another set of young women, urging them, in turn, to pay attention to the journeys of those who came before them. Their mothers, their sisters, their teachers and more.
Some of them will hear, too. Some of them may even begin their agenda right then and there. And that's the goal. That's what Rhonesha Byng wants for all the little girls waiting to become something. A little help. A role model or two. A way to get to where they want to be. We don't even have to arrive in Washington for me to see that this is Rhonesha Byng's agenda, and it always has been.
Back