DePauw Prepares for Sept. 4 Ubben Lecture by Nobel Laureate Malala Yousafzai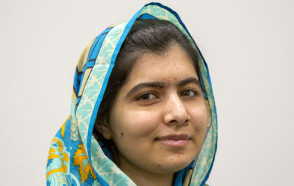 August 23, 2017
Doors at DePauw University's Lilly Center will open to students with valid DePauw IDs at 5:45 p.m. for the September 4 Timothy and Sharon Ubben Lecture by Malala Yousafzai, while all other guests -- alumni, faculty, staff and the general public -- can enter Neal Fieldhouse beginning at 6 p.m. The program, which is free and open to all, begins at 7:30 p.m. No tickets are required, and seating will be on a first-come, first-served basis.
"We are expecting a very large crowd and hope to have as many as 5,000 seats available," noted Ken Owen '82, special adviser to the president and coordinator of the Ubben Lecture Series. "Malala's visit may have the most pre-event 'buzz' of any Ubben Lecture in the 30-year history of the series and, if phone calls are any indication, visitors from several states away will be making the trip to Greencastle. I encourage people to get to the venue early to ensure they're able to be part of this very special day."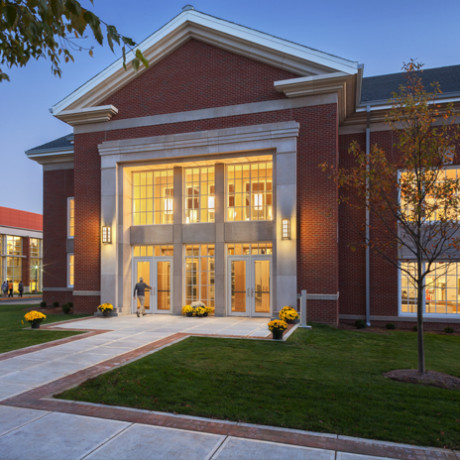 If needed, overflow seating will be available across the street in Green Center for the Performing Arts' Kresge Auditorium, where the program will be shown via a closed circuit video transmission.
Attendees should be prepared for security checks. Bags, backpacks, cameras, signs, key chains with mace or pepper spray attachments, and weapons will not be permitted in the Lilly Center. Photography and video/audio recording by members of the audience will be prohibited.
DePauw first announced Yousafzai's visit in June; read more here.
The Ubben Series was established in 1986 through an endowment established by 1958 DePauw graduates Timothy and Sharon (Williams) Ubben. The programs are fully underwritten by the Ubben Fund.
Guests of the Ubben Lecture Series have included David Cameron, Benazir Bhutto, Bill Clinton, Margaret Thatcher, Leslie Odom Jr., Jane Goodall, Andrew Luck, Jesse Jackson, Tony Blair, Jimmy Kimmel, Spike Lee, and Gen. Colin Powell.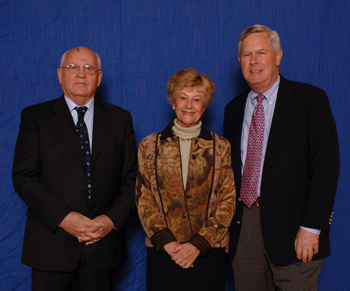 Malala Yousafzai will become the tenth Nobel laureate and eighth winner of the Nobel Peace Prize to be welcomed to DePauw as an Ubben Lecturer. The previous visitors included Leymah Gbowee, Oscar Arias, F.W. de Klerk, Mikhail Gorbachev, Shimon Peres, Willy Brandt, Elie Wiesel, Leon Lederman, and Ferid Murad, a 1958 DePauw graduate. (at right: Sharon and Tim Ubben with Mikhail Gorbachev; October 27, 2005)
To view a complete roster of Ubben Lecturers -- which includes links to video clips and news stories -- click here. Video montages of many events are available on YouTube.
Back