Helen Zimmerman '90 On Her Journey from Bob & Tom to Leading Nonprofit
August 15, 2017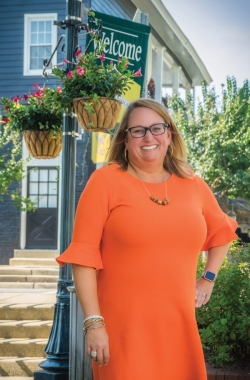 "Our mission is historic preservation, but economic progress -- to make sure it's a viable community for not only our residents, but also our businesses and merchants," says Helen Zimmerman, executive director for Historic Newburgh, Inc., and 1990 graduate of DePauw University. She is featured in Evansville Business.
"Helen Zimmerman thought she never wanted to work in radio again," writes the magazine's Elisa Gross. "She left St. Louis in 1996 after working for station KSD 93.7 and became the development director for the Alzheimer's Association in Indianapolis. Zimmerman eventually would come back into the media world after networking with a friend Kathy Hucks, who happened to be married to Chick McGee of The Bob & Tom Show in Indianapolis. Through her connection to McGee, Zimmerman began marketing for The Bob & Tom Show and, ultimately, for the show's titular star Bob Kevoian."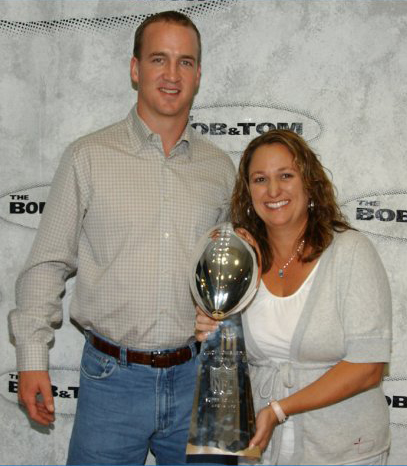 Zimmerman recalls, "It was pretty amazing to watch it happen, and then to work with it and to introduce it into markets." (at left: Zimmerman and Peyton Manning)
The piece continues, "In 2015, Kevoian retired, and Zimmerman and her family made a big move to a small town in Southern Indiana. The family has been in Newburgh ever since with Zimmerman heading up Historic Newburgh, Inc. as executive director since January 2017.
Read more at the publication's website.
Helen Huisinga Zimmerman majored in psychology at DePauw and went on to earn master's degrees in marketing and media communications from Webster University in Missouri.
Source: Evansville Business
Back