DePauw Prepares to Welcome 630 New Students
August 17, 2017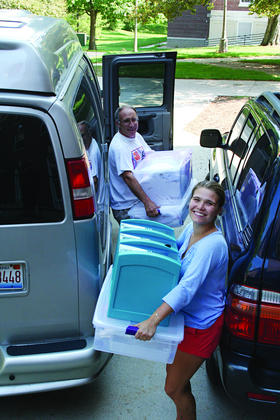 DePauw University's 181st academic year will begin in earnest tomorrow when 630 new students arrive on the Greencastle campus for the traditional move-in day. The incoming undergraduates include 607 first-year students, nine exchange students, and 14 who are transferring from other colleges.
Thirty-nine percent (247) of the new students hail from Indiana, while 15% (97) are coming from outside of the United States. The 21 countries they represent include China (35), Pakistan (12), Vietnam and Japan (10 each), South Korea (4), and Spain and India (3 each).
Twenty-three percent (142) of the incoming class are domestic students of color, while 19% (121) will become the first members of their families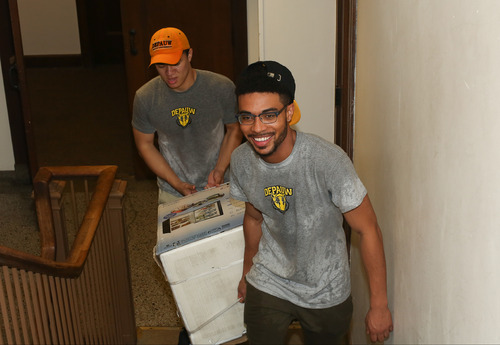 to attend college. There's almost an even split in the new arrivals: 51% are female, 49% are male.
DePauw is a college with long family traditions, and 109 of the new students have parents or other relatives who are alumni of the University.Twenty-seven of the new students are enrolled in the DePauw University School of Music.
The freshman class will include 70 Honor Scholars, 60 Management Fellows, 22 Media Fellows, 14 Science Research Fellows, and five Environmental Fellows.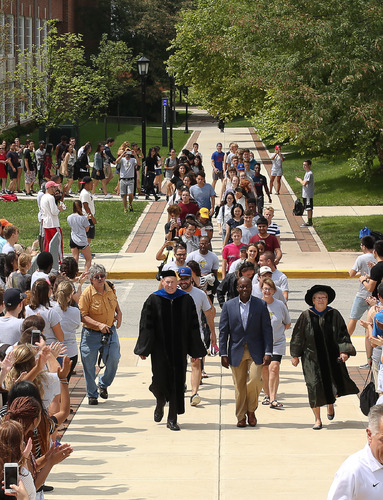 The new students are the result of an admission year in which DePauw received 5,283 applications, an increase of 8% from the previous year. More than 1,000 of the applications (1,096) came from international students, a gain of 23%. Applications came from 45 states and 83 foreign countries.
"It's a time of year that's always filled with excitement and one that a great many people on our campus have worked hard over the summer to prepare for," said Ken Owen '82, special adviser the the president. "As someone who did this 39 years ago, I can say that arriving in Greencastle and moving in to a residence hall is an experience that stays with you forever. Wonderful memories and lasting friendships are created with the beginning of each school year, and we're excited to extend DePauw's legacy to a new group of young scholars."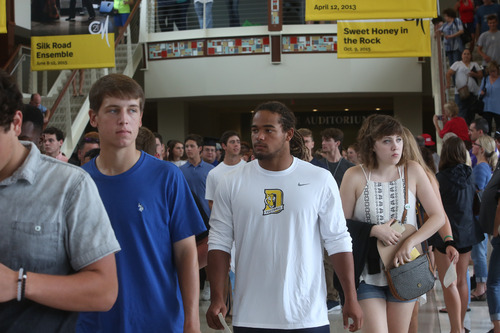 Friday will begin with the new students, aided by their families and members of the DePauw staff, moving into their living units. The afternoon will feature a procession of the new students across campus to a convocation at the Green Center for the Performing Arts, where they'll be welcomed by DePauw faculty, staff and alumni, as well as President D. Mark McCoy.
Learn more about move-in day here.
Friday's opening convocation begins at 2:30 p.m. (Eastern time) and will be webcast via this link.
Back