"This is a Magical Time," President McCoy Tells 630 New Students at DePauw's 2017-18 Opening Day
August 18, 2017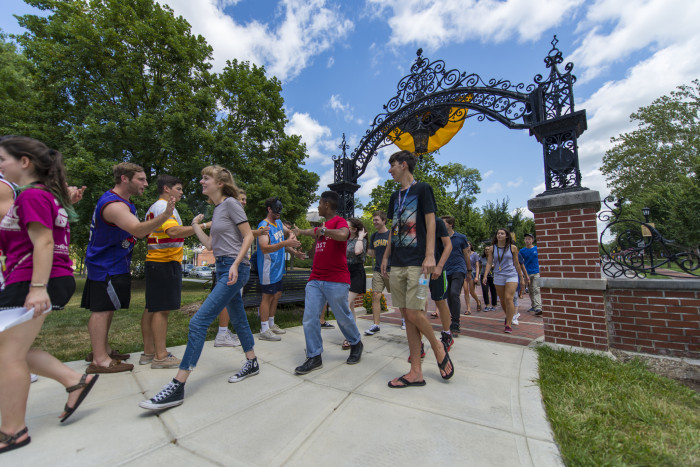 "Welcome to DePauw and to what will likely be the most influential years of your life," Mark McCoy, the 20th president of the University, told the 630 new students who arrived on the Greencastle campus today. At this afternoon's traditional opening convocation, Dr. McCoy told the undergraduates and their families, "We are glad you are here. You are about to enter a time of wonder and wandering as you make your way around the world and around the world of knowledge to be unleashed within these halls. This is a magical time and we are glad to be on this journey with you."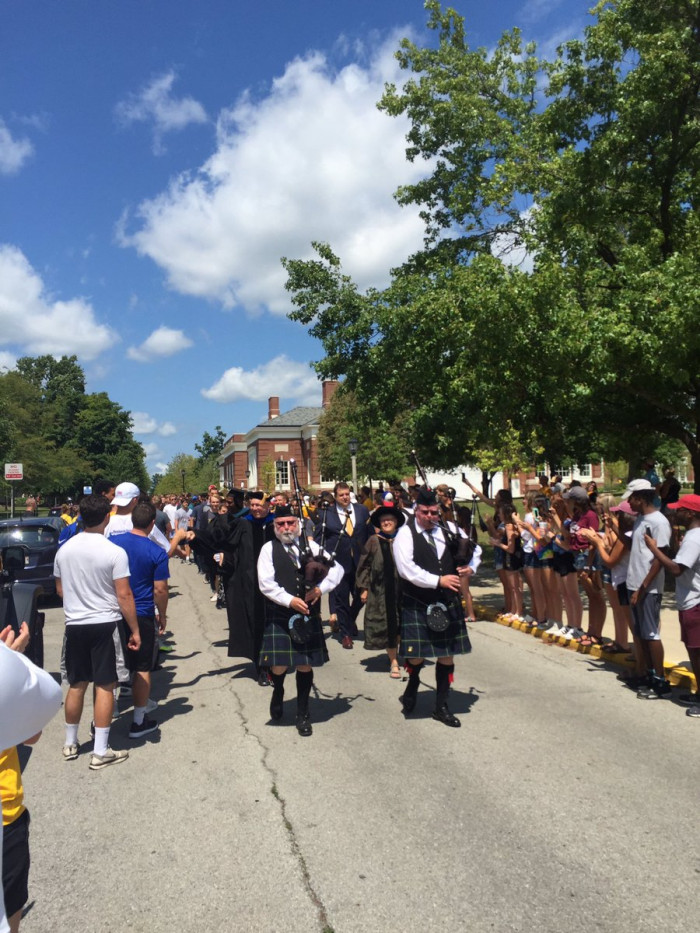 The day began with the new arrivals checking in and moving their belongings into residence halls. At about 2:15 p.m., the new students, led by the president and other DePauw leaders, processed through the gate outside historic East College and through the campus toward the Green Performing Arts Center, where they were greeted by cheering members of the faculty. The convocation took place within the Green Center, in Kresge Auditorium.
"Our world is dividing into smaller and smaller circles and speeding up and we need people who bring it together and slow it down," President McCoy told the new students and their families, who filled the 1,400 seat venue. "The liberal arts education is designed to expand our thinking and our time to ponder. To challenge what we think and to consistently test our hypotheses. These are the tools to understand the world."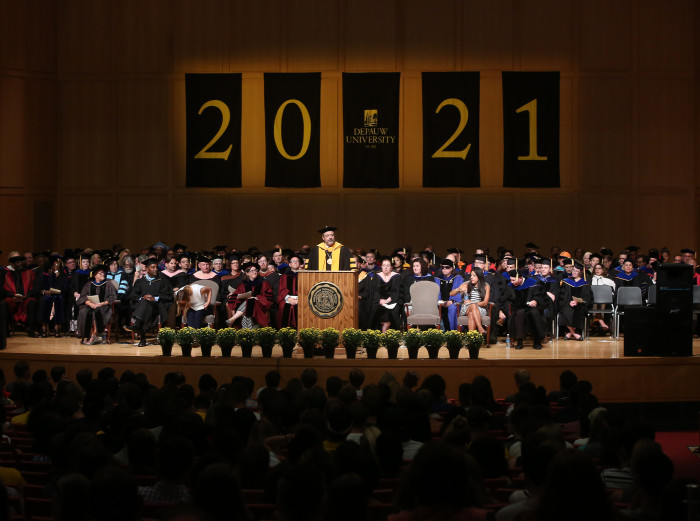 He noted, "After college, you will spend your time learning more and more about less and less. This is last chance you have to learn broadly and with abandon. Chase your passion, learn about something you had never considered, pursue an interest for no other reason than because you can. The world you will walk into needs leaders who are equally at home with a symphony and a spreadsheet, with a computer program and a poem, with the periodic table of the elements and the elements of art and design."
McCoy added, "For this life-changing education, you have chosen a university that has been developing leaders for nearly 200 years. The leaders we needed in 1837 were different from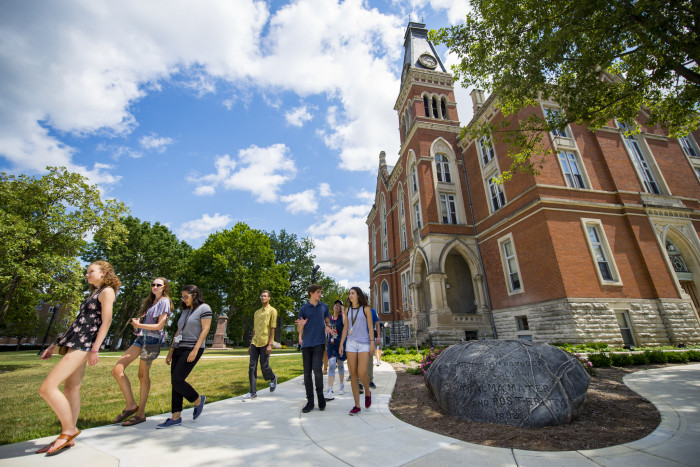 those we needed in 1857 or 1957 or 2021, but DePauw has developed each in turn. You will quickly become one of those leaders. And that is why, the world needs you. The world needs liberal arts graduates who can understand the world in deep and profound ways and lead us forward wisely."
The incoming undergraduates include 607 first-year students, nine exchange students, and 14 who are transferring from other colleges.Thirty-nine percent (247) of the new students hail from Indiana, while 15% (97) are coming from outside of the United States and represent 21 foreign countries. Twenty-three percent (142) of the incoming class are domestic students of color, while 19% (121) will become the first members of their families to attend college. There's almost an even split in the new arrivals: 51% are female, 49% are male. (photo below: "legacy" students and their families pose in front of Hoover Hall; 109 of the new students have a relative who attended DePauw)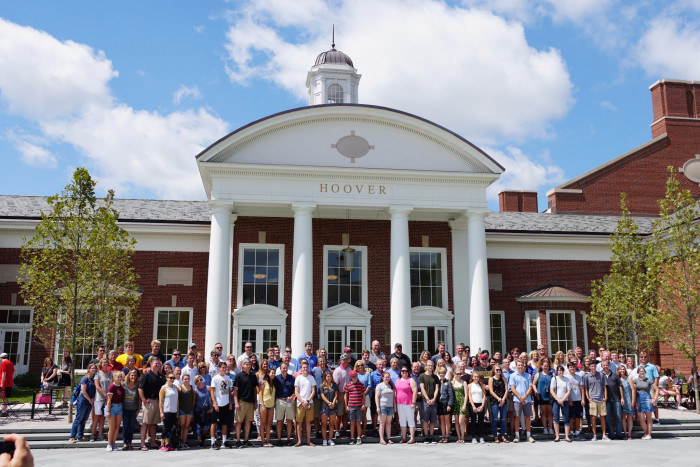 Learn more about the Class of 2021 here.
This afternoon's program included remarks from DePauw senior and student body president Erika Killion, who told the new students, "What I want you to do more than anything is to first get involved and then give back." She spoke of "the type of legacy I hope to leave at DePauw -- I want to help create an empowering culture that knows how to embrace change. Now your DePauw legacy could be new club that fills a unfulfilled need or a new interdisciplinary major you created -- both of which you can do -- or maybe it's something more ephemeral; some shift in the campus culture caused by your attitude and actions. I want DePauw to have given you so many friendships and opportunities that you, after your first year here, want to find a way to give back and leave that legacy."
As DePauw begins its 181st academic year, President McCoy told its newest entering class, "In your time here you will learn things about the world you never knew and things about yourself you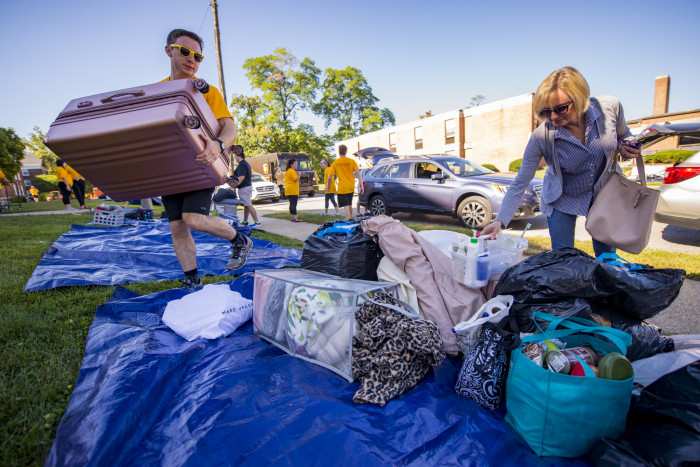 never understood. You will develop incredible friendships, memories that will last a lifetime and a wisdom that will light your path. You will be exposed to the world's great thinkers and expand your worldview and expound on your discoveries and explain your positions and suddenly you will realize, you are leading. Maybe not by title, maybe not by position but you will find that the skills you developed here have made you a leader."
The president stressed, "There is no room in our society for ideologies that build one group up by tearing another group down; no room for divisive rhetoric or action. We share this tiny planet and we had better learn to get along. While there is still time. Leaders the world needs now know this and understand this deeply."
Dr. McCoy concluded, "So today, we take our first steps on this journey together -- our first steps together seeking and pursuing your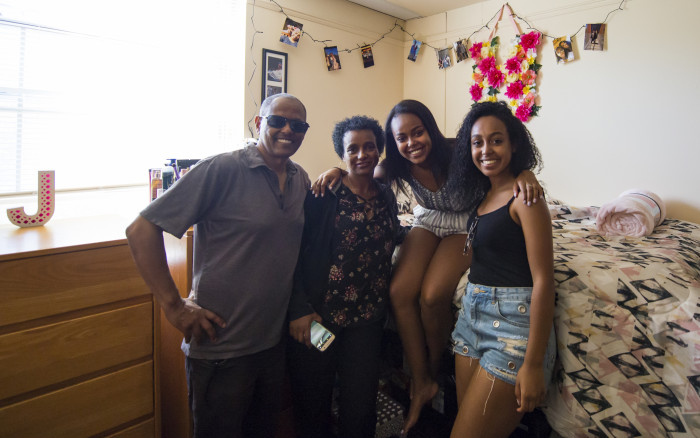 passion, becoming broadly and soundly educated and becoming the leader the world needs now. The world needs liberal arts education, the world needs DePauw University, the world needs you. We are so glad you are here. Let's get to it."
The students also heard from Anne Harris, vice president for academic affairs; Alan Hill '81, vice president for student academic life and dean of experiential learning; and Denise Castillo Dell Isola '96, president of the DePauw Alumni Association board of directors.
At the conclusion of the program, which is embedded below, the students began their orientation programs. Classes start next Wednesday, August 23.
Back