Story on David Cameron's Upcoming South Dakota Visit Notes DePauw Ubben Lecture
August 27, 2017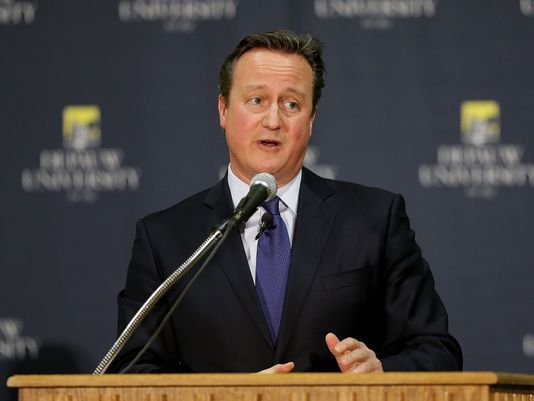 "Tickets go on sale Monday for former British Prime Minister David Cameron's lecture in Rapid City," begins a story published in the Argus Leader of Sioux Falls, South Dakota. A photo accompanying the article carries the caption, "David Cameron, former Prime Minister of the United Kingdom, spoke at DePauw University Thursday, December 8, 2016, as part of the Timothy and Sharon Ubben Lecture Series in Greencastle IN." (the photo is also seen here at right)
Dana Ferguson, a 2014 graduate of DePauw who is a reporter for the paper, writes, "Cameron served as prime minister of the United Kingdom of Great Britain and Northern Ireland from 2010 to 2016. He led Britain's first coalition government in nearly 70 years and, during the 2015 General Election, formed the first majority conservative government in the UK for in two decades."
Access the piece here.
Cameron's speech at DePauw ("The Historic Events of 2016 and Where We Go From Here"), like all Ubben Lectures, was free and open to the public.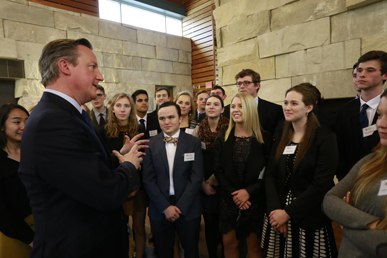 It was the former prime minister's first public address since leaving office and received worldwide media attention. (at left: Cameron discusses current events with DePauw students at the Prindle Institute for Ethics)
Established in 1986 through the generous support of 1958 DePauw graduates Timothy H. and Sharon Williams Ubben, the Ubben Lecture Series was designed to "bring the world to Greencastle." The series has now presented 107 events over the past thirty years. The next visitor, Nobel Peace Prize recipient Malala Yousafzai, will come to DePauw next Monday, September 4. Read more here.
Source: Sioux Falls (S.D.) Argus Leader
Back