Associated Press Spreads the Word Nationally of Malala's Monday Visit to DePauw
September 2, 2017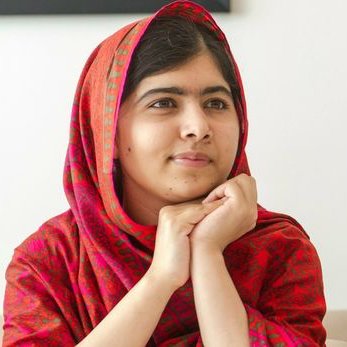 "The youngest person to win the Nobel Peace Prize is coming to DePauw University to deliver a public lecture," begins an Associated Press report that is receiving national distribution today. "Malala Yousafzai is scheduled to speak Monday night at the Neal Fieldhouse in Greencastle before having an onstage conversation with a DePauw professor of religious studies. She'll also answer audience questions during her appearance on the campus about 40 miles west of Indianapolis."
The AP adds, "Yousafzai was 17 in 2014 when she became the youngest person to win the Nobel Peace Prize. She won that prize two years after being shot by a Taliban gunman in her native Pakistan for speaking out for girls' rights to an education."
The item is appearing in media outlets including U.S. News & World Report and the Houston Chronicle.
Monday's event, which is presented by DePauw's Timothy and Sharon Ubben Lecture Series, begins at 7:30 p.m. Doors at DePauw University's Lilly Center will open to students with valid DePauw IDs at 5:45 p.m. while all other guests -- alumni, faculty, staff and the general public --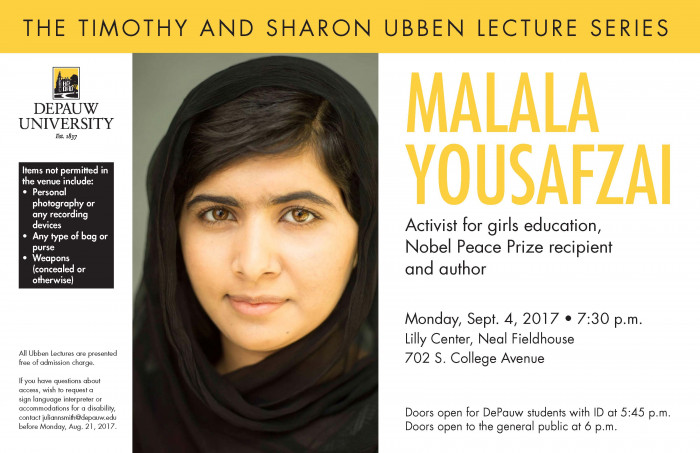 can enter Neal Fieldhouse beginning at 6 p.m. The program, which is free and open to all, offers seating on a first-come, first-served basis.
Learn more here.
An Indianapolis Star listing of "20 big-name celebrities you can see in Indiana this fall" starts with the visit to DePauw University by Malala Yousafzai. Read more in this summary.
Also available is information on submitting a question for Malala, as well as the original announcement from June.
Source: Associated Press
Back