Houston TV Reporter Courtney Fischer '07 Discusses Covering Hurricane Harvey on ABC's This Week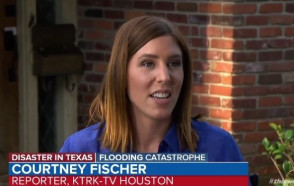 September 3, 2017
"It has been non-stop," says Courtney Fischer, a reporter for Houston ABC affiliate KTRK-TV, of the job of covering Hurricane Harvey. Fischer, a 2007 graduate of DePauw University, was interviewed this morning by Martha Raddatz for the network's This Week program.
"I think that nobody has gotten a break," she said. "It's been exhausting, but I cannot even imagine how the people who have lived this have fared, because we still get to go home and talk to families. I mean, many of us have slept at the station and been displaced. And I don't know how some of my colleagues powered through this week, but just seeing all of those people in homes that have struggled and lost everything."
When asked about the emotional toll of reporting on a disaster, Fischer stated, "I think that there are moments where you just forget to kind of go through that emotion and then you just can't keep it in any more. I know several colleagues have broken down on camera, because they're out there trying to help and save people. And at some point, you just have to say goodbye and you can't keep helping people who are stuck.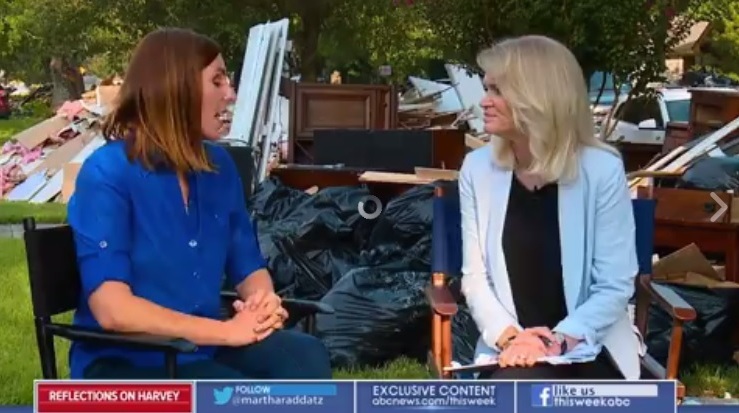 That's heartbreaking to leave them in their flooded homes."
Raddatz opened the segment by telling Fischer, "We've known each other for awhile. I so admire what you've done this week." At the conclusion, she stated, "you have a heart and you have a soul. And you're a magnificent reporter. Thanks so much, Courtney for all you've done this week."
An English (writing) major at DePauw, Fischer has also reported for WTAE-TV in Pittsburgh and WLEX-TV in Lexington, Kentucky.
Back