Entrepreneur Jenna Buehler '12 Featured in Hometown Newspaper
March 30, 2017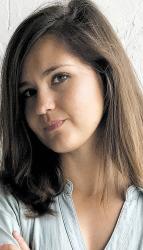 Jenna Buehler, a 2012 graduate of DePauw University, is just 27 years of age, but already "has amassed a considerable resume and experience reaching an exciting milestone in her career last week," reports Indiana's Carroll County Comet. "She brought to fruition a project to assemble a group of people, investors and entrepreneurs, under one roof, to efficiently provide mentorship and funds for startups."
Two years ago, Buehler co-founded Groundswell Startups Inc., and now serves as its CEO. "Groundswell is what is commonly referred to as a hightech incubator," writes Debbie Lowe. "Buehler and her supporters moved Groundswell into a renovated abandoned indoor skatepark [in Melbourne, Florida] last week, which was a dream come true for her. Buehler said when she launched the nonprofit, and up until last week, she has been working from coffee shops, her home, a sailboat and start-up companies' offices. That all changed Friday when the skatepark became the official home of the not-for-profit enterprise."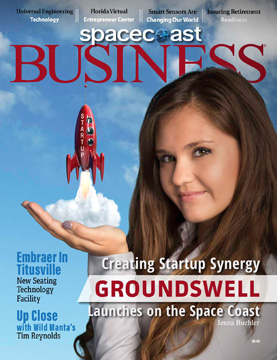 "What is going on with start-ups and incubators is symbolic of the emerging economy," Buehler tells the newspaper. 'The concept of bringing the high tech culture under one roof was a goal from the beginning of Groundswell. It took six months to find the building and more than a year for the renovation."
She adds, "By having the startups under one roof Groundswell will provide a mentor network, increase the pipeline to capital by matching startups with investors and increase other resources the startups need at a reduced cost. It's the mentors who set the bars in your life, and that drives you."
The article points out that Buehler -- who majored in English (writing) and was an Information Technology Associate and Media Fellow -- had eight internships while a student at DePauw. "After graduation, she became the executive assistant for the vice president of communications of the Knight Foundation and reported for the start-up scene. She moved to Miami, Fla., and became a freelance journalist in 2013." Other writing jobs led to her taking the entrepreneurial plunge.
"Buehler said her long-term plan is to start her own for-profit company. She said she wants to be able to support multi-million dollar companies in progress."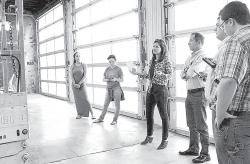 The DePauw alumna says, "I want to be the next wave of female billionaires. It's a goal of mine to be the woman who writes big checks to chicks!" She adds, "I never thought I'd be at this point back in 2007, I'm a firm believer in the chaos theory."
You'll find the complete article at the newspaper's website.
Also available is this recent summary.
Source: Carroll County (Ind.) Comet
Back