FOX News Anchor Bret Baier '92 Talks with The Atlantic
October 11, 2017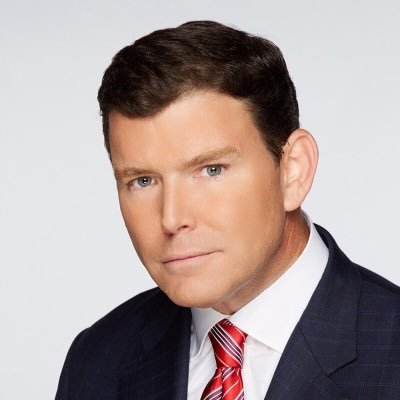 "Every administration thinks they're getting bad press," says Bret Baier, anchor of Special Report on FOX News Channel and 1992 graduate of DePauw University. "The Bush administration did. The Obama administration thought it was getting bad press from both sides, although arguably that wasn't the case."
In an interview with The Atlantic, Baier states, "The Trump administration not only complains about it behind the scenes, but the president obviously takes that case to the American people -- and sometimes in a very pointed and, in my opinion, over-the-top way, which for us as journalists is very uncomfortable. It may work to fire up the base because we're a target, we have lower approval ratings than Congress. But for doing our jobs, it's not a good thing. And probably for the country, it's not a good thing."
Asked about the ongoing investigation into allegations that Russia and the Trump campaign colluded in the 2016 presidential election, Baier offers, " I think it's going to get to a more fevered pitch soon. It seems like

things are coming to a head, and there's a sense on the Hill that there are going to be some indictments. We want to make sure we're on top of it, and every morning meeting it's on a checklist of what we're covering that day. And we haven't shied away from doing the story. That said, the original charge and some of the really heated rhetoric about it I don't think has panned out as of yet. Clearly, [Independent Counsel Robert] Mueller's onto something, and he's doing interviews I think this week with White House officials, so we may be hearing more about that."
McKay Coppins writes that Baier's "nightly newscast, Special Report, is probably the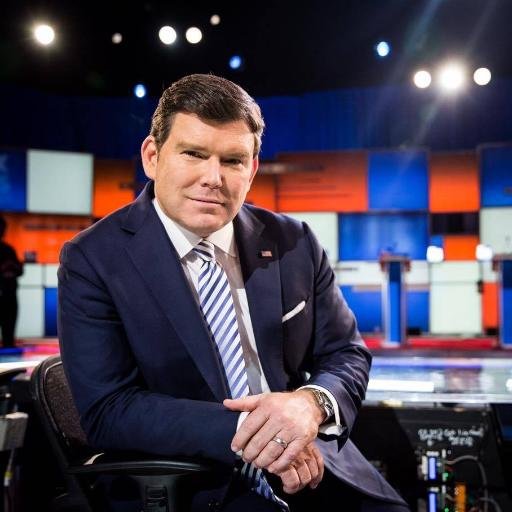 closest FOX News has ever come to achieving the 'fair and balanced' standard set by its original slogan" and that "he dominates the cable-news ratings battle in the 6 p.m. hour 00drawing nearly 2.5 million viewers on an average night."
Asked about his future plans, Baier tells the publication, "I don't know if I'm going to be doing it until I retire. I know I'm going to be doing it through 2020. I think for all the challenges that FOX has had in the past year -- and I'm not going to sugarcoat it, it's been a tough year -- it's remained No. 1 even through the toughest times. This is a channel that didn't change anything for 15 years -- we had the same lineup. I think we're hitting our stride, and there's a lot of optimism inside the walls. It's not just talk, you really feel it. They've told me the resources are there to expand our news operations. That makes me happy because Washington is the center of the news universe."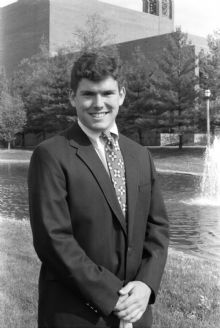 Access the complete article at the magazine's website.
An English (composition) and political science double major at DePauw, W. Bret Baier captained the Tiger golf team and was among the first students to work in the then-new Center for Contemporary Media. While a DePauw student, he interned with Bernard Shaw at CNN and landed his first professional job at WJWJ-TV (PBS) in Beaufort, South Carolina. He also worked at WREX (NBC) in Rockford, Illinois, and WRAL (CBS) in Raleigh, North Carolina, before joining FOX. (at left: Baier standing on the DePauw campus in his undergraduate days)
Baier returned to DePauw for Old Gold Weekend in 2013 and spoke as part of the Timothy and Sharon Ubben Lecture Series and received the University's Distinguished Alumni Achievement Award. The talk is summarized here; video is embedded below.
Source: The Atlantic
Back