Newspaper Shares "Inspiring Story" of DePauw VP Alan Hill '81 & '83
October 17, 2017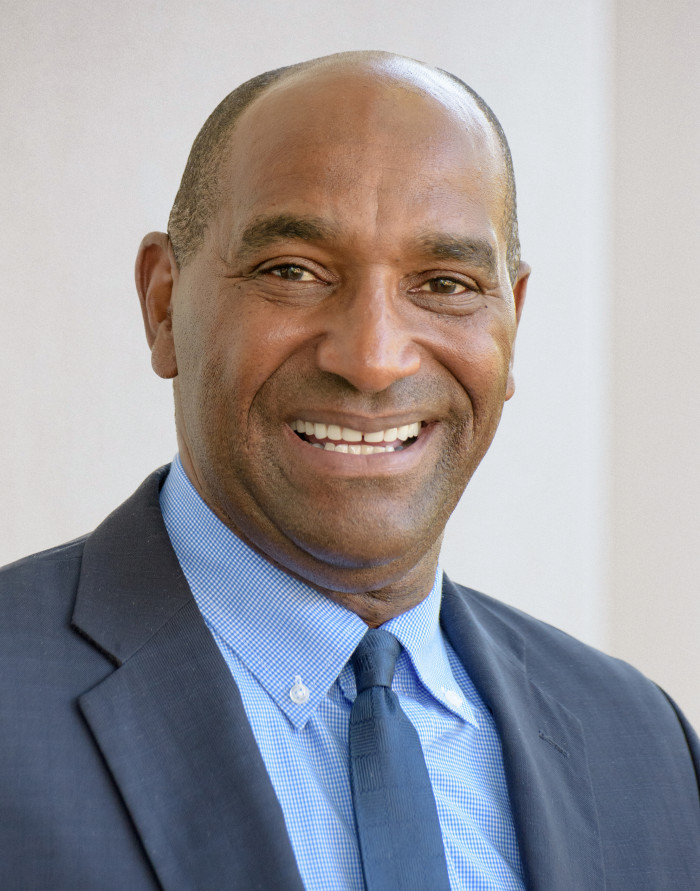 "There are people in that town who made a tremendous difference in my life," Alan Hill says of Terre Haute, Indiana. The 1981 DePauw University graduate is the subject of a feature in the Terre Haute Tribune-Star, which is headlined " Path paved by potential: Alan Hill an inspiring story beyond the athletic fields."
Mark Bennett writes that as he conducted conversations for the upcoming book, Legends Through the Decades, "Particularly memorable is the story of Alan Hill's path from Terre Haute to his current career as DePauw University's vice president for student academic life and dean of experiential learning. The short explanation is that Hill graduated from Terre Haute North High School, earned All-America status in football and track at DePauw, got a bachelor's degree, played preseason games for the Dallas Cowboys, added a master's degree at DePauw, worked for a major corporation and then entered his life's calling as an administrator in higher education."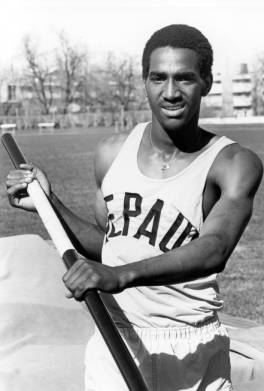 The article recounts Hill's childhood growing up with his parents, eight sisters and six brothers in Burnett, a small town in northern Vigo County. Hill delivered papers and was a pole vaulter on the Terre Haute North High School track team, and was recruited by DePauw's then-new football and track coach, Bob Bergman.
"Hill's life was about to change," Bennett notes. "DePauw offered Hill a scholarship to study and compete at that liberal arts university in Greencastle. 'Athletics opened the door for me to get a great DePauw education,' Hill said. 'It made my father, my mother, and my siblings very proud.' His father, born in 1904, had worked his entire adult life on an eight-grade education, Hill explained. DePauw's interest in Alan impressed William. "'verybody aspires to see their kid do better than they did,' Hill said, 'and he saw that as a pathway.' It was indeed. And he stayed on that path. College 'was transformational for me, Hill said."
He later earned as master's degree from DePauw in addition to his bachelor's degree.
The newspaper points out, "In track, Hill became a national champion by mastering the pole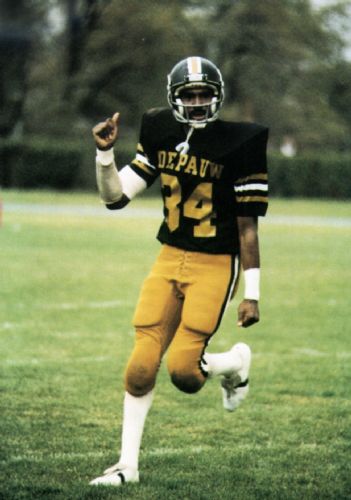 vault, an almost artistic event blending athletic talent, technique, a 15-foot pole and a bar of nearly equal height propped on posts. In football, he became the nation's most elusive kickoff returner and a defensive back who intercepted four passes in a single game. That drew the eyes of the Dallas Cowboys, who signed Hill as a free agent and kept him through five roster cuts in the '81 preseason. As summer training camp for 'America's Team' began, nearly 100 players assembled, competing for fewer than 50 roster spots. Newcomers were introduced and, Hill said, 'There were only five of us that had completed our college degree at that time. It made me proud.'"
The article notes Hill's career, which began at IBM and has included several other colleges, and his marriage to the former Jennett McGowan '85.
Alan Hill tells the newspaper, "Family, friends, teachers and coaches believed in me and saw a bigger opportunity for me than I saw myself."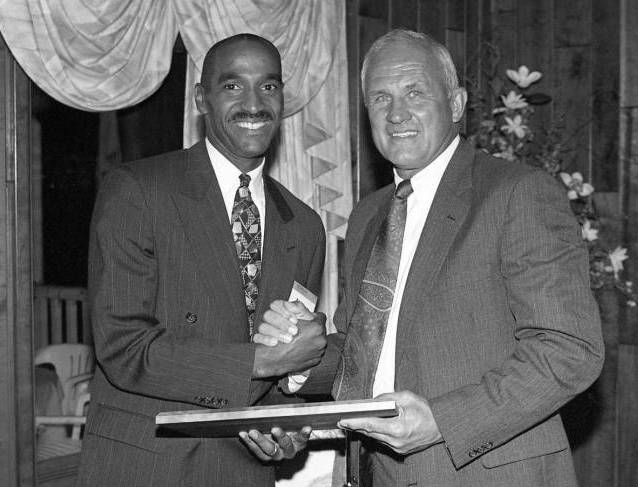 You'll find the complete piece and accompanying photos at the Tribune-Star's website. (at left: Hill with former DePauw coach and athletic director Ted Katula)
Alan Hill was a three time all-American athlete and DePauw's first national champion. He was inducted into DePauw's Athletic Hall of Fame in 1994. As a Tiger he captured the NCAA Division III pole vault title by leaping 15 feet, four inches and still holds the school record of 16 feet, one inch. A defensive back in football, Hill was featured in Sports Illustrated after intercepting a school record four passes for 159 yards at St. Norbert's College. Against Olivet Nazarene, he returned a kickoff a school-record 100 yards and his career average of 36.2 yards per return is among the 15 highest single-season averages on all levels.
Source: Terre Haute Tribune-Star
Back