Newspaper Previews Today's Football Game Between NCAC's Two Unbeaten Teams
October 21, 2017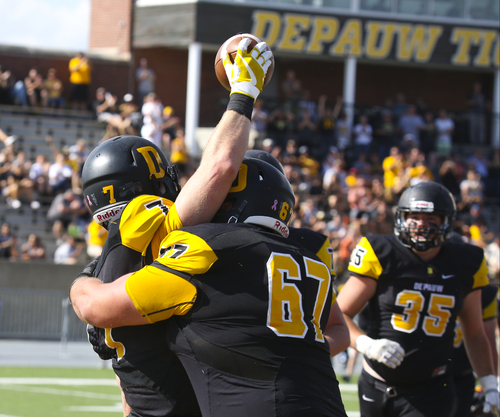 "When you look at DePauw, the first thing that stands out about them is they're so well coached," says Wittenberg University head football coach Joe Fincham. He tells Ohio's Springfield News-Sun, "You have to beat a DePauw team. They're not going to give it away. They play a lot of juniors and seniors. Their offense is particularly senior laden. They present a lot of schematic issues for you. They don't do a bazillion different things. They do what they do. But the things they do complement themselves. It puts strain on your systems."
The comments come in a newspaper preview of today's 1 p.m. game between Wittenberg, which comes in as the nation's 15th-ranked NCAA Division III team, and #25 DePauw. Both are 6-0 on the season, and the winner will emerge as the leader of the North Coast Athletic Conference. The contest will be played at Blackstock Stadium. A preview with links to audio and video can be found here.
David Jablonski writes, "DePauw ranks third in the NCAC in scoring offense (38.3 points per game) and scoring defense (23.2). Wittenberg leads the conference in both categories. Wittenberg
averages 39.7 points per game and allows 11.5. DePauw has one of the top receivers in the league. Andy Hunt leads the conference with eight touchdown catches. His 83-yard touchdown against Wittenberg two years ago was the back-breaking play, Fincham said, in Wittenberg's 35-30 loss in Greencastle."
Read more in the story headlined "First place on line as Wittenberg travels to DePauw" at the paper's website.
Get more information at the football program's website. Highlights of last Saturday's victory at Denison are embedded below.
Source: Springfield (Oh.) News-Sun
Back