Prof. Beth Benedix Contributes Book Review to Christian Century
October 23, 2017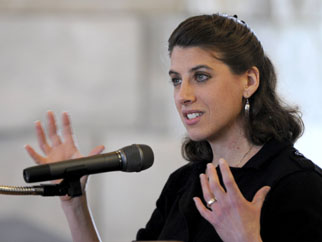 Beth D. Benedix, professor of world literature, religious studies, and community engagement at DePauw University, contributes a book review to the October 11 (volume 134, no. 21) issue of Christian Century magazine. The professor offers an assessment of Forest Dark: A Novel by Nicole Krauss Harper.
"At the heart of this tale is a compelling fantasy: What if Franz Kafka staged his own death, assumed a new name, and emigrated to Israel, living in obscurity on a kibbutz for 15 years before dying in Tel Aviv at the ripe age of 69?," Dr. Benedix writes. "What if, indeed? The implications of this fantasy for the Kafkan universe -- and by extension, for the universe Nicole Krauss
creates in this breathtaking odyssey of convergence, transformation, and restoration -- are startling.
The DePauw professor opines, "Forest Dark is a feast. Dazzling, beautiful, powerful, bewildering, consumed by things eternal: a romance of metamorphosis, creation, and nostalgia for home."
Read the complete review at the publication's website.
Beth Benedix founded and directs The Castle (castlearts.org), a nonprofit organization that partners with local public schools to provide integrated-arts and project-based workshops during the school day.
Source: Christian Century
Back