Coach Nick Mourouzis & Other Members of IU's 1967 Rose Bowl Team to be Honored Next Month
October 28, 2017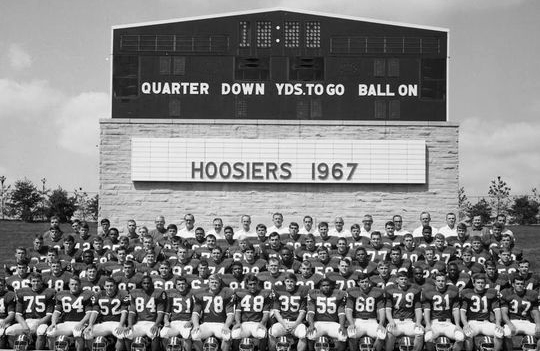 Indiana University's 1967 football team, which included assistant coach Nick Mourouzis, will be honored on the 50th anniversary of their trip to the Rose Bowl. The players and coaches will be recognized November 18 at IU's game against Rutgers.
A lengthy Indianapolis Star features comments from several members of the squad, including Mourouzis, "then an Indiana assistant and later head coach at DePauw for 23 years."
David Woods writes that at the beginning of the '67 season, "A student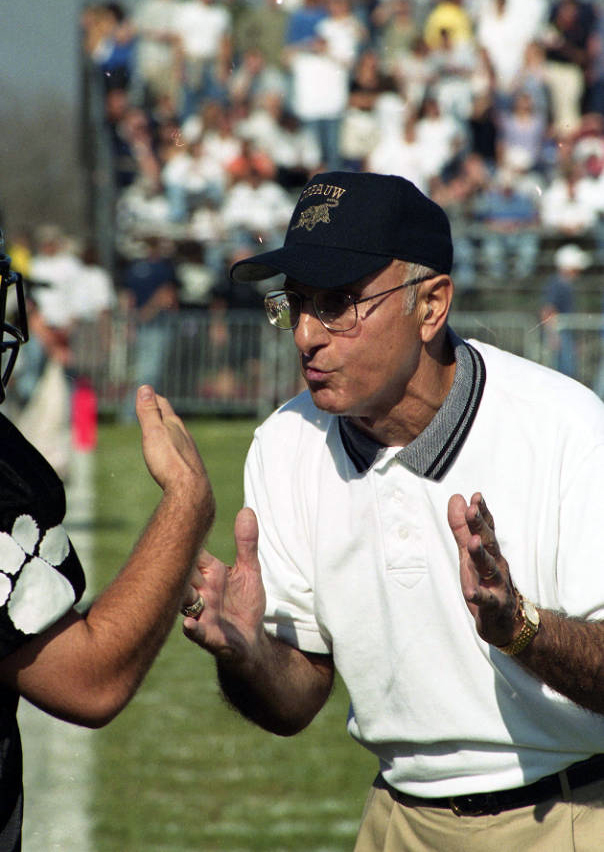 trainer, Dean Kleinschmidt, had spent a summer internship with the Green Bay Packers, who were coming off victory in the first Super Bowl (which did not yet have that name). The trainer said the Packers won because -- remember, he was speaking to roomful of college football players -- they loved each other. Kleinschmidt said the Packers held hands and sang an old gospel song . . . and the Hoosiers proceeded to do likewise, belting out: 'He's got the whole world in his hands.'"
"That, to me, started the season. I really do believe that," Mourouzis tells the paper. (at left: "Coach Nick" during the 1999 Monon Bell Classic)
Woods notes, "They were coming off a 1-8-1 football season and a 51-6 loss to Purdue. If they were not the worst major college team of 1966, they were close to it. Coach John Pont wasn't on the hot seat. He was as good as gone. One year later: If the Hoosiers were not the nation's best team, they were close to it. They finished the regular season 9-1 and ranked No. 4 in the country."
Read more at IndyStar.com.
Nick Mourouzis was DePauw University's head football coach from 1981 to 2003, compiling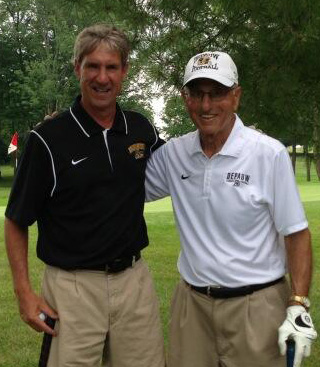 a record of 133-82-4. He was named the Southern Collegiate Athletic Conference Coach of the Year in 2000 and was the Indiana Collegiate Athletic Conference Coach of the Year in 1996 and 1990.
A standout quarterback at Miami (Ohio) University, where he is a member of the "Cradle of Coaches," Mourouzis began his coaching career as a graduate assistant under Bill Hess at Ohio University from 1959-61. "Coach Nick" then spent a year at Ohio's Kettering Fairmont High School, where he was assistant football and head track coach. From there, he moved back into college coaching with assistant coaching stints at Ball State (1962-63), Ohio University (1963-65), Indiana (1965-73) and Northwestern, before coming to Greencastle, where he replaced Jerry Berndt. (at right: current Tiger head coach Bill Lynch with Mourouzis)
Professor emeritus of kinesiology at DePauw, Mourouzis is a member of the Indiana Football Hall of Fame and founded Chi Alpha Sigma, the nation's first collegiate scholar-athlete honor society. Earlier this year, he was inducted as an honorary member into the Northwestern University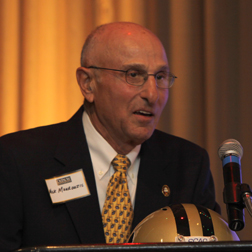 Alumni Association's N Club.
Mourouzis was selected by DePauw students to deliver the commencement address to graduating seniors in 2004.
In October 2013, the playing surface at DePauw's Blackstock Stadium was dedicated as Nick Mourouzis Field, in ceremonies that were attended by dozens of the coach's former captains and players. A video feature of the presentation is embedded below.
Back