Indiana Repertory Theatre Brings Acclaimed Play, The Originalist, to DePauw on Nov. 14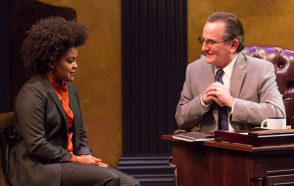 November 13, 2017
The Indiana Repertory Theatre's production of The Originalist, which continues its run in Indianapolis through November 19, will come to DePauw University for a special one-time performance on Tuesday, November 14, at 7 p.m. Tickets are free and available here; seating will be limited in Thompson Recital Hall, located within DePauw's Green Center for the Performing Arts, where the show will be staged. [UPDATE 11/14: All tickets have been distributed and are no longer available]
The Originalist, which makes its Indiana premiere, explores what happens after U.S. Supreme Court Justice and conservative icon Antonin Scalia hires a young, liberal, female law clerk, "and opinions start flying right and left. Every point of view is explored in this thoughtful, witty, open-minded look at one of our most galvanizing national figures," notes an IRT synopsis.
"The questions this marvelous play explores are even more relevant today," says DePauw President D. Mark McCoy, who worked to bring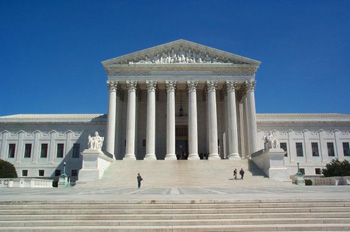 the performance to campus. "It is imperative that people -- no matter which side of the political aisle they reside in -- respect and understand the other side, and that we all live, learn and grow together in this increasingly complicated world. It's an especially powerful point for young people to consider. I saw this play at IRT and was determined to bring this acclaimed production to our campus: it is powerful and entertaining."
The Originalist was written by John Strand. The IRT Upperstage production is the fifth presented by a regional theatre; the IRT's production, directed by playwright-in-residence James Still, is new.
The New York Times noted, "The play is set in the Supreme Court term that ended in June 2013 with a major victory for gay rights. In the play, Justice Scalia debates that case and others with a liberal law clerk, and their odd-couple relationship, with antagonism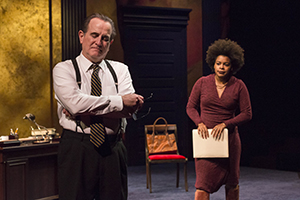 shading into affection, gives the play its shape."
Added the Washington Post, "The way The Originalist works, you hang on every word from Scalia, from his bitterness at being passed over as chief justice to teaching Cat to fire a gun."
Lou Harry wrote in the Indianapolis Business Journal, that "part of the play's pleasure is hearing debate from two drastically different viewpoints that, refreshingly, doesn't descend into shouting matches. Both characters actually seem to be listening to each other, a credit to the script, the actors, and director James Still."
Learn more about the play by clicking here.
Back