See the Promo for Saturday's Monon Bell Telecast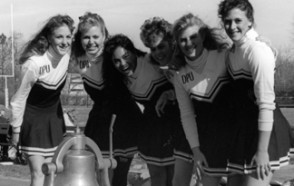 November 5, 2017
Also: Buy Tickets; Pre-Order DVD; More Telecast Info; Monon Bell History
The countdown is on to Saturday's 124th Monon Bell Classic, and as DePauw University and Wabash College prepare for another fun and historic afternoon, FOX Sports is ready to bring the action and color to fans around the country who can't attend the game in person at Blackstock Stadium. A promotion for the telecast is now airing on FOX Sports Midwest and FOX Sports Indiana to alert viewers to tune in for the 1 p.m. (Eastern time) broadcast. (photo: Tiger cheerleaders with the Bell in 1989)
The game will also be available on FOX Sports College Central and via the FOX Sports GO app.
The :15 spot is embedded below.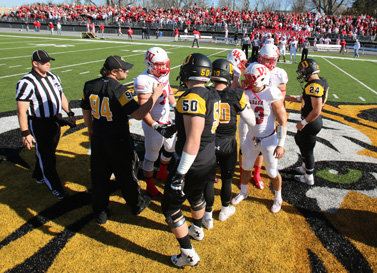 The latest chapter in a rivalry that began in 1890 promises to be an interesting one. DePauw comes into the game with an 8-1 record (a second-best 7-1 in the North Coast Athletic Conference). In 130 years of having a football program, this is the first time the Tigers have won at least 8 games in three straight seasons.
Wabash comes in with a 7-2 mark and with a hunger to avenge last year's thrilling 37-34 game in Crawfordsville, which DePauw won on the late game heroics of brothers Matt and Andy Hunt.
Tickets for the game are still available; information and a link to online ordering can be found in this summary.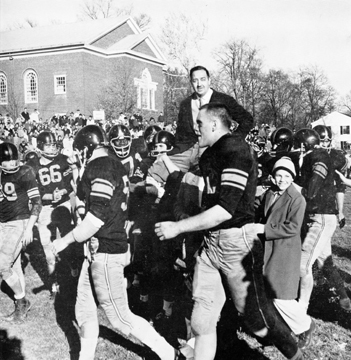 A DVD of this year's battle for the Bell is available for pre-order. In addition, 21 previous contests in the historic series have been captured on disc. Order them here. (at right: players carry coach Tom Mont after a 1960 DePauw victory)
All 123 games to date are commemorated in video vignettes known as "Monon Memories." Created by DePauw's Ken Owen '82, the clips can be found here and on YouTube.
DePauw and Wabash first met on the gridiron in 1890. In 1932, a locomotive bell from the Chicago, Indianapolis and Louisville Railroad Company, also known as the Monon Line, was donated and became the winner's trophy each year. In the all-time series, Wabash holds a 60-54-9 lead. Since the Monon Bell entered the rivalry in 1932, Wabash leads, 41-38-6.
This year's game has already been in the news in a story that spread beyond the United States. Last month, an attempt by four Wabash students to steal the prized Bell from DePauw's Lilly Center was thwarted by campus police. The first media reports hit on October 24; Friday's court hearing was the subject of another WRTV Indianapolis story by Julie Pursley.
Learn more about the history of the Monon Bell Classic here.
Back