TV Station Updates Attempted Monon Bell Heist Story
November 3, 2017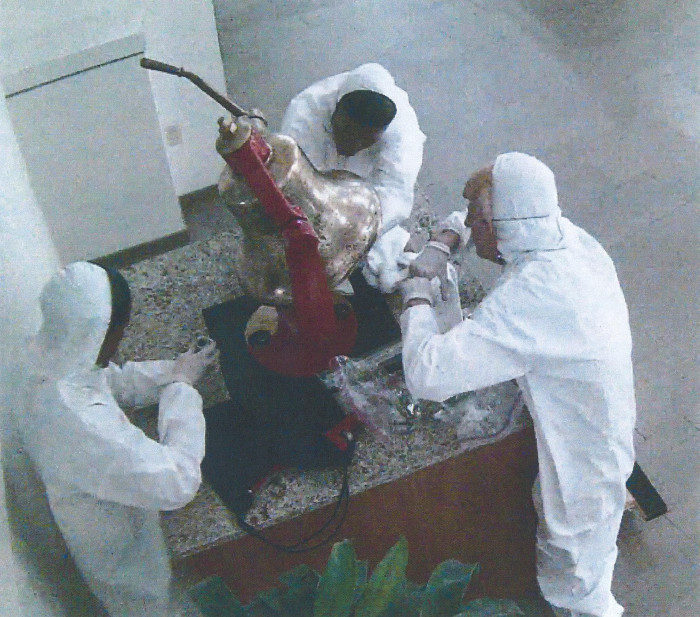 "Four Wabash students learned their punishment Friday for trying to steal the Monon Bell from a locked building on the campus of DePauw University over fall break," reports Indianapolis ABC affiliate WRTV tonight. "At an initial hearing Friday, prosecutors agreed to allow the students to participate in a diversion program. If they stay out of trouble for six months, a trespassing charge won't appear on their records."
The report by Julie Pursley includes security camera footage of the attempted Bell heist, which was released to the media earlier today by Putnam County Prosecutor Tim Bookwalter. Wearing Donald Trump and Barack Obama masks, the visitors from Crawfordsville can be seen trying to leave the building with the rivalry's prize, only to be greeted by DePauw campus police.
The story, which includes a comment from DePauw's Ken Owen '82, is embedded below.
Also available is this piece by Eric Bernsee in Greencastle's Banner-Graphic.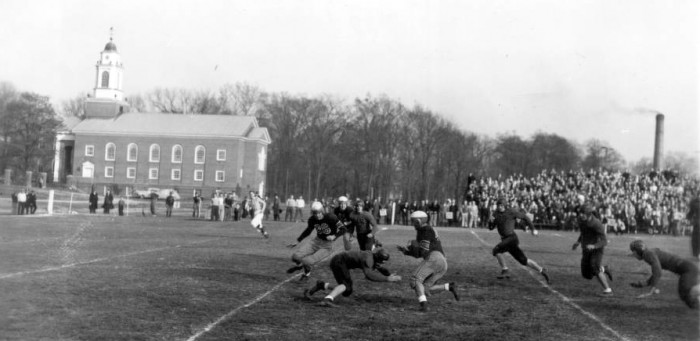 WRTV was also on campus October 24, when news of the failed Bell grab first hit the media, and became an international story.
DePauw and Wabash first met on the football field in 1890; the Monon Bell became the winner's trophy in 1932. (at left: a photo from the 1939 Monon Bell Classic)
The 124th game in the historic series is set for next Saturday, November 11, at DePauw's Blackstock Stadium. Tickets for the game are still available; information and a link to online ordering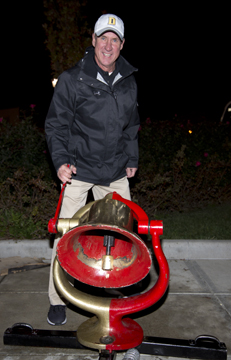 is available in this summary.
The Monon Bell Classic will be televised on FOX Sports Midwest, FOX Sports Indiana and FOX Sports College Central and can also been seen via the FOX Sports GO app.
A DVD of this year's battle for the Bell is available for pre-order. In addition, 21 previous contests in the historic series have been captured on disc. Order them here. (at right: coach Bill Lynch rings the rivalry's prize)
All 123 games to date are commemorated in video vignettes known as "Monon Memories." Created by Owen, the clips can be found here and on YouTube.
Learn more about the history of the Monon Bell Classic here.
Source: WRTV (ABC)/Indianapolis
Back