"Funk Surgeon" Eddie Henderson Headlines Saturday's DePauw JazzFest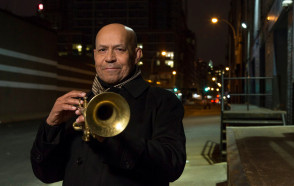 November 14, 2017
The annual DePauw Jazz Festival moves from spring to fall this year, culminating in a concert headlined by guest trumpeter Eddie Henderson at 6 p.m. Saturday, November 18.
Following a full day of performance clinics with the Bloomington North, Clinton, Jefferson, and the Decatur Central High School bands, the jazz great will take the stage for a closing concert with the DePauw Jazz Ensemble in a tribute to Miles Davis. The performance, led by interim director of jazz Jen Siukola, will be given in Kresge Auditorium of DePauw University's Green Center for the Performing Arts.
Throughout the day, the high school ensembles will all have opportunities to perform for and be critiqued by Henderson, whose musical story and life journey is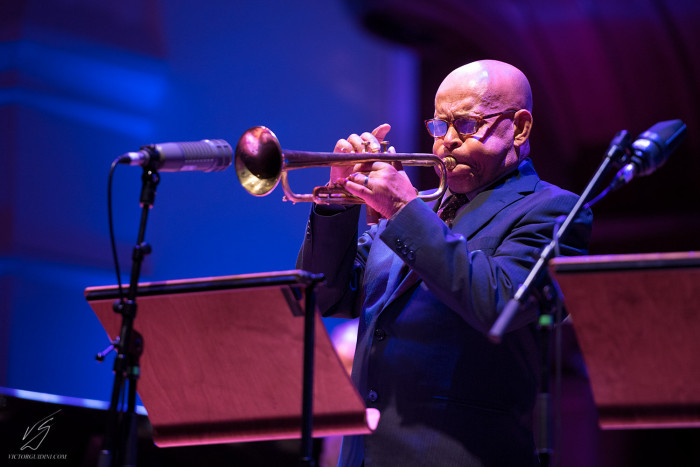 truly unique.
Having grown up in the shadow of the Harlem Renaissance, he was surrounded by creativity. His father sang with The Charioteers, and his mother danced as one of the Brown Twins at the Cotton Club. He received his first trumpet lessons from Louis Armstrong at age nine and praise from Miles Davis at 16, who encouraged him to seek his own original artistic voice.
Following study at the San Francisco Conservatory of Music and three years in the Air Force, he later graduated with a degree in medicine from Howard University and began working part-time at a small clinic. But his place in jazz history awaited him, and performances followed with everyone from Herbie Hancock to Art Blakey.
"I just wanted to play music," he recalls, "but I never in my wildest dreams thought I'd ever have a chance to play with the big guys."
Now thriving in his sixth decade as a jazz impresario, Henderson has performed with a who's who roster of jazz luminaries, who include Pharoah Sanders, Art Blakey, Elvin Jones, Johnny Griffin, Slide Hampton, McCoy Tyner, Benny Golson, Max Roach, Jackie McClean, Dexter Gordon, Roy Haynes -- among many others.
Dr. Henderson (a.k.a. "Funk Surgeon") has been a faculty member of The Juilliard School since 2007 and of the Oberlin Conservatory jazz department since 2014. His music can be heard on Blue Note (pictured is Heritage from 1976), Capitol, Capricorn, Columbia, Furthermore, Kind of Blue, Sirocco, Smoke Sessions and SteppleChase Records.
Henderson is also scheduled to present a program inspired by the Harlem Renaissance, "Twelve Moods of Jazz," as part of the Communiversity@M2 series Friday, Nov. 17 at 7:30 p.m., however, at this writing only 18 tickets remained for this "dinner and a concert" program at Music on the Square. That performance will include pianist Steve Snyder, bassist Nick Tucker and percussionist Kenny Phelps. For up-to-the-moment availability, visit music.depauw.edu/events.
General admission for Henderson's guest performance on Saturday with the DePauw Jazz Ensemble is $5; tickets for seniors, youth and all students are free. Tickets may be obtained online (via the above link) or at the Green Center box office beginning 90 minutes prior to the festival's closing concert.
DEPAUW JAZZ FESTIVAL SCHEDULE
Saturday, November 18, 2017

All of the following events take place in the Green Center for Performing Arts, 605 S. College Avenue:
• 9:30 a.m. — Check-in for participating bands begins
• 11:30 a.m. — Jefferson High School performs
• 12:15 pm. — Decatur Central High School I performs
• 1:45 p.m. — Master class with guest clinician Eddie Henderson
• 2:30 p.m. — Decatur Central High School II performs
• 3:15 p.m. — Bloomington North High School performs
• 4 p.m. — Clinton Central High School performs
• 6 p.m. — Closing Concert: DePauw Jazz Ensemble with Eddie Henderson, trumpet
Back