Kent Bruce Mecum was born in Chicago on June 22, 1930. Growing up in Indianapolis during the Great Depression, he sold newspapers at age six and slept on a screened-in back porch so that his family could rent his bedroom out to boarders. He traveled to New York by himself at the age of 10 after winning a trip from selling magazines and worked his way through college selling shoes.
Mecum was an Eagle Scout, a Sea Scout, a member of the Order of Hi-Bark in Firecrafters, and later Scout Leader of Troop 43 at Gobin Memorial UMC in Greencastle.
A graduate of Butler University, Mecum served in Army counterintelligence in the Panama Canal zone, where he met and married his wife, the former Maria de los Angeles. He worked for Indiana Bell as a traffic engineer before returning to school at Indiana University, where he received his master's and doctoral degrees and was the recipient of a Fulbright award.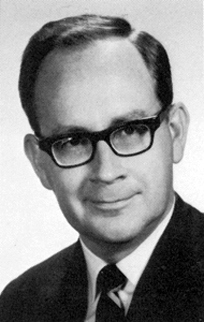 The Mecums came to DePauw in 1968, where Kent was a professor of romance languages and Maria taught medical Spanish. Determined to increase intercultural understanding and a love of Spanish., Dr. Mecum led DePauw students on Winter Term Spanish immersion programs to Mexico for more than 20 years. He was honored with by Argentina's John F. Kennedy University for fostering student exchanges. (at left: Dr. Mecum from the 1969 Mirage yearbook)