Justin and Darrianne Christian Center for Diversity and Inclusion Opens During Monon Bell Weekend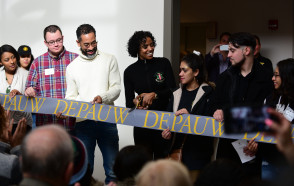 November 16, 2017
On a bright and crisp Saturday, November 11, just prior to kickoff of the Monon Bell game, the Justin and Darrianne Christian Center for Diversity and Inclusion (CDI) was dedicated and officially opened with many students, faculty, staff, alumni and Greencastle community members in attendance. As the new home for AAAS (Association of African American Students) and the Dorothy Brown Cultural Resource Center, CDI will offer cultural programming and services for students of color and international students; support student identity-affinity organizations such as United DePauw, the Committee for Latino Concerns, and the Asian American Resource Center; advocate for social justice; and assist in fostering a safe and affirming campus climate for all students.
Speaking at the dedication, President Mark McCoy noted, "I am honored to welcome you to an important day in the history of DePauw, a day that is significant for DePauw University in ways we have dared to dream of for decades, and in ways that will make a difference for generations to come." He added, "Author and lecturer Dan Millman has said, 'The secret to change is to focus all of your energy, not on fighting the old, but on building the new.' We are doing that today, both literally and figuratively."
In acknowledging the generous support of 1995 graduates Justin and Darrianne Christian and expressing the University's gratitude for the impact they have made at DePauw, President McCoy said, "Among a sea of impressive, impactful and uncommonly successful graduates, Justin and Darrianne stand out. They are shining examples of DePauw's history of creating the leaders the world needs now. As alumni, they make us incredibly proud. As leaders, they make us incredibly inspired. And as visionaries and generous philanthropists, they make us incredibly grateful."
Justin Christian '95, looking out over the standing room only crowd of attendees said, "Let us allow this beautiful Diversity and Inclusion Center to remind us of the lessons of Dr. King, Charlayne Hunter-Gault, fellow alums Percy Julian and Kenneth Hogate. Let us be hopeful that we each have the strength to take a position against injustice when life presents us with our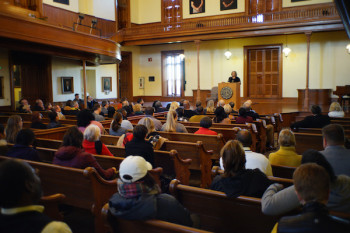 opportunity. DePauw University is taking its own stand here today. It is the 124th Monon Bell Classic. We are a better institution today than we have ever been in the 124-year history of this game."
As part of the campus celebration for the opening of CDI, several special events were held on Friday, November 10. Renowned journalist and speaker Charlayne Hunter-Gault spoke at 1:30 p.m. in a conversation with John Dittmer, professor emeritus of American history and a nationally-recognized authority on the civil rights movement. Following that conversation, Hunter-Gault spoke before DePauw and Greencastle community members in Meharry Hall at an event that was free and open to the public. Hunter-Gault reflected on her involvement in the civil rights movement, including her role in desegregation as one of the first black students admitted to the University of Georgia through which she was represented by 1957 alumnus and now her long-time friend, Vernon Jordan.
On Friday evening, more than 150 students showed up alongside faculty, staff, community members and alumni at a campus celebration including food trucks from Nacho Mama, Der Pretzel Wagen (owned by the spouse of Class of 1999 graduate Katharine Case Monroe), Myers Market, Kebab on Wheels and Limestone BBQ. Event emcees were Greisy Genao '18 and Dante Stewart '20 and a "Battle of the DJ's Old School vs New School," ended up in a win for Kyle Bartos '19 over Steve Mayberry '94.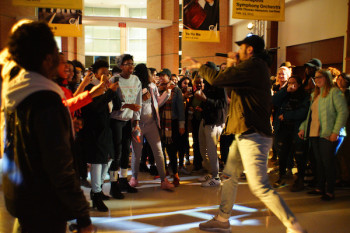 DePauw's vision for diversity and inclusion aims to create a campus that encourages examination and dismantling of the historical, systemic and social barriers that inhibit inclusion and which respects and values the contribution of each person's unique and multifaceted identity to the DePauw community. More information about DePauw's Inclusive Excellence Initiative may be found here.
Back