DePauw School of Music Heralds in the Holidays, Dec. 2 & 3
November 27, 2017
The DePauw University School of Music invites the community to come to Kresge Auditorium -- joyful and triumphant -- to hear its angelic ensembles herald in the season during its seventh annual Holiday Gala. This year's festivities will be presented in two performances in DePauw's Green Center for the Performing Arts. Audiences can attend the full-length version of the popular program on Saturday, December 2 at 7 p.m., or choose to attend a shorter, one-hour concert for families and children on Sunday, December 3 at 3 p.m.
Local partners, from across the DePauw and Greencastle communities, are once again teaming up with the School of Music for this year-end celebration featuring an array of seasonal music from various traditions. Included on the program of holiday favorites will be a vocal arrangement of The Grinch; a piece for Kwanzaa, Umoja; a variety of Chanukah selections; a suite from The Polar Express; performances by the University band, choirs, jazz ensemble, and orchestra, as well as a host of soloists and chamber groups. Each concert will culminate in a sing-a-long of season classics.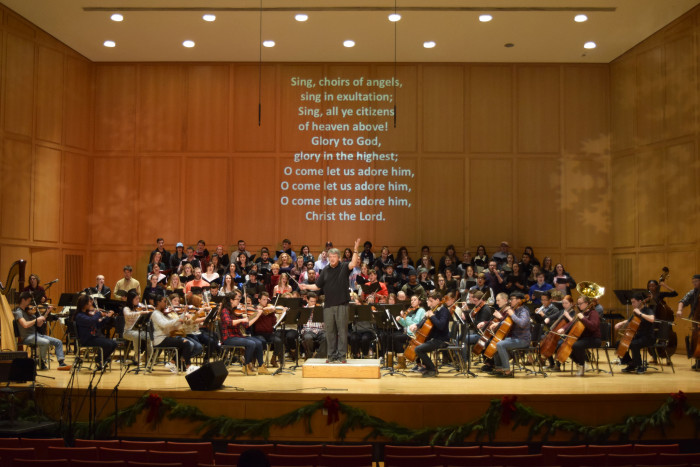 The full-length performance on Saturday will be followed by a reception in the Green Center's Great Hall, hosted courtesy of Bon Appétit and the School of Music. For Sunday's family concert, Santa and his elves take a break from their hectic December schedule for a quick visit to Kresge.
In addition, several Greencastle restaurants will offer dinner specials before the Saturday evening performance to ensure that diners arrive at the concert before the earlier-than-usual 7 p.m. curtain time. Several will continue through the weekend and may be redeemed by presenting the concert program.
When making reservations, be certain to mention that you are attending the Holiday Gala and to bring your ticket or program with you to receive the special offers.
For reservations and additional details regarding holiday dining specials, contact these participating restaurants:
Almost Home: Prior to the gala, Almost Home will offer a Prime Rib special on Saturday and Parmesan and Fresh Herb Baked Chicken Breast on Sunday, served with roasted potatoes and chefs vegetable, along with a selection of homemade holiday desserts.
Bon Appétit (Hoover Dining Hall): Aspecial Holiday Gala menu will be available Saturday for $9.00, plus tax; children 7–12 are 50% off; and children under six may eat for free.
Bridges: 10% off your meal when presenting your Gala ticket or program.
Fluttering Duck: Prime rib dinner, including 12 oz. carved to order prime rib with baked potato or choice of side, seasonal vegetable and soup and salad for $24.99 (available Saturday 4–8 p.m.)
Myers' Market: 10% off your meal with your Holiday Gala ticket or program
Putnam Inn: 10% off any meal when presenting your Holiday Gala ticket or program
Tap House 24: 20% off your meal when presenting your Holiday Gala ticket or program
2 West: Prime rib dinner, 12 oz. carved to order prime rib with baked potato or choice of side, seasonal vegetable and specialty soup and salad bar for $24.99 (available Saturday 4–9 p.m.)
Wasser Brewing Company: Special seasonal menu includes a Manhattan Filet or Steak Sandwich, and Brewer's Fries, quaffed with a selection from Wasser's Holiday cocktail menu, including Irish Coffee, Moscow Mule or Vanilla Cranberry Mimosa.
General admission to the Holiday Gala is $10. Tickets for seniors, youth and all students are free. To purchase advance tickets online, visit music.depauw.edu.
The Green Center's box office is also open on Mondays, Wednesdays and Fridays from noon to 4 p.m. and 90 minutes prior to each performance.
Back