DePauw Junior's Basket is Featured on ESPN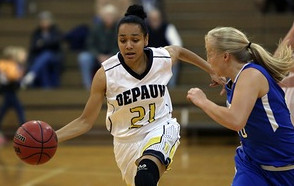 December 1, 2017
The no-look basket DePauw University junior guard Maya Howard scored in the Tigers' November 26 game against Washington University is #4 on espnW's "Top 10 Plays of the Week." Seen earlier this week on SportsCenter's "Plays that just missed the Top 10", the clip aired this morning on the ESPN program.

The video shows Howard flipping the ball over her head with her back to the bucket during the second quarter of a 77-75 loss to Washington of St. Louis in the championship game of the Midwest Challenge, which was played at Neal Fieldhouse. DePauw entered the game ranked sixth in the NCAA Division III coaches' poll; WashU was 19th.
See the clip below.
For the latest on the women's basketball program, visit the team's official online page.
Source: ESPN
Back