Associate Dean Loutfi Jarari Discusses the Financial Aid Process with Voice of America
January 1, 2018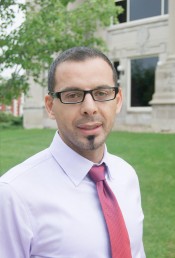 "Most American colleges and universities do offer some form of financial assistance to their students," notes a Voice of America report. "However, not all schools offer aid in the same way, and not all students are able receive the same kind of aid, says Loutfi Jarari. He is the associate dean of academic life and director of international recruitment at DePauw University, a private liberal arts college in Indiana."
It adds, "Jarari says the financial aid process can be complex, no matter what kind of assistance a student is seeking. It demands just as much attention as any other part of the college application process."

The segment contains tips for applicants from Jarari. Text and audio are available here.
An international news source which is funded by the United States government, Voice of America produces digital, TV, and radio content in more than 40 languages which it distributes to affiliate stations around the globe.
Source: Voice of America
Back