Newspaper Previews Exhibition of Myanmar Art at DePauw
January 4, 2018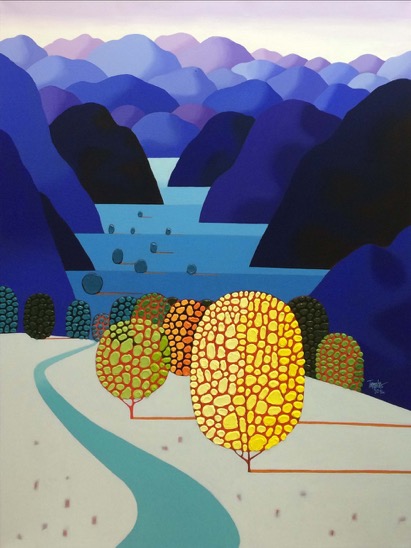 "The next exhibition at DePauw University in Greencastle is titled 'Altered State: Painting Myanmar in a Time of Transition.,'" reports the Terre Haute Tribune-Star. The art will be on view January 15 through April 15 on the second floor of Harrison Hall. (at right: Tamalar, Karen State, 2014; acrylic on canvas, 36 x 48 inches, on loan from the collection of Ian Holliday)
"The exhibition presents paintings by contemporary artists from Myanmar, formerly known as Burma. Created after the transition period of 2011, when civilian government replaced oppressive military rule, the paintings illustrate recent artistic practice in Myanmar and present a series of lenses through which to view a rapidly changing society," the newspaper explains. "Paintings included in 'Altered State' are from the collection of contemporary Myanmar paintings of Ian Holliday, the vice president and pro-vice-chancellor (teaching and learning) at the University of Hong Kong."
The exhibition is made possible by support from DePauw's Asian Studies program as well as the Arthur E. Klauser Asian and World Community Collection endowment.
Access the item here.
Back