They "Had a Hand in Saving the World"; Lee Hamilton '52 & Richard Lugar to Discuss the Need for Civility in Feb. 15 DePauw Appearance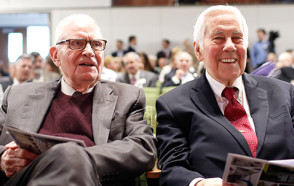 January 8, 2018
Two of Indiana's most respected voices in the nation and around the world -- former U.S. Congressman and 1952 DePauw University graduate Lee H. Hamilton, and former U.S. Senator Richard G. Lugar -- are coming to DePauw to discuss today's political and everyday discourse and what it might take for lawmakers, and their constituents, to embrace civility. The program will take place on Thursday, February 15 at 7 p.m. in Meharry Hall, located within historic East College, and is free and open to the public.
The event will be moderated by Miranda S. Spivack, Eugene S. Pulliam Distinguished Visiting Professor of Journalism at DePauw and a veteran journalist who spent many years at the Washington Post.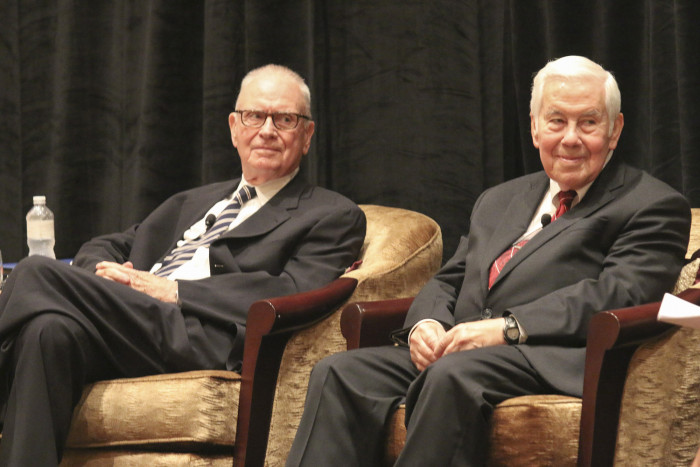 "These gentlemen were veterans of an era when Democrats and Republicans actually worked together," Spivack notes. "Their insights into how we arrived at this place and what it might take to return to communication, collegiality and compromise will be both thought-provoking and timely."
A Democrat, Hamilton is one of the nation's foremost experts on Congress and representative democracy. From 1965-99, he served Indiana as a member of the U.S. House of Representatives. After leaving Congress, he founded the Center on Congress at Indiana University in 1999 and served as its director until 2015. Hamilton also served as president and director of the Woodrow Wilson Center in Washington, D.C., and has received many honors, including the Presidential Medal of Freedom in 2015.
A leading figure on foreign policy, intelligence, and national security, Hamilton served as vice chairman of the 9/11 Commission and co-chair of the bipartisan Iraq Study Group. He is a member of the President's Homeland Security Advisory Council.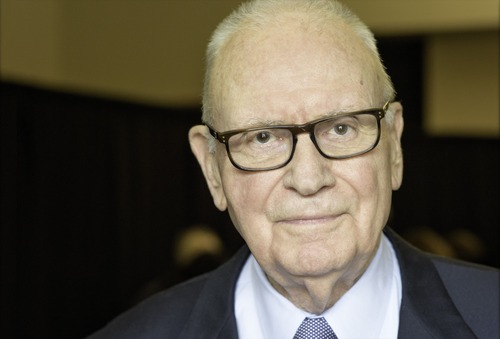 Hamilton currently serves as a senior advisor to the Indiana University Center on Representative Government,is a Distinguished Scholar in IU's School of Global and International Studies, and is a professor of practice at IU's School of Public and Environmental Affairs. He majored in history at DePauw and was a standout on the basketball team, earning induction into the Indiana Basketball Hall of Fame and DePauw's Athletic Hall of Fame.
Dick Lugar represented Indiana in the United States Senate for six terms -- the longest such tenure in state history. During that time, Lugar exercised leadership on issues such as food security, nuclear non-proliferation, energy independence, and free trade. In 1991, he forged a bipartisan partnership with then-Senate Armed Services Chairman Sam Nunn (D-Georgia) to destroy weapons of mass destruction in the former Soviet Union. To date, the Nunn-Lugar program has deactivated more than 7,600 nuclear warheads that were once aimed at the United States.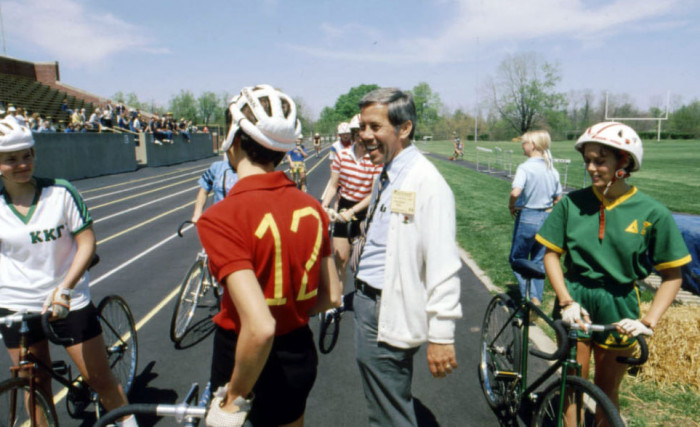 Before his election to the Senate, Lugar served on the Indianapolis Board of School Commissioners and served two terms as mayor of Indianapolis. (at left: Sen. Lugar chats with Kappa Kappa Gamma's Little 500 riders, circa 1981)
Today, the former senator is the president of The Lugar Center, a non-profit organization focusing on global food security, WMD non-proliferation, aid effectiveness, and bipartisan governance. He also serves as a Professor of Practice and Distinguished Scholar at the School of Global and International Studies at Indiana University and teaches history and political science at the University of Indianapolis.
"Between Lugar's diplomatic missions to Russia to help deactivate some 13,000 nuclear warheads, and Hamilton's investigations into covert Iranian arms transactions, the two men literally had a hand in saving the world," Adam Wren wrote in Indianapolis Monthly in 2016. "And the congressional record is but a chapter in their respective careers: In the 1960s and '70s, Lugar's signature policy achievement as mayor of Indianapolis -- Unigov -- set the stage for the city's future
economic growth, and starting in 2002, Hamilton co-chaired the 9/11 Commission, tasked with conducting a definitive investigation and assessment of the deadly 2001 terror attacks."
Both men have presented Ubben Lectures at DePauw -- Lugar in 2004 and Hamilton in 2011 -- and each has received the University's McNaughton Medal for Public Service as well as honorary doctorates from DePauw. Lugar was the commencement speaker in 1972; Hamilton spoke to graduates at his alma mater in 1971 and 1998.
"DePauw has been honored to host these esteemed gentlemen many times over the years, and the wisdom and dignity they brought to their posts helped shape the late 20th century," says Professor Spivack. "Since their retirement Washington has become a different, arguably dysfunctional, place. A key question for all Americans is, are those days like a Frank Capra movie and the stuff of nostalgia or can we return to a place where lawmakers talk across the aisle? I'm looking forward to a stimulating session."
Back