Chicago Newspaper Notes Freshman's Contribution to Women's Hoops Team's Strong Season
January 22, 2018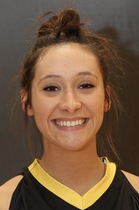 "Libertyville graduate Claire Keefe led DePauw University with 18 points in a 53-40 win at Oberlin as the ninth-ranked Tigers extended their winning streak to 12 games," notes the Chicago Daily Herald. "The 6-foot freshman forward scored DePauw's final points with a pair of free throws in the final minute as the Tigers raised their record to 16-1 overall and 8-0 in the North Coast Athletic Conference."
John Leusch writes, "The Tigers never trailed in the game and outscored Oberlin 11-3 over the final four minutes of the opening quarter to take a 19-9 lead after the first quarter.Keefe surpassed 1,000 career points at Libertyville where she was a three-time all-conference and two-time all-area selection."

Access the item at the newspaper's website.
The Tigers, ranked #9 in NCAA Division III, have now won 13 straight and are 17-1 overall and 9-0 in the North Coast Athletic Conference. For the very latest on the DePauw women's basketball program, click here.
Source: Chicago Daily Herald
Back