DePauw Mourns the Passing of Longtime Trustee & Civic Leader Andy Paine Jr. '59
February 2, 2018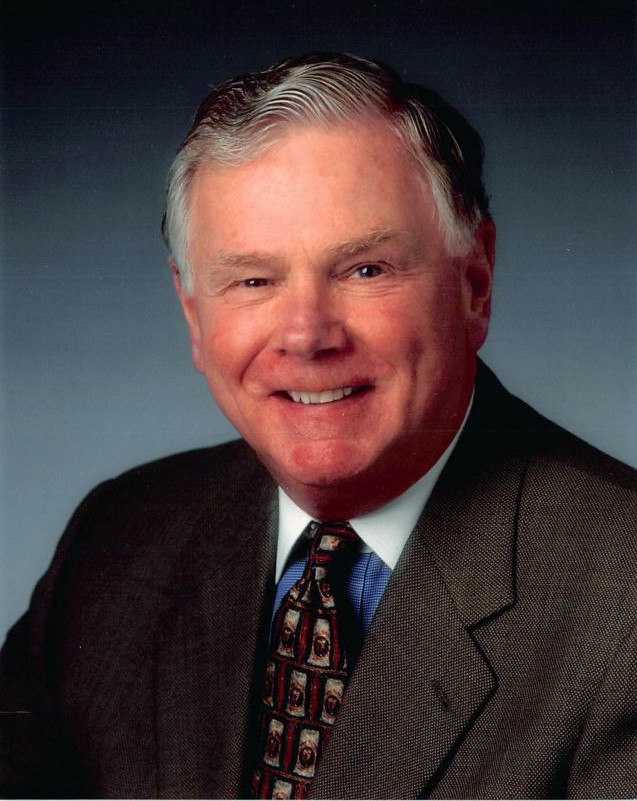 Andrew J. Paine, Jr., a 1959 graduate of DePauw University and longtime member and of DePauw's Board of Trustees, died January 29, from cancer. He was 80 years old.
Born October 18, 1937, Paine earned his Bachelor of Arts from DePauw University in 1959, an M.B.A. from Indiana University in 1967 and held a certificate from the Stonier Graduate School of Banking at Rutgers University. During a distinguished thirty-seven year career in banking, he became president and COO of Indiana National Bank in 1979 and retired in 1998 as president and CEO of NBD Bank, N.A. and executive vice president of First Chicago NBD Corp.
Paine's "career began in 1961, when he walked in to Indiana National's headquarters unannounced and asked for a meeting with the bank's chairman, Pat Flynn," notes the Indianapolis Business Journal in a tribute. "Within five minutes, he was sitting across from Flynn,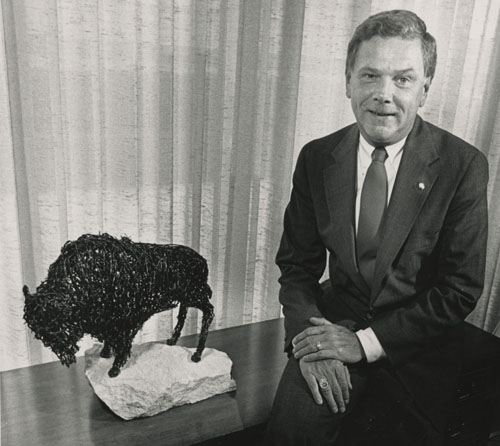 asking for a job. 'Ten days later, I was in INB's management-training program,' Paine recalled."
Tom Binford was president of the bank in the mid '70s and put Paine in charge of strategic planning at a time when INB was facing challenges. In 1998, he recalled, "I saw then what I still see in him: enthusiasm, intelligence and the ability to work with people." Binford, who served as acting president of DePauw in 1975-76, added, "The team he helped put together really formed the backbone of our recovery."
Andy Paine joined DePauw's Board of Trustees in 1981. His many contributions to his alma mater included serving as the national chair of the Campaign for DePauw: Leadership for a New Century, which culminated in April 2000 with $376.6 million in gifts and commitments.
He also served on the boards of AmerUs Group, Indianapolis Life Insurance Company, Bankers Life of New York, Indianapolis Power & Light Co., IPALCO Enterprises and Indiana National Corp. and was a Trustee of Citizens Gas &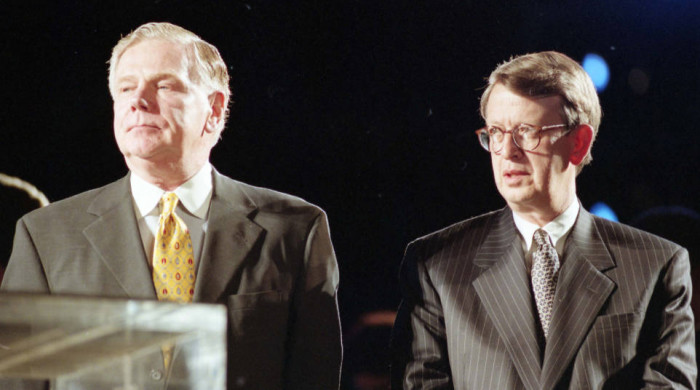 Coke Co. A supporter of the arts, Paine was also president of the International Violin Competition of Indianapolis, which he helped establish, and was chairman of the board of the Indianapolis Museum of Art at Newfields. (at right: Paine with President Robert G. Bottoms at the Indianapolis gala celebrating the Campaign's successful conclusion; April 28, 2000)
Paine also served as a director of the Indiana State Symphony Society, the Indianapolis Children's Museum, Indianapolis Chamber of Commerce, and Indiana State Chamber of Commerce; was co-chair of the Circle City Classic; was president of United Way of Central Indiana's board; and was a member of the national board of Junior Achievement.
Among Paine's many honors, he was recognized as a Sagamore of the Wabash by Governors Robert Orr, Evan Bayh and Frank O'Bannon. In 2000, Paine was the recipient of the Old Gold Goblet, presented annually to DePauw University's outstanding alumnus in recognition of "eminence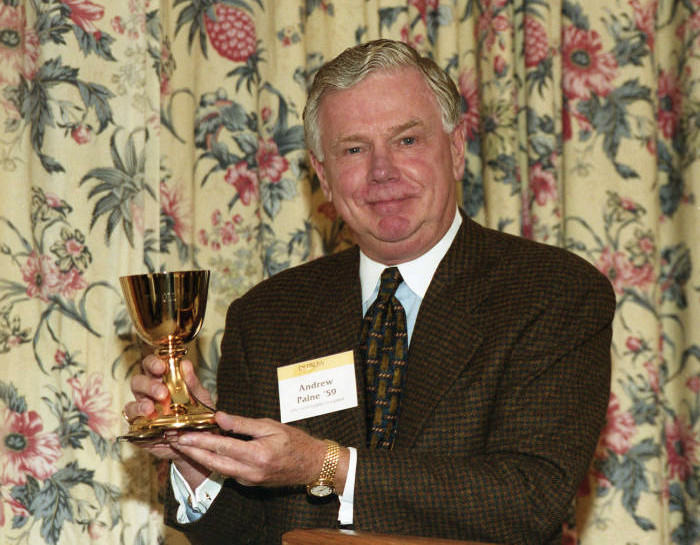 in life's work and service to Alma Mater." In 2003 he was inducted into the Central Indiana Business Hall of Fame.
Survivors include Jane '60, his wife of 57 years, and their four children, including Stephanie Paine Crossin '87 and Randy Paine '91. His grandson, Andy Paine IV, is currently a DePauw student.
A celebration of Andy Paine's life will take place in May/June 2018 to remember his incredible spirit and love of life, family and community. Please go to www.ajpcubsinb.com after February 28, 2018 for details about this celebration.
An obituary is available at the website of the Indianapolis Star.
Back