Actress & Author Jenna Fischer of The Office Coming to DePauw for April 17 Ubben Lecture
February 20, 2018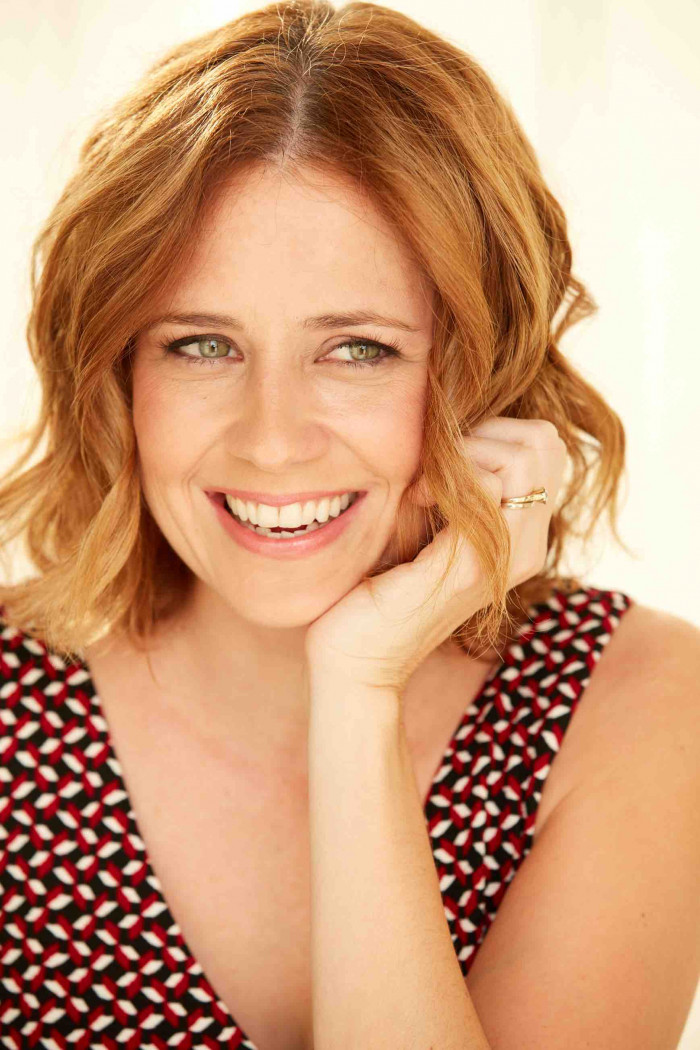 Jenna Fischer, the two-time Screen Actors Guild Award-winner and Emmy-nominated actress, is coming to DePauw University. On April 17, Fischer will be a guest of the Timothy and Sharon Ubben Lecture Series and will discuss her new book, The Actor's Life: A Survival Guide, her new ABC show Splitting Up Together, her recent experience working on Clint Eastwood's The 15:17 to Paris, and, of course, her role as Pam on the hit television comedy The Office.
The program will begin at 8 p.m. in Kresge Auditorium, located within DePauw's Green Center for the Performing Arts.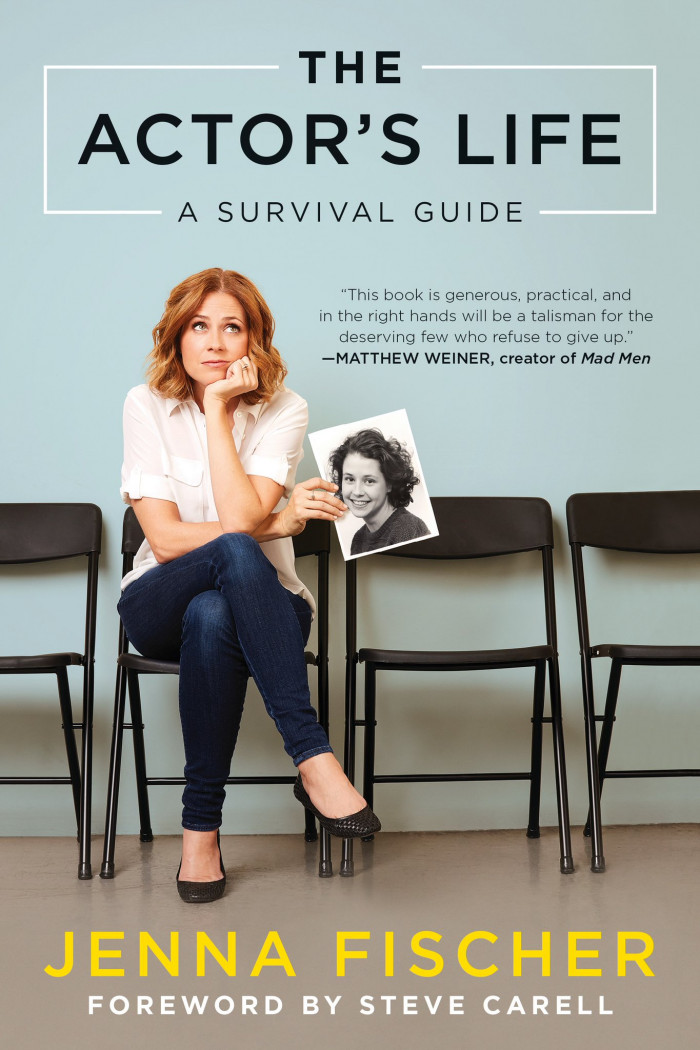 Like all Ubben Lectures, the event is presented free of admission charge and is open to all. Seating will be on a first-come, first-served basis, and no tickets will be distributed.
The program will include a moderated conversation with Fischer, who will take questions from the audience. Afterward she will sign copies of her new book, The Actor's Life, which will be available for purchase in the Great Hall of the Green Center.
Next month, Fischer returns to prime television in the new ABC comedy, Splitting Up Together. Based on a Danish series of the same name, Fischer co-stars with Oliver Hudson as a mother of three young children.
"In The Actor's Life, Jenna Fischer lays out exactly what aspiring actors can expect from this crazy, unpredictable industry both practically and emotionally," said Christina Applegate of Fischer's book, which was published in late 2017. "Nothing is sugar-coated, nor is it cynical. It's just reality, plain and simple. At every level of success, we are all just artists trying to figure it out day by day.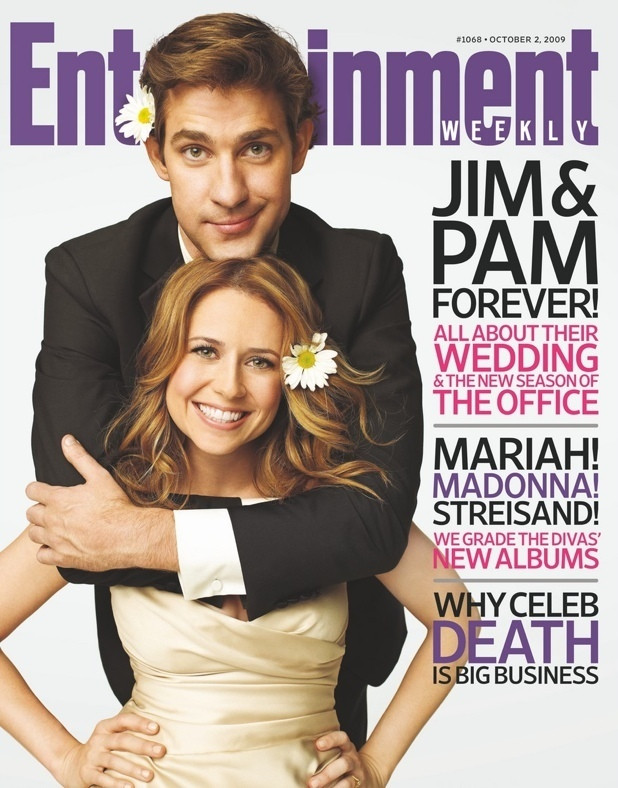 That's the truth."
Added Mad Men star Jon Hamm, "I loved reading Jenna's honest and sincere appraisal of the actualities of breaking into, finding one's way, and then thriving in this business. I hope it is given out as a guidebook of sorts to any young actor when they land at LAX."
Established in 1986 through the generous support of 1958 DePauw graduates Timothy H. and Sharon Williams Ubben, the Ubben Lecture Series was designed to "bring the world to Greencastle." The series has presented 109 events over the past 32 years.
The next event, set for February 28, will feature the world's first artificial intelligence-fueled android, Sophia, and her creator, David Hanson, founder, CEO and chief designer of Hong Kong-based Hanson Robotics. Learn more here.
Jenna Fischer's Ubben Lecture will be the fourth of the 2017-18 academic year. Malala Yousafzai, the youngest-ever recipient of the Nobel Peace Prize, spoke on September 4, and became the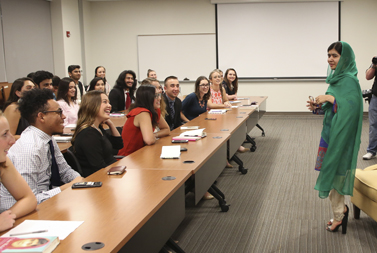 youngest-ever Ubben Lecturer.
Bill Rasmussen, founder of ESPN and 1954 DePauw graduate, spent the week of the Monon Bell game meeting with DePauw students and delivered a November 8 Ubben Lecture on "Finding Your Passion, Realizing Your Dream." (at left: Malala Yousafzai meeting with DePauw students before her speech)
Other previous Ubben Lecturers have included Margaret Thatcher, Bill Clinton, Spike Lee, Jimmy Kimmel, Jesse Jackson, Mikhail Gorbachev, Elie Wiesel, Jane Goodall, Tony Blair, Shimon Peres, David Brooks, Oscar Arias, Leslie Odom Jr., Doris Kearns Goodwin, Mike Krzyzewski, Julian Bond, General Colin Powell, Andrew Luck, Michio Kaku, Piper Kerman, Barbara Bush, Jimmy Wales, Todd Rundgren, Martin Luther King III, Willy Brandt, Bob Woodward, Carl Bernstein, Ambassador L. Paul Bremer, General Wesley Clark,Greg Mortenson, Arne Duncan, Ken Burns, Ron Paul, Karl Rove, Howard Dean, Eric Schlosser, Dan Quayle '69, F.W. de Klerk, Jane Pauley,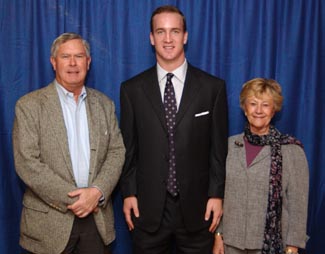 Harry Belafonte, Leymah Gbowee, Sam Donaldson, David McCullough, John Major, Lee Hamilton '52, Ralph Nader, Bret Baier '92, Mitch Albom, Brian Mulroney, Yeonmi Park, Candy Crowley, Peyton Manning, Liz Murray, Jason Reitman, William J. Bennett, Richard Lamm, Mary Frances Berry, Jim Lovell, Gwen Ifill, ice cream entrepreneurs Ben Cohen & Jerry Greenfield, Douglas Hallward-Driemeier '89, Stephen Levitt, Allan Bloom, Andrew Young, Paul Volcker, Frank Warren, Naomi Wolf, Ross Perot, Sister Helen Prejean, Bill Bradley, Ferid Murad '58, Paul Tsongas, Nicholas Carr, Rebecca Skloot, Seymour Hersh, Zbigniew Brzezinski, George Will, Carl Rowan and many others (at right: Peyton Manning with the Ubbens; October 26, 2004)
To view a complete roster of Ubben Lecturers -- which includes links to video clips and news stories -- click here. Video montages of many events are available on YouTube.
Back