'Restoring Civility' is the Task of Each and Every American Citizen, Lee Hamilton '52 & Richard Lugar Tell DePauw Audience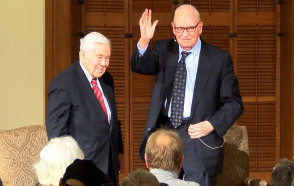 February 15, 2018
The representative democracy that the United States was founded upon is "the envy of the world," veteran statesman and 1952 DePauw University graduate Lee H. Hamilton said at his alma mater tonight. ""But representative democracy is under stress today; it is not performing as well as we would like." In a joint appearance with former U.S. Senator Richard G. Lugar, a Republican, Hamilton, a Democrat who served 34 years in the U.S. House of Representatives, added, "The only way you can make this country work is to work with others to improve our corner of the world."
The program, "Can We Talk?: Restoring Civility in Public and Political Discourse in the U.S. and Abroad", was moderated by Miranda S. Spivack, Eugene S. Pulliam Distinguished Visiting Professor of Journalism at DePauw University. About 375 people gathered in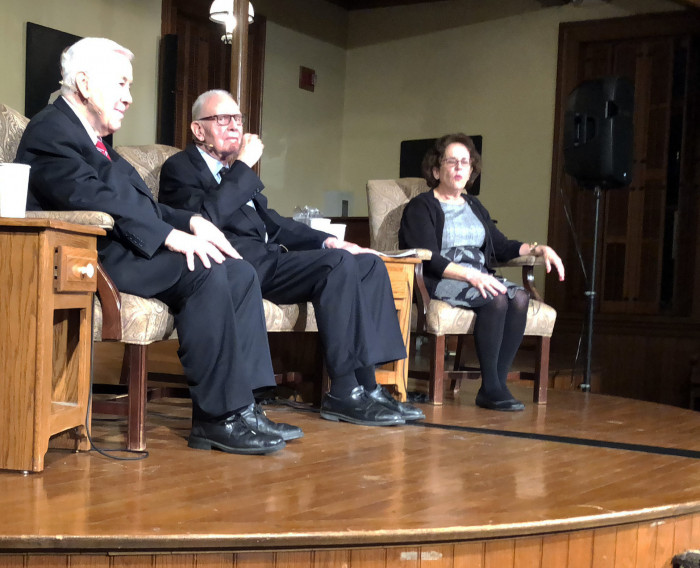 historic Meharry Hall, located within DePauw's historic East College, for the event.
Lugar says the gridlock gripping Capitol Hill and the sometimes strident tone of the president have served to further divide a nation that was already at odds before Donald Trump was elected to the White House. "His overall approval ratings have declined, but the approval ratings of the Congress have declined even further, among Democrats and Republicans. And therefore the feelings about government generally (among) Americans have been more and more dismal," Sen. Lugar noted.
The two men -- who received standing ovations at the open and close of the program -- say democracy can only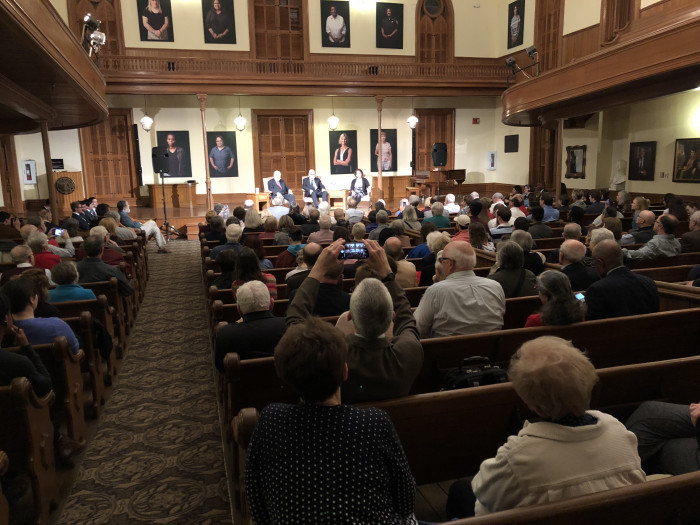 achieve its objectives when every citizen contributes to the national conversation, and does so in a thoughtful and respectful manner.
According to Hamilton, "Democracy is not a final achievement. It's not a product. It is a process by which we try to solve the problems that come after us."
The two men conversed with Professor Spivack for about an hour and then took questions from the audience.
Video of the program is embedded below.
The two leaders arrived on campus mid-afternoon and visited the newsroom of The DePauw before holding a news conference for student journalists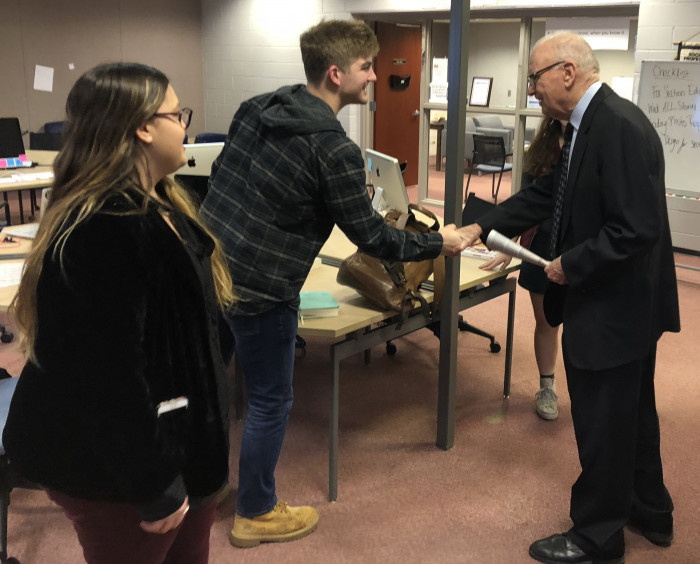 . (photo: Rep. Hamilton greets Brooks Hepp '19, editor-in-chief of The DePauw)
Lee Hamilton is one of the nation's foremost experts on Congress and representative democracy. From 1965-99, he served Indiana as a member of the U.S. House of Representatives. After leaving Congress, he founded the Center on Congress at Indiana University in 1999 and served as its director until 2015. Hamilton also served as president and director of the Woodrow Wilson Center in Washington, D.C., and has received many honors, including the Presidential Medal of Freedom in 2015.
A leading figure on foreign policy, intelligence, and national security, Hamilton served as vice chairman of the 9/11 Commission and co-chair of the bipartisan Iraq Study Group. He is a member of the President's Homeland Security Advisory Council.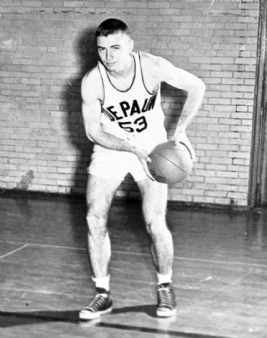 Hamilton currently serves as a senior advisor to the Indiana University Center on Representative Government,is a Distinguished Scholar in IU's School of Global and International Studies, and is a professor of practice at IU's School of Public and Environmental Affairs. He majored in history at DePauw and was a standout on the basketball team, earning induction into the Indiana Basketball Hall of Fame and DePauw's Athletic Hall of Fame.
Dick Lugar represented Indiana in the United States Senate for six terms -- the longest such tenure in state history. During that time, Lugar exercised leadership on issues such as food security, nuclear non-proliferation, energy independence, and free trade. In 1991, he forged a bipartisan partnership with then-Senate Armed Services Chairman Sam Nunn (D-Georgia) to destroy weapons of mass destruction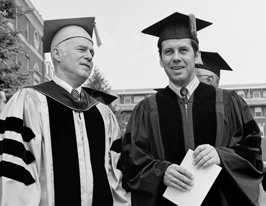 in the former Soviet Union. To date, the Nunn-Lugar program has deactivated more than 7,600 nuclear warheads that were once aimed at the United States.
Before his election to the Senate, Lugar served on the Indianapolis Board of School Commissioners and served two terms as mayor of Indianapolis. (at left: Lugar with DePauw President William E. Kerstetter on May 21, 1972 after receiving an honorary doctorate)
Today, the former senator is the president of The Lugar Center, a non-profit organization focusing on global food security, WMD non-proliferation, aid effectiveness,
and bipartisan governance. He also serves as a Professor of Practice and Distinguished Scholar at the School of Global and International Studies at Indiana University and teaches history and political science at the University of Indianapolis.
Both men have presented Ubben Lectures at DePauw -- Lugar in 2004 and Hamilton in 2011 -- and each has received the University's McNaughton Medal for Public Service as well as honorary doctorates from DePauw. Lugar was the commencement speaker in 1972; Hamilton spoke to graduates at his alma mater in 1971 and 1998. (at right: Hamilton talks with Robert D. Newton, professor emeritus of philosophy, following tonight's event)
Back