Wilderness Writing: Paddling Florida's Everglades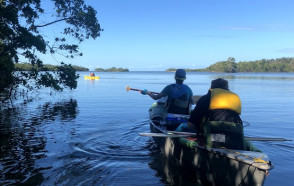 February 16, 2018
The 99-mile Wilderness Waterway in Florida's Everglades National Park was the intended destination of a recent Winter Term trip for eight DePauw students led by Steven "Steve" R. Timm, professor of communication and theatre, and Christopher "Chris" Hebb, but Hurricane Irma's direct hit forced the group to implement Plan B.
"None of the campsites or chickees were open in the northern section of the park," Hebb says. "The waterway was still clogged with debris and sunken watercraft." With redesigned routes circling the southern half of the Everglades, students divided into two groups, paddling 10-12 miles a day, camping in small clearings in the mangroves and sleeping on chickees, elevated 12' x 12' platforms above the water.
Anna K. Nagy '20 admits the trip was more challenging mentally than she anticipated, but says the feeling of accomplishment of padding 21 miles on the last day of the trip was worth it.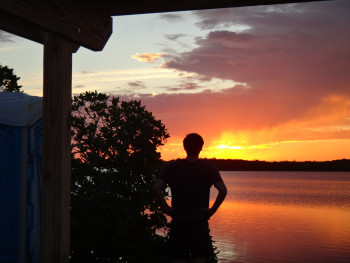 "I learned a lot about myself," Nagy says. "Paddling in a kayak for three to four hours a day meant I had a lot of time to think. I realized how much I enjoy nature, and how it helps me de-stress." Nagy says she plans to spend more time at the DePauw Nature Park to take a break, hike and stay grounded.
Florida's Everglades is home to hundreds of common, rare and protected species, and is designated a World Heritage Site, an International Biosphere Reserve, a Wetland of International Importance.
Timm designed the course to link the aesthetic experience and interpretation of place – Florida's Everglades – with its natural and human history, its significance as an ecosystem, and as a site of scientific, political and economic contention. In preparation, students read and discussed Michael Grunwald's The Swamp and Marjory Stoneman Douglas' The Everglades: River of Grass.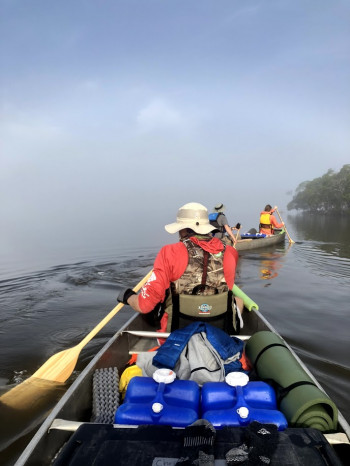 "We paddled in the most adverse circumstances – against incoming tides, excessive head winds, three foot waves and pelting, freezing rain," Timm says. "We awoke to swamped canoes and kayaks, contaminated water supplies, broken tent poles, and saturated gear and medical bags. We encountered sharks, poisonous snakes, biting fish and razor sharp oyster shoals. The trip was wonderful," he says.
Prior to their departure, students conducted research on the human and natural history of the Everglades and practiced fundamental paddle strokes, and learned self and assisted rescues in kayaks and canoes.
In addition to discussing common readings, students researched a topic and presented it while on the trip. Topics included history of the Calusa people in the region, the effect of non-indigenous snakes into the ego-system, and the flora, fauna and marine life of the area.
At the completion of the paddling routes, students participated in two service days in the Flamingo area, hauling out multiple truckloads of debris from Eco Pond.
Anna M. Stehlik '20 worried about what the group dynamic would be like, and describes anticipating being crowded with the others on a small wooded platform over alligator-infested waters for hours every day. However, she says they all got along better than she ever could have hoped for.
Stehlik recounts the most memorable parts of the experience as the simplest ones. "We sat on the chickee and played a made up game of 'guess the movie' for hours. We read our daily haikus to each other through the tent walls in the dark before we went to bed, many of which were about amusing things that happened that day.
"I came away from this Winter Term with strong friendships that will last for years to come," she says. "The experience deepened my already profound love of the wilderness, and my commitment to preserving it so future generations can have the same passion for it that I do."
Back