President Mark McCoy to Address American Council on Education's Annual Meeting
February 23, 2018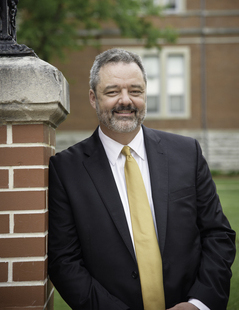 DePauw University President D. Mark McCoy will be among the presenters at the 100th annual meeting of the American Council on Education (ACE), March 10-13 at the Marriott Marquis in Washington, D.C. Billed as "the nation's most distinguished higher education event," the conference will bring together nearly 2,000 leaders from deans to presidents from all institutional types.
Dr. McCoy will be a panelist on a Monday, March 12 discussion, "What Keeps Presidents Up at Night: Inside Higher Ed/Gallup Presidents Survey." He'll be joined by fellow presidents Joyce C. Ester of Normandale Community College and Mildred García, who head the American Association of State Colleges and Universities. The discussion will be led by Doug Lederman, editor of Inside Higher Ed.
A synopsis of the program notes, "The public's growing doubts about the value of higher education. Tensions between free speech, inclusion, and safety on campus. The first year of the Trump administration, from Title IX to deregulation to skepticism about science. Concerns about the public's view of the value of higher education. These are just some of the matters confronting campus chief executives. A

confidential survey of college and university presidents by Inside Higher Ed and Gallup, to be released at ACE2018, explores campus chief executive officers' candid views on these and other timely topics. At this session, Inside Higher Ed editors and a panel of prominent campus leaders will discuss the survey's results and the implications for their colleagues and higher education."
Learn more here.
ACE is the major coordinating body for the nation's colleges and universities. It represents more than 1,800 college and university presidents and the executives at related associations, and is the only major higher education association to represent all types of U.S. accredited, degree-granting institutions: two-year and four-year, public and private.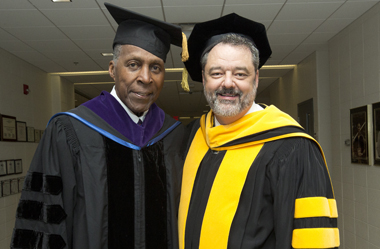 Mark McCoy was appointed DePauw's twentieth president on March 7, 2016 following a national search and took office July 1, 2016. He was inaugurated in October 2016 during ceremonies over Old Gold Weekend. (at right: Dr. McCoy with civil rights leader and attorney Vernon E. Jordan Jr. '57)
Dr. McCoy was recently quoted in a New York Times article on the bid by Indianapolis to become the site of Amazon's new headquarters. Read more here.
Back