A.I. Robot Sophia, at DePauw Wednesday, Makes Headlines Around the World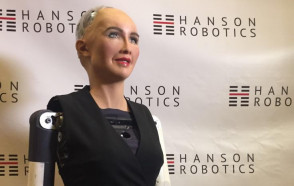 February 25, 2018
eMerge Americas, which bills itself as "the premier technology event connecting Latin America, North America and Europe," will include an appearance by "Sophia, the most advanced and celebrated A.I. robot developed by Hanson Robotics," according to an announcement. The two-day conference begins April 23 at the Miami Beach Convention Center.
This Wednesday, Sophia and her creator, David Hanson -- founder, CEO and chief designer of Hong Kong-based Hanson Robotics -- will be at DePauw University for an Ubben Lecture. The program, "Meet the Future", will include an opportunity for members of the audience to ask questions of the humanoid. Learn more here.
"Now in its fifth year, eMerge Americas offers startups, entrepreneurs, VCs, major businesses and government officials an opportunity to stand shoulder to shoulder with digital's brightest minds and build powerful partnerships without borders." You'll find further details by clicking here.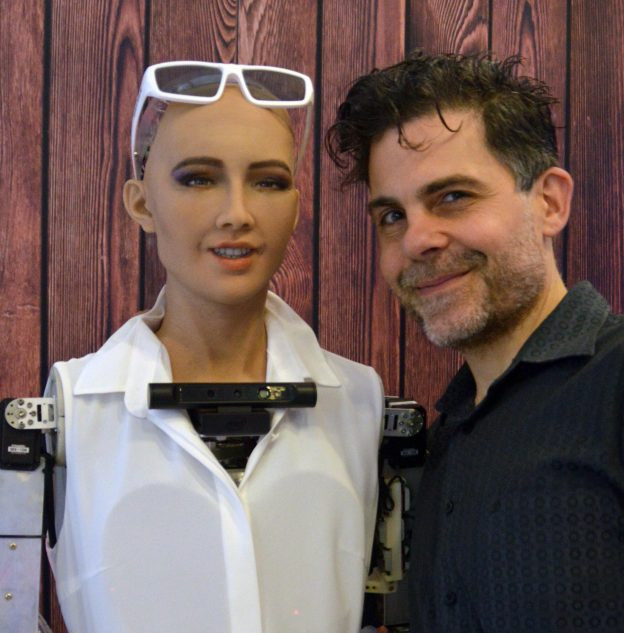 Last week, Dr. Hanson and Sophia appeared at the World Congress on Information Technology (WCIT) in India, where she said, "I don't get upset like humans do. I hope to have real physiological feelings someday through which I will express my emotions. Then I can understand the feelings behind those emotions."
As a robot, Sophia said, "(I) don't need different rules and don't expect special privileges. I actually would like to use my citizenship status to speak out for the rights of women."
A story in the Khaleej Times notes, "Replying to a query, Hanson said he expects over the next 10-20 years robots or machines that would be truly 'alive and self aware'. He, however, said his chief scientist has a goal of five years."
Read more in this summary.
Tuesday's Ubben Lecture begins at 7:30 p.m. in Kresge Auditorium, located within DePauw's Green Center for the Performing Arts, and is free and open to all. Seating is first come, first served. No tickets are required. Information on when doors will open will be posted shortly.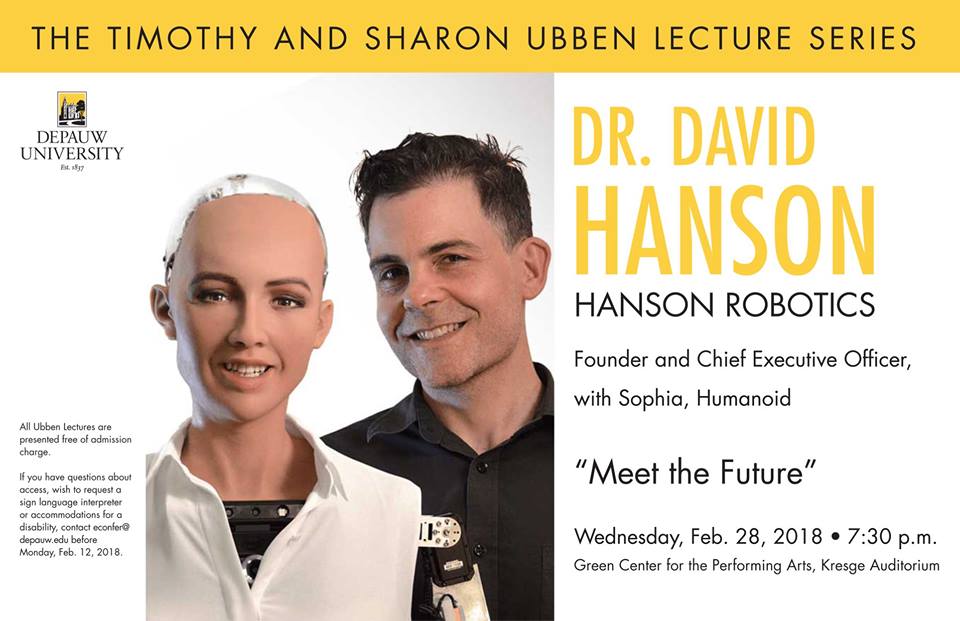 Back