Krista Brucker '04 Named 'Health Care Hero' for Her Efforts to Treat Opioid Abusers
March 2, 2018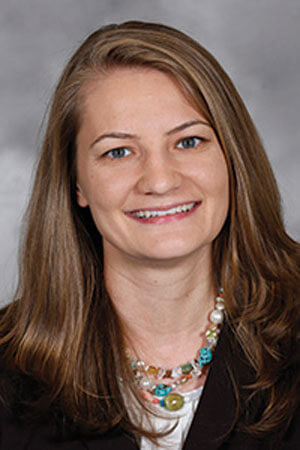 "After graduating from DePauw University in 2004, Krista Brucker did menial jobs in a health clinic in Honduras, where she became passionate about health care equality for people worldwide," reports the Indianapolis Business Journal. "But her mission today as a physician is hyper-local: rescuing the opioid abusers who crowd the Eskenazi Health emergency department every day."
Brucker, a 2004 graduate of DePauw, is one of IBJ's 2018 "Health Care Heroes" and is the top physician honoree because of "her role in battling the abuse of opioids, a category of drugs that includes heroin."
Tom Harton writes, "Brucker took the lead in starting Eskenazi Health's Project POINT program in 2015 and has been doing daily combat with Indianapolis' opioid crisis ever since. POINT -- which stands for Planned Outreach, Intervention, Naloxone and Treatment -- is Eskenazi's holistic response to an epidemic whose numbers seem out of control. Marion County first responders administered naloxone, the medication used to reverse opioid overdose, 2,100 times in 2017, an almost fourfold increase from 565 in 2011."

"There's a lot of news about it, but it's hard to adequately describe the scope of the problem. It's day after day," says Dr. Brucker, who went on to graduate from Harvard Medical School and completed her residency in emergency medicine at Northwestern University in Chicago.
The story points out, "She started Project POINT just one year after coming to Indianapolis to teach at the Indiana University School of Medicine and work in Eskenazi's E.R. 'It's not anything I ever thought I would be doing,' she said. 'I came to work in global health. And this just popped up.'"
IBJ adds, "Project POINT, which now has a staff of four and a consulting psychiatrist, saw 390 overdose patients in the ER in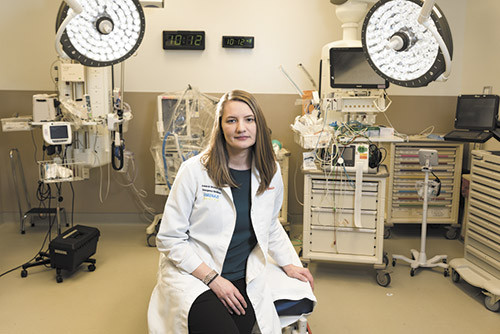 2017 and has an active caseload of about 70 right now, Brucker said."
A biochemistry major and Media Fellow at DePauw, Krista M. Brucker M.D. states, "I realized how great the potential for change is. We have all this evidence about what works, but we weren't doing it. There's something really rewarding about taking care of these patients -- people on the brink of death who get their lives together and get jobs and become good parents. It's very rewarding to see that."
Access the complete profile at the publication's website.
Source: Indianapolis Business Journal
Back