Jesus Christ Superstar: "Greencastle Had It Before Broadway!"
March 7, 2018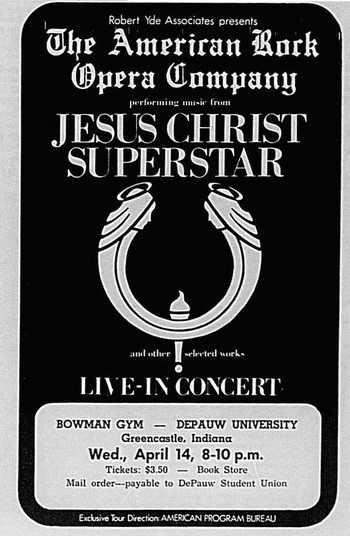 "When Hamilton: An American Musical arrives in Indianapolis between September 2019 and April 2020, it will be at least four years after the Tony Award winner opened on Broadway," reports the Indianapolis Star. David Lindquist writes, "Looking back at other iconic Broadway shows, the path to Indianapolis isn't always smooth." (at right: ad from The DePauw's April 13, 1971 edition)
When it came to Jesus Christ Superstar, Lindquist notes, "Greencastle had it before Broadway!" He points out, "Andrew Lloyd Webber and Timothy Rice released a concept album titled Jesus Christ Superstar in September 1970, which opened the door for 'cover' performances in concert -- such as DePauw University's Bowman Gymnasium show on April 14, 1971. When the American Rock Opera Company (the same group that played DePauw) planned two shows for June 4, 1971, at Butler University's Clowes Hall, Webber and Rice applied the brakes in the form of a court-ordered injunction. Clowes issued refunds, and Webber and Rice protected their plans to bring Jesus Christ Superstar to New York's Mark Hellinger Theatre on Oct. 12, 1971."
An authorized version of the musical finally played in Indianapolis at the Circle Theatre in December 1972.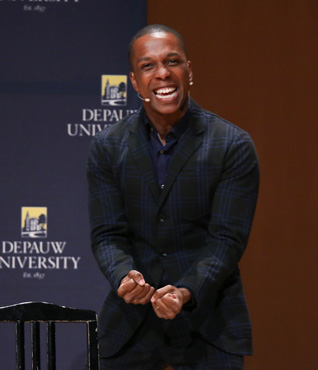 A report in the April 17, 1972 issue of The DePauw stated, "More than 2,300 people heard the music from Jesus Christ Superstar, as performed by the American Rock Opera Company, in Bowman Gymnasium Wednesday night. The crowd responded with a standing ovation at the end of the concert, one of more than 60 being given on Superstar's first national tour. According to Harry Cangany, president of the Union Building's board, it was the largest crowd for a concert at DePauw since The Temptations appearance in 1969."
Access the story at IndyStar.com.
Leslie Odom Jr., who won a Tony Award for his performance in Hamilton, came to DePauw on September 20, 2016 to present a Timothy and Sharon Ubben Lecture, "Finding Your Personal Spotlight." A summary of the program is available here. A montage of the event is embedded below.
Source: Indianapolis Star
Back