Madison Dudley '18 Wins Prestigious Award for Young Journalists
March 16, 2018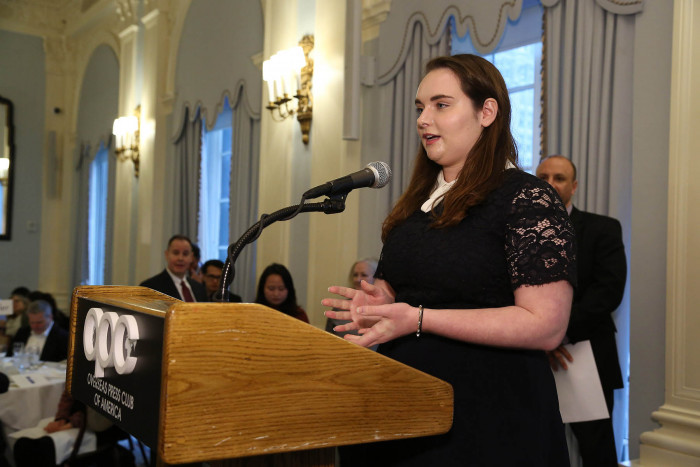 Madison Dudley, a DePauw University senior, is the recipient of an Overseas Press Club Foundation Scholar Award. She was among 16 aspiring foreign correspondents selected by a panel of leading journalists from a pool of 175 applicants from 50 different colleges and universities. The honorees were celebrated at a luncheon at the Yale Club in New York City.
The former editor-in-chief of The DePauw, Dudley received the S&P Global Award for Economic and Business Reporting, which was presented by David Guarino, head of external communications for S&P Global (Dudley and Guarino are pictured below)
Of Dudley -- a communication and global studies double major and Media Fellow -- the Overseas Press Club Foundation notes, "A college senior, she traveled to Jerusalem last summer to intern at the Media Line, an independent Middle East news organization. In her essay, she wrote about Hanna Bohman, a former Canadian model who joined the Kurdish Women's Defense Unit that was fighting ISIS in northern Syria. She also covered homicides in the nation's capital as an intern for D.C. Witness."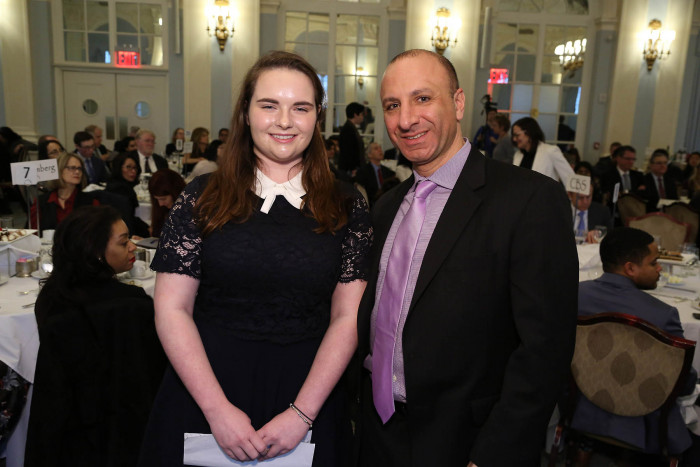 As part of the event, Dudley and her fellow award winners were also honored with a reception at Reuters, and they received risk management and situational awareness training from Global Journalist Security at CUNY Graduate School of Journalism in New York City. They also met privately with editors and freelance journalists in a special breakfast held the morning of the awards presentation and at a post-luncheon panel.
The OPC Foundation is the nation's largest and most visible scholarship program encouraging aspiring journalists to pursue careers as international correspondents. For more information, click here.
In November 2017 , Dudley finished second in the 31st annual Thomas R. Keating Competition, a collegiate journalism contest sponsored by the Indianapolis Press Club Foundation. It's detailed in this previous story.
Back