Prof. Emmitt Riley III Honored by the National Conference of Black Political Scientists
March 19, 2018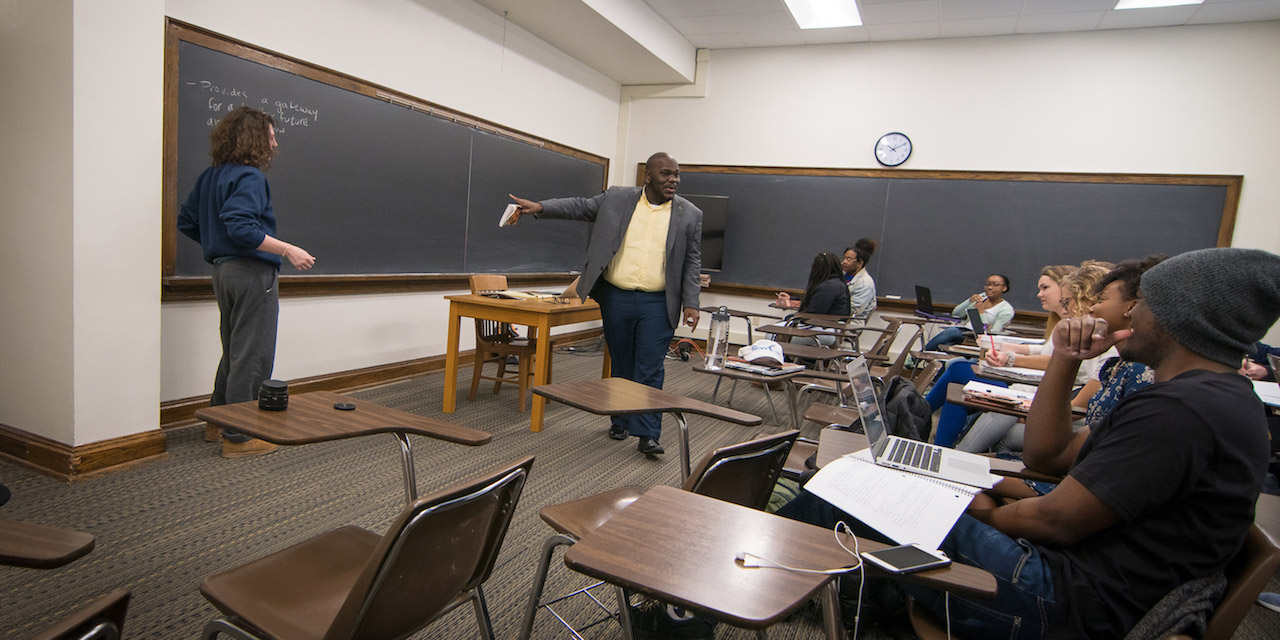 Emmitt Y. Riley III, assistant professor of Africana Studies at DePauw University, is the recipient of the Anna Julia Cooper Teacher of the Year Award. The award, which is presented by the National Conference of Black Political Scientists (NCOBPS), recognizes "demonstrated excellence in the classroom as teachers, advisors, and academic mentors to students."
Riley received multiple nominations for the award from members of the DePauw community, including from Vice President for Academic Affairs Anne F. Harris. "Students seek Emmitt out and look up to him, I believe, for his ability to both push and support them," Harris wrote. "Emmitt values students for their potential as much as their accomplishments, and he is one of the rare professors who will come to know students enough to hold them accountable to their potential."
A'Mya Springer '21, who took Riley's first-year seminar during the fall semester and is currently taking his Intro to Africana Studies course, was among the student-faculty contingent that traveled to Chicago for the 49th annual meeting of the NCOBPS.
"I had this feeling he was going to win when they were announcing the award," Springer says. "He's just a hard worker, and he wants his students to succeed. In my seminar, he really helped me with the structure of my writing and how to form a good thesis statement. His classes are engaging, they're welcoming, they're entertaining. You can just tell he's interested in us."
A member of the DePauw faculty since 2015, Riley holds a B.A. in English literature and political science from Mississippi Valley State University, an M.A. in political science from Jackson State University, and a Ph.D. in political science from the University of Mississippi with a specialization in American politics and international relations.
Back