Hoover Hall Receives LEED® Gold Certification; Third DePauw Building to Earn Designation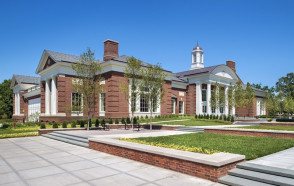 March 29, 2018
DePauw University's Hoover Dining Hall has received LEED® (Leadership in Energy and Environmental Design) Green Building Rating System Gold certification from the U.S. Green Building Council.
It becomes the third LEED Gold Certified building on the DePauw campus: the Janet Prindle Institute for Ethics was the state's first LEED-New Construction Gold building in 2008; a year later, the Bartlett Reflection Center received the same designation, making DePauw the first institution in Indiana with more than one LEED Gold building.
Dedicated in October 2016, Hoover Hall is a 48,600 square-foot dining hall which sits in the shadow of historic East College in the center of campus. The $32 million project, which took 29 months to complete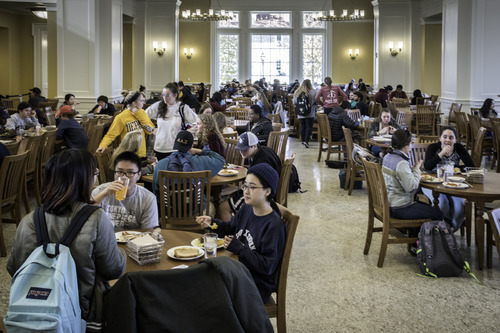 (ground was broken on May 17, 2014), came in on time and under budget. The lead gift came from R. David and Suzanne A. Hoover, both 1967 graduates of DePauw.
"DePauw is committed to quality construction that adheres to environmentally-friendly principles and practices," said Bob Leonard, vice president for finance and administration. "It's a tribute to our great facilities team, led by Warren Whitesell, and the contractors and engineers that contributed to the Hoover Hall project that we can celebrate this honor."
Hoover Hall seats more than 600 people in the main dining room. An array of smaller dining rooms provide additional seating options for students, faculty and staff.
As a previous article in FoodService Director noted, "DePauw University in Greencastle, Ind., and foodservice provider Bon Appetit have enacted various strategies to reduce food waste on campus ... To reach its goal of having zero-waste facilities, DePauw University has implemented initiatives such as reusable
carry-out boxes, trayless dining, composting and using leftover fruit peels to make infused water. The university also donates leftover food to those in need and gives a portion of its scraps to local farmers for livestock feed."
In 2016, Food Management reported, "A liberal arts education isn't just achieved in the classroom or the library. It also happens inside dorm rooms, at student centers -- and yes, inside the dining hall ... Meeting new people, sharing ideas and fostering diversity all serve to help paint a broader, more thoughtful picture of the world for college students. But campus dining halls aren't always designed to encourage those types of interactions."
Back