Information on Venue & Book Signing for Jenna Fischer's Ubben Lecture Tuesday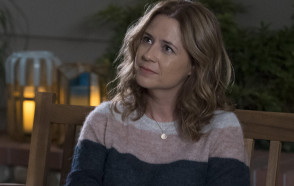 April 11, 2018
Jenna Fischer will sign 100 copies of her book, The Actor's Life: A Survival Guide, following Tuesday's Ubben Lecture at DePauw University. At 6 p.m. Tuesday at a table in the Great Hall of the Green Center for the Performing Arts, copies of the book will be available for sale. The first 100 persons to buy a book or present a copy that they already own will be given a ticket to access the book signing event later in the evening.
Fischer will speak in Kresge Auditorium, located in the Green Center, at 8 p.m. Doors to the venue will open at 6:45 p.m. for DePauw students with ID and 7 p.m. for all others and seating will be on a first come, first served basis (there are no tickets for the program). The event is open to the public and is free of charge.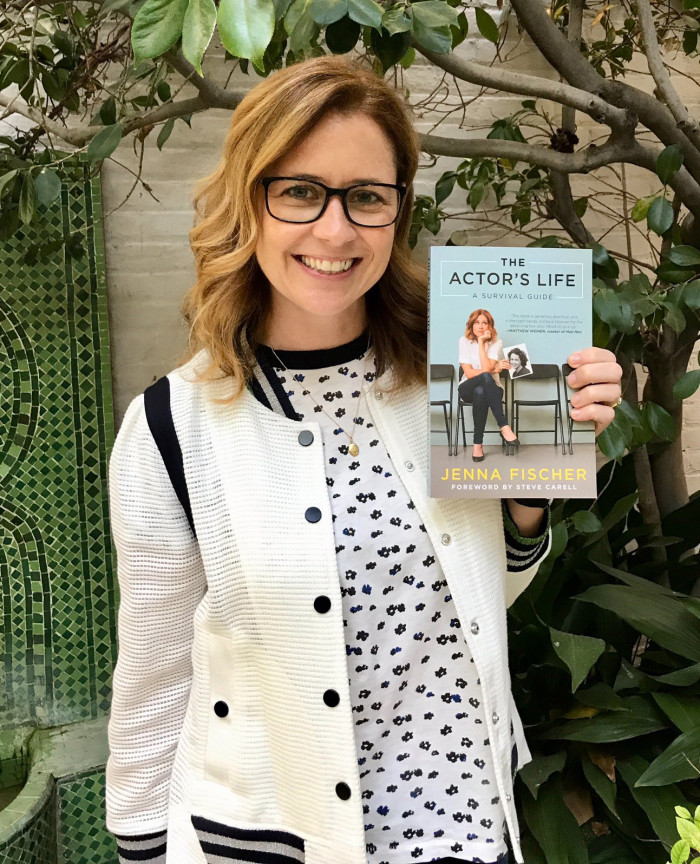 The book signing will take place at a non-public location following the Ubben Lecture.
After the first 100 books are sold, visitors may still buy books and Fischer will sign them, but not in their presence, and the signed books must be picked up later at Eli's Bookstore on the courthouse square.
Known for her role as "Pam" on TV's The Office as well as her current hit show, Splitting Up Together, Fischer will discuss her career and the life advice she offers in her book during a moderated conversation with Ken Owen '82, special adviser to the president and coordinator of the Ubben Lecture Series. She'll then take questions from the audience.
Learn more here.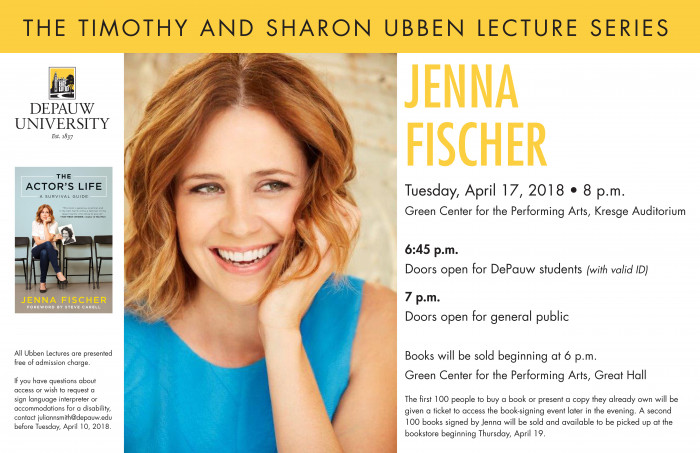 Last month, the Indianapolis Star previewed Jenna Fischer's DePauw appearance.
Established in 1986 through the generous support of 1958 DePauw graduates Timothy H. and Sharon Williams Ubben, the Ubben Lecture Series was designed to "bring the world to Greencastle."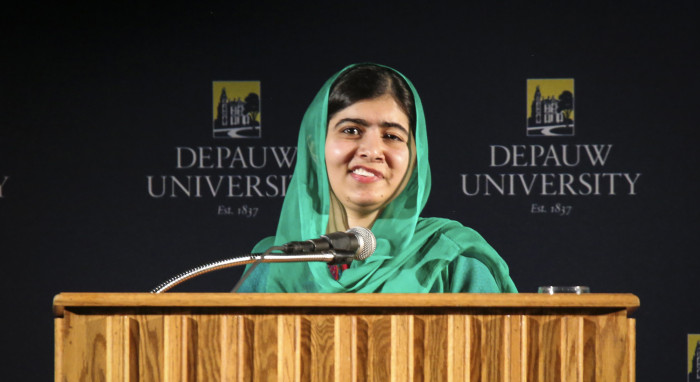 The series has presented 110 events over the past 32 years, with Malala Yousafzai, the youngest-ever recipient of the Nobel Peace Prize; Bill Rasmussen '54, founder of ESPN; and David Hanson and his robot, Sophia, being this academic year's guests.
To view a complete roster of Ubben Lecturers -- which includes links to video clips and news stories -- click here. Video montages of many events are available on YouTube.
Back