Eight DePauw Student Journalists Honored by the Society of Professional Journalists
April 9, 2018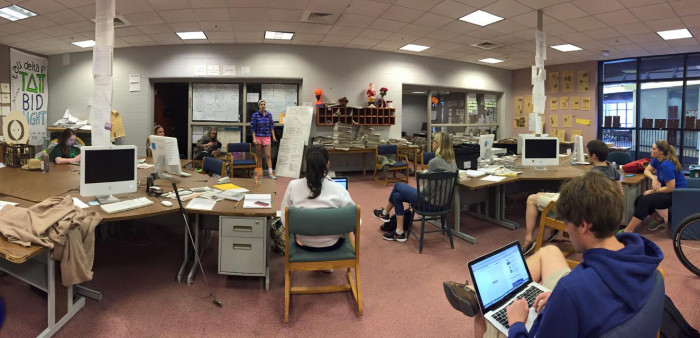 Three DePauw University student journalists who work for The DePauw received first place awards, and another five received finalist citations, at the Society of Professional Journalists annual "Mark of Excellence Awards," which recognize the best collegiate journalism in Region 5 (Indiana, Illinois and Kentucky). The winners were announced over the weekend at SPJ's spring conference in Chicago.
DePauw's first-place winners (Austin Candor, Brock Turner and Byron Mason) will now compete at the national level among other top prize winners from SPJ's 12 regions. National winners will be announced in the late spring and will be recognized at the Excellence in Journalism conference in Baltimore, September 27-29.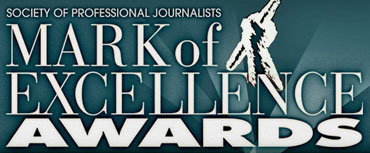 The entries were judged by professionals with at least three years of journalism experience. School divisions are based on student enrollment, including both graduate and undergraduate: DePauw competes in the "small schools" category, with 9,999 or fewer students.
DePauw's 2017 Mark of Excellence Awards winners are:
Brock Turner, First Place: Breaking News Reporting
Austin Candor, First Place: Sports Reporting
Byron Mason, First Place: Feature Photography
Madison Dudley, Finalist: General News Reporting
David Kobe, Finalist: General News Reporting
Bryttni Carpenter, Finalist: In-Depth Reporting
Lindsey Jones, Finalist, General Column Writing
Sam Caravana, Finalist, Photo Illustration
Recognizing and promoting journalistic excellence has been a key purpose of the Society of Professional Journalists since it was founded in 1909 by students at DePauw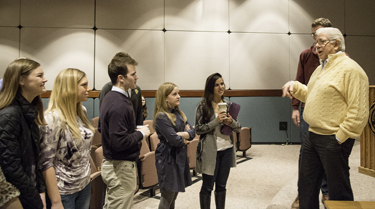 University as Sigma Delta Chi, a journalism honor society. SPJ is one of the oldest organizations representing journalists in the United States. (at right: legendary Watergate journalist Carl Bernstein visits The DePauw before his February 13, 2013 Ubben Lecture)
Founded in 1852 as Asbury Notes, The DePauw has a rich tradition of being the springboard for the careers of many of America's great journalists. Alumni of the student newspaper include Ben Solomon, video journalist for the New York Times, who was among a team of Times staffers to be honored with the Pulitzer Prize for international journalism; "business journalist of the century" Bernard Kilgore and Kenneth C. Hogate of the Wall Street Journal; James B. Stewart, Pulitzer Prize-winning former front page editor of the Wall Street Journal, bestselling author and New York Times columnist; Aaron Lucchetti,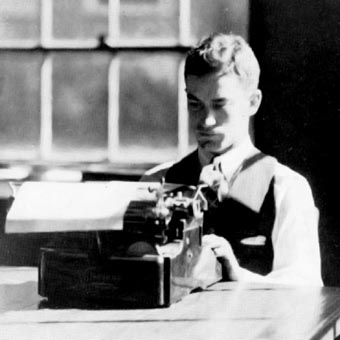 an editor at the Wall Street Journal; Andrew Tangel, transportation reporter for the Journal; Eugene C. and Eugene S. Pulliam of the Indianapolis Star and Central Newspapers chain; Donald Maxwell, former editor of the Chicago Tribune; Meg Kissinger, award-winning investigative health reporter for the Milwaukee Journal Sentinel; Robert Giles, former curator of the Nieman Foundation for Journalism at Harvard University and former editor of the Detroit News; John McWethy, former ABC News Senior Pentagon Correspondent; and Douglas Frantz, a Pulitzer Prize-winning former investigative journalist and author, currently serving as deputy secretary-general of the Organization for Economic Cooperation and Development.
The paper is completely independent, and staffed and managed entirely by students. (photo: a member of The DePauw staff at work in 1936)
Back