Part of the Team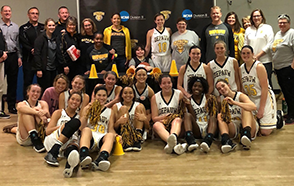 April 10, 2018
It's rare for a 15-year-old to join a university basketball team. But that's exactly what has happened with Bekah, a resident of Spencer, Ind., who has become the newest member of the DePauw women's basketball team.
At the start of the 2017-18 season, Bekah -- with the team and her family looking on -- participated in a ceremony to sign a letter of intent similar to those signed by real prospects and to mark the beginning of a partnership with Team IMPACT. The national nonprofit organization connects children like Bekah who have serious and chronic illnesses with college athletic teams. Team IMPACT, which stands for Inspire, Motivate and Play Against Challenges Together, is an immersion program that supports kids by arranging their own signing day, gives them a place on the sidelines and allows them to attend practices, games, team dinners and other events.
Annie Bourne, assistant coach of the women's basketball team, learned of the program in an online article about a Division I team that had recently "signed" a younger player. "I like how the program helped put things into perspective for the players," she says. "They realized the little things they had complained about before weren't so important anymore." Bourne also liked what the athletes gave to the student.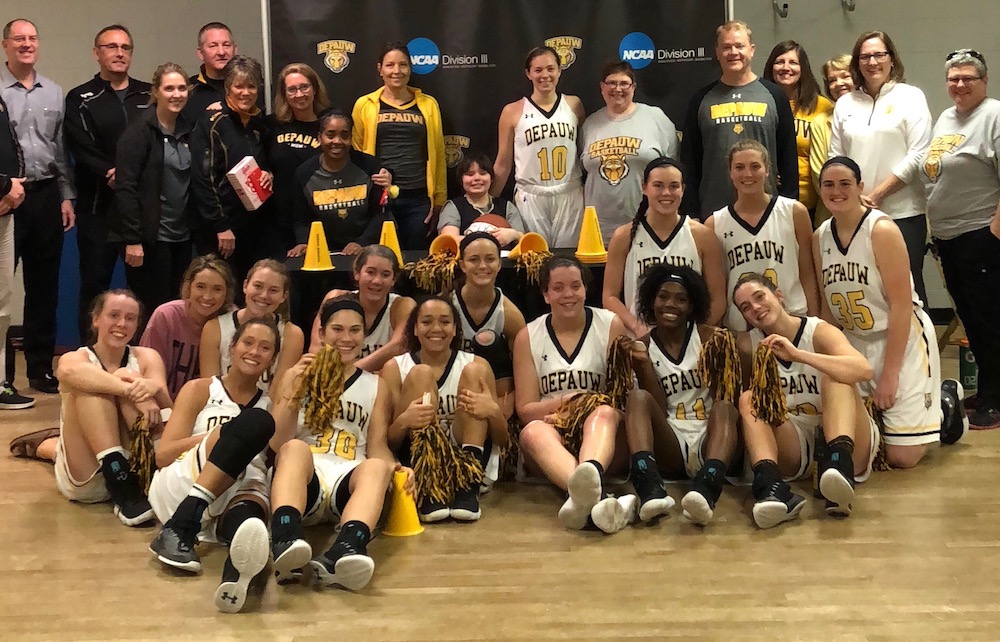 Bourne asked first-year basketball player Emma LeMasters '21 to take the lead in getting DePauw involved. LeMasters loves working with kids and has had plenty of experience doing so. Last summer, she volunteered at Riley Children's Hospital in Indianapolis, and is currently a student friend at Ridpath Primary School in Greencastle. Bourne says she was a natural fit to coordinate the program.
LeMasters explains it was an easy application process. She registered online and, a week later, the team was connected with Bekah. "It's been a lot of fun to get to know her," she says. "Bekah comes to our practices and games. We've had dinners together and game nights. The team's commitment in-season is meeting with Bekah two to four times a month Out of season, the commitment is one to three times a month. We've planned more game nights, which she really likes. We'll go bowling, and we're planning a field trip to a pumpkin patch in the fall. Basically, we include Bekah in everything we do as a team. She's our teammate."
The women's basketball team has participated in outreach before, but what Bourne likes about Team IMPACT is that it's a year-round, two-year commitment rather than just a weekend.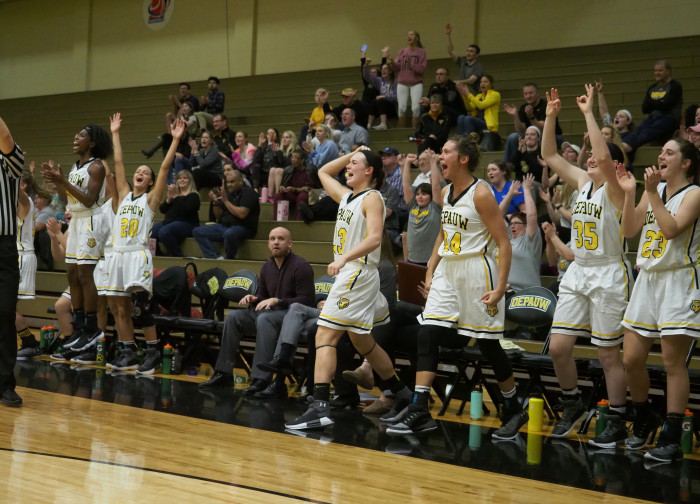 LeMasters says it is fun to see Bekah's excitement when she spends time with the players – just to be with them and to be included.
"The players don't realize it, but they are role models," Bourne says. "So it's cool to see them bond with Bekah so well and see her look up to them. I loved the program when I read what it brought to another team, and I think it's brought that to our team, too.
"It's put into perspective that they really do have it good and that they can have a positive impact on someone else's life."
For more information on the DePauw women's basketball team, visit the DePauw Athletics webpage.
Back