Belle Mansfield, USA's First Woman Attorney & DePauw Professor, Recalled in Newspaper Feature
April 16, 2018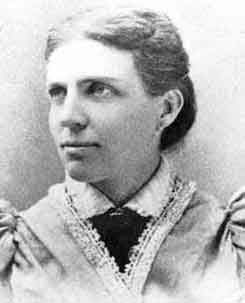 "Arabella Babb Mansfield, an Iowan, became the first woman lawyer in the United States in 1869, but she never practiced law. Instead, she became a college administrator whose life was filled with travel and, where her husband was concerned, tragedy," begins an item in the Gazette of Cedar Rapids, Iowa. The newspaper's "Time Machine" feature focuses on the woman who was a leader in the women's suffrage movement and member of the faculty of Indiana Asbury University (now known as DePauw).
Diane Fannon-Langton writes, "John Mansfield, after a study trip to Leipzig, Germany, was elected to a professorship in 1879 at Asbury University (which became DePauw University) in Greencastle, Ind. John dove into the work of making the department more efficient and improving its laboratories. In 1883, John began to show signs of mental stress. He resigned his professorship and moved to Napa, Calif., where he worked as a geologist for large land companies in the area. Arabella remained in Indiana, taking a job as registrar at DePauw in 1886 to supplement their income, often commuting to California. She became a professor of history and preceptress of the Ladies' Hall in 1890, and in 1894, she became dean of the School of Art and the School of Music."
The feature goes on to describe John Mansfield's unusual disappearance and later, his death at age 51.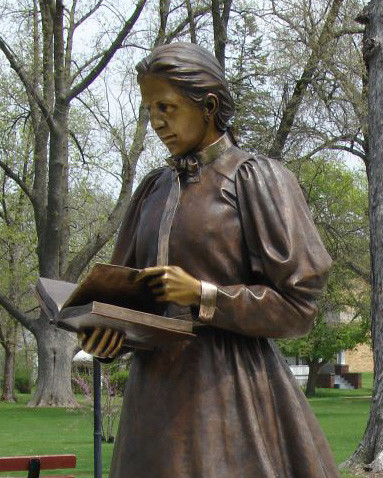 "Arabella stayed at DePauw as dean of the Schools of Music and Art. In 1893, she delivered a paper, 'Admission to the Iowa Bar in 1869,' to the Congress of Women Lawyers in Chicago. The number of women lawyers in the country had increased to 75 by 1891."
Fannon-Langton notes, "Arabella fell ill after a summer 1909 trip to Japan, and her failing health prompted her to resign from the School of Music in 1910 and devote herself to the School of Art. She was 64 when she died Aug. 1, 1911." (at left: a statue of Belle Mansfield on the campus of Iowa Wesleyan University)
Read the complete piece at the newspaper's website.
DePauw's Women's Hall, which was built in 1885, was renamed in Mansfield's honor in 1918; it was destroyed by fire in 1933.
In January, Arabella "Belle" Babb Mansfield was a clue on the television game show, Jeopardy!. That's covered in this summary.
Back