Vernon Jordan '57 Featured in New Documentary on Groundbreaking Atlanta Mayor Maynard Jackson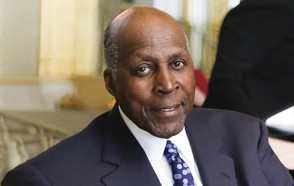 May 3, 2018
Maynard, a documentary that features 1957 DePauw University graduate Vernon Jordan and a number of other prominent voices in the civil rights movement, will be screened at the Black Association of Documentary Filmmakers West's 12th annual "Day of Black Docs." The event will take place this Saturday at the American Film Institute (AFI) Mark Goodson Theater in Los Angeles.
Directed by Sam Pollard, who edited many of Spike Lee's (a 2003 Ubben Lecturer at DePauw) films and who has won four Peabody Awards, Maynard also includes interviews with former President Bill Clinton (at DePauw in 2011 as an Ubben Lecturer), Al Sharpton, Ambassador Andrew Young (a 2000 Ubben Lecturer), Rev. Joseph Lowery, and Jesse Jackson (at DePauw for a 1992 Ubben Lecture), among others.
"Before Maynard Jackson Jr., no African-American had ever been mayor of a major city in the American South," notes a synopsis of the film. "In 1973, Jackson, a 35-year-old lawyer who served as Atlanta's vice-mayor, took charge of the city with a whopping 60 percent of the vote, knocking incumbent Sam Massell out of City Hall. He was Obama before Obama. Maynard explores Jackson's legacy in vivid detail and is an exploration into a man who had dreams and ambitions to be a public servant for his people seeing that it was the next logical step in the journey that had been started by Dr. King, and so many others who had blazed the trail during the years of horrific segregation."
Read more here.
Vernon E. Jordan Jr., a noted attorney and civil rights legend, is senior counsel with Akin, Gump, Strauss, Hauer & Feld. As announced in November, he will deliver the commencement address to DePauw's Class of 2018 on Sunday, May 20, in Holton Memorial Quadrangle. An advisory member of DePauw's Board of Trustees, Jordan has been a regular visitor to campus since he earned his diploma 61 years ago. He delivered a powerful Ubben Lecture at the October 2016 inauguration of President Mark McCoy.
Jordan was also on campus in November 2011 to introduce his good friend, America's 42nd president, Bill Clinton, who delivered an Ubben Lecture before 5,000 people in the Lilly Center. Jordan is also a partner at Lazard Frères & Co. LLC in New York and senior managing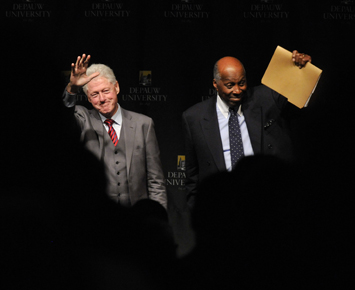 director of Lazard Group LLC.
A political science major as an undergraduate at DePauw, Jordan went on to earn his law degree at Howard University. He holds honorary doctoral degrees from more than 60 colleges and universities in America, including DePauw. He is the author of Vernon Can Read! A Memoir and Make It Plain: Standing Up and Speaking Out.
In December 2009, Jordan was one of eight individuals presented with the Du Bois Medal, the highest honor awarded by the Harvard University Institute of Politics' W.E.B. Du Bois Institute. He's also been honored with the Spingarn Medal, the NAACP's highest honor for achievement, the Trumpet Award, and DePauw's Old Gold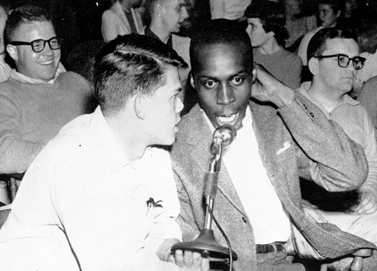 Goblet and McNaughton Medal for Public Service. In June 2017 he received the Harvard Law School Center on the Legal Profession's Award for Global Leadership and he was honored by the Anti-Defamation League this February.
In his 1993 commencement address at DePauw, Jordan declared, "DePauw expanded my mind, broadened my horizons, lifted my sights, prepared me to serve and to lead and nurtured my growth and maturity. I made lasting friendships here. If I had my life to live over again, I would return to this place."
Back