Information on Webcast, Weather & DVD as Sunday's 179th Commencement Nears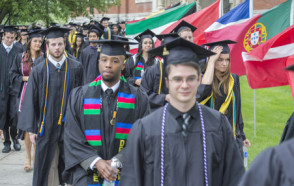 May 14, 2018
Key Links: Webcast; Greencastle Weather Information; Order a Commencement DVD
DePauw University will webcast its 179th commencement ceremony Sunday, with a video and audio feed of the complete program available beginning at 10:30 a.m. The online webcast will be available at the University's video portal (once there, click "watch"), and an archived version will be available at the same location after the ceremony is completed.
"We know that for many relatives, especially those of international students, a trip to Greencastle is not possible, and the webcast allows people across the nation and the globe to access this important event," notes Ken Owen '82, special adviser to the president at DePauw and director of Sunday's four-camera production. "We're thrilled to make this important event as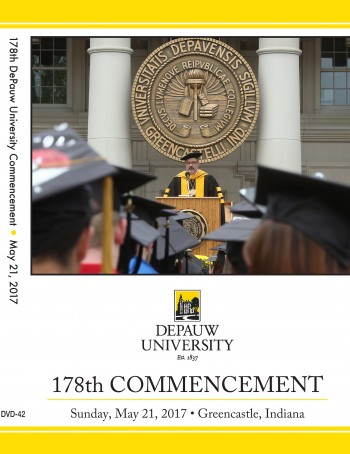 accessible as we can to the University's many friends."
A high-quality, permanent video of DePauw's 2018 commencement will available via a commemorative DVD. The disc will include the complete program as well as a photo gallery and a variety of bonus material, including recent campus highlights. Learn more about the DVD, which can be pre-ordered using this online order form, in this previous story. (at left: front cover of 2017 DVD)
The disc will include footage of each graduate receiving their DePauw degree as well as an array of special features. Campus highlights of the past four years are part of the DVD's bonus features. They include clips of the opening convocation at which the Class of 2018 was welcomed to DePauw and clips of Ubben Lecturers such as Jimmy Kimmel, David Hanson and Sophia, Malala Yousafzai, Andrew Luck, David Cameron, Piper Kerman, Bill Rasmussen '54 and Leslie Odom Jr. There will also be a photo gallery of commencement day activities and vintage film from the DePauw Archives.
Civil rights legend and attorney Vernon E. Jordan Jr., a 1957 graduate of DePauw, will deliver the primary address to his alma mater's Class of 2018. Honorary doctorates
will be presented to community leaders Jinsie Scott Bingham '56 and Dorothy Chapman Brown and Holocaust survivor and forgiveness advocate Eva Mozes Kor. Learn more here.
Approximately 475 undergraduates are expected to receive degrees in the ceremony.
As of this writing (Monday at noon), the Sunday morning forecast calls for isolated thunderstorms and a high of 83 degrees with stronger rain chances in the afternoon. Get the latest updates here.
For more information on DePauw's 179th annual commencement, click here.
Back