Bill Fenlon, College Coach & Mentor of Brad Stevens '99, Offers Insights on Celtics Coach
May 14, 2018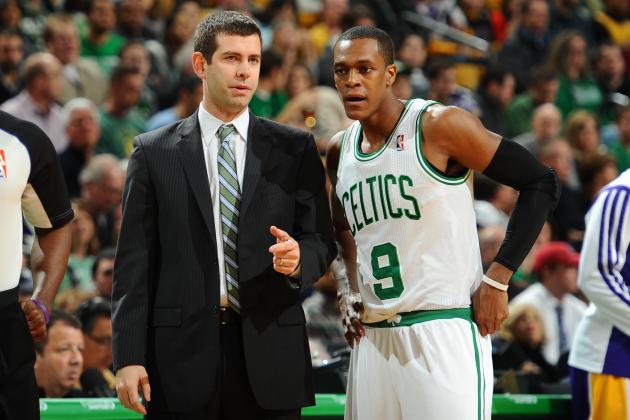 "Getting (Brad) Stevens to praise himself is difficult. Getting others to praise Stevens is not," writes the Indianapolis Star's Clifton Brown of the Boston Celtics head coach. "The beauty of Stevens' basketball mind is being widely recognized, and he is still just 41 years old. His success has translated seamlessly from college to the NBA, leaving friends and former colleagues in Indiana to answer questions that he won't. Such as, what exactly makes Stevens so good?"
"If I had a nickel for every time somebody asks me that, I'd have a lot of nickels," DePauw University coach Bill Fenlon tells the Star, which points out that Fenlon was "Stevens' college coach and one of his mentors."
Fenlon adds, "The last person who asked me that was my wife. I don't really have an answer, but it's sort of like this. Let's say that you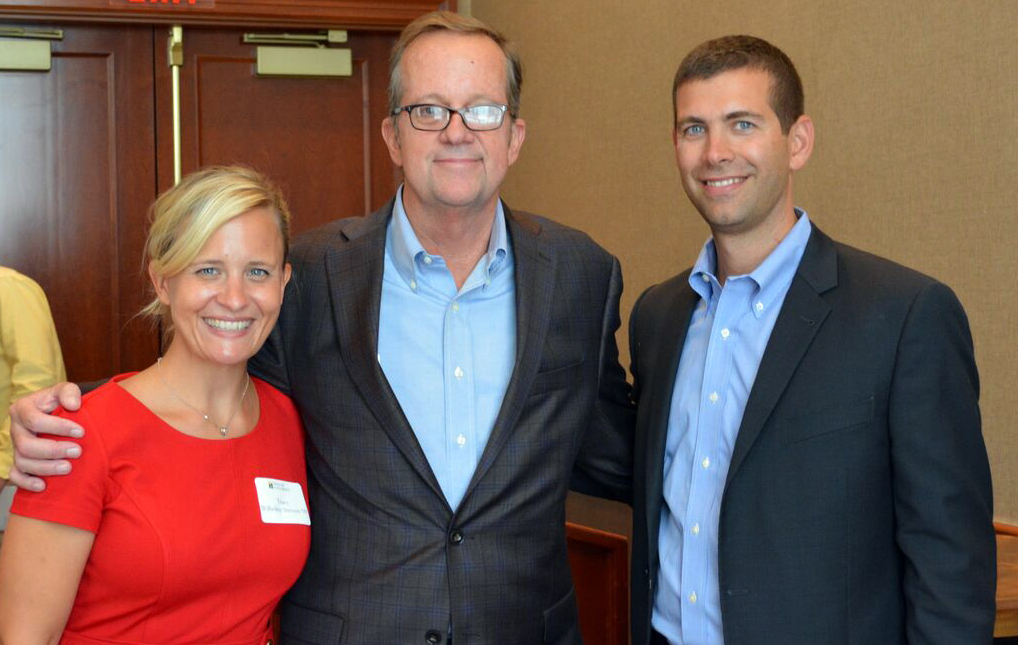 were an English teacher, and 20 years later you had a student who wrote the great American novel. Or you were an art teacher, and 20 years later one of your students became Picasso. He's the combination of what a lot of great coaches have. He's really intelligent, probably intellectually top five percent of guys that do this. I think he has terrific emotional stability. I think he's incredibly even-keeled. He's got great perspective, not only on his basketball team, but on life in general. He's got a great work ethic." (at left: Fenlon with Brad and Tracy Wilhelmy Stevens '99 at a 2015 DePauw event)
Stevens, a 1999 DePauw graduate, has his team up 1-0 over Cleveland in the Eastern Conference finals. He's earned praise and respect for a number of things, including the points his team scores after he calls a timeout, known as ATO to hoops fans.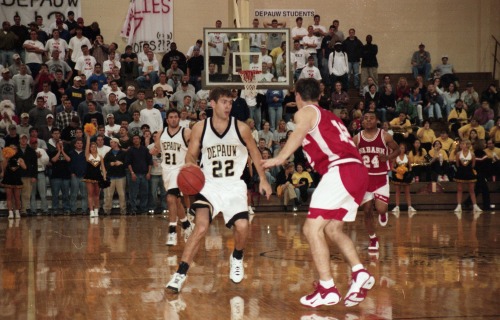 Brown writes, "Coincidentally, the initials of Stevens' fraternity are ATO -- Alpha Tau Omega. That coincidence is not lost on Fenlon. 'When Brad was a student here, he lived in a fraternity house that was right across the street from my house,' said Fenlon, who has texted frequently with Stevens during the playoffs. 'Not only is he great at ATO's, he actually is an ATO. After some games, I get texts from former players who say, 'Didn't we run that play? Or don't you have that play?' I'm like, 'You know what, I'm pretty sure this guy has his own stuff.''"
Later in the piece, Brown notes that "Fenlon says one of Stevens' strengths is his ability to focus on the next game, instead of what's at stake."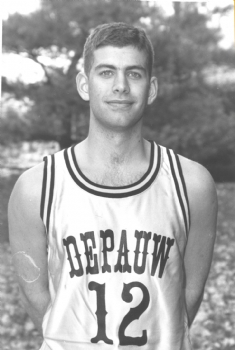 DePauw's head coach states, "As a coach, if you're not good at the little picture, the big picture is never going to work out. He really values that. He gets other people to buy into that, and that helps you perform better in the moment."
You'll find the article -- headlined "Brad Stevens won't talk about his coaching talent, but his Indiana friends are happy to" -- at IndyStar.com.
At DePauw, Brad Stevens was an economics major and Management Fellow and played four years on the Tiger basketball team, earning all-conference and academic all-conference honors. He took an executive track job at Eli Lilly & Co. after graduation but found that he missed basketball, and volunteered to assist the Butler University program. Soon he was hired by Butler, and on April 5, 2007 -- at age 30 -- he was appointed head coach of the Division I men's basketball program.
Stevens led Butler to a 166-49 record, including a 12-5 record in the NCAA Men's Basketball Championship and two consecutive trips to the national championship game (in 2010 and 2011). His 166 wins are the most for any NCAA Division I basketball coach over the first six years to start a career. He was named the head coach of the Boston Celtics in July 2013, becoming the youngest head coach in the NBA.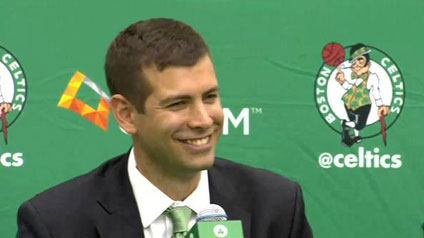 "My experience at DePauw was about as beneficial as any experience I've had," he told ESPN.com in November 2013.
On April 13, 2010, Stevens returned to his alma mater to deliver the Robert C. McDermond Lecture.
In 2015 Brad Stevens received the University's Young Alumni Award at a luncheon in downtown Indianapolis. At a fundraiser that evening, Stevens related how his college coach, Bill Fenlon, has impacted his life and career.
Source: Indianapolis Star
Back